Passenger Slams Airline That Won't 'Let' Trans Flyers Check In Online
A months-long saga has led one Canadian non-binary individual to publicly call out an airline for not presenting the option to check in as someone who identifies other than male or female.
The airline passenger is named Iz Lloyd and hails from Halifax. In a series of TikTok videos, they claimed that Calgary-based airline WestJet—the second-largest airline in Canada behind Air Canada—did not present the option to use 'X' when checking in to flights online.
"I finally figured out why WestJet wasn't letting me check in online: it's because I'm trans, literally," Lloyd said in a May 27 TikTok that has over 70,000 views.
They said it occurred on four different flights until they "misgendered" themselves on the fifth flight.
Lloyd told CBC that airline employees would not let them on the flight until a gender of male or female was chosen, alleging that "one employee referred to them by the wrong gender multiple times and pushed back in an argumentative manner" until documents were shown which listed Lloyd's gender as 'X.'
WestJet "is violating their human rights" and forcing people who travel to break rules, Lloyd claimed.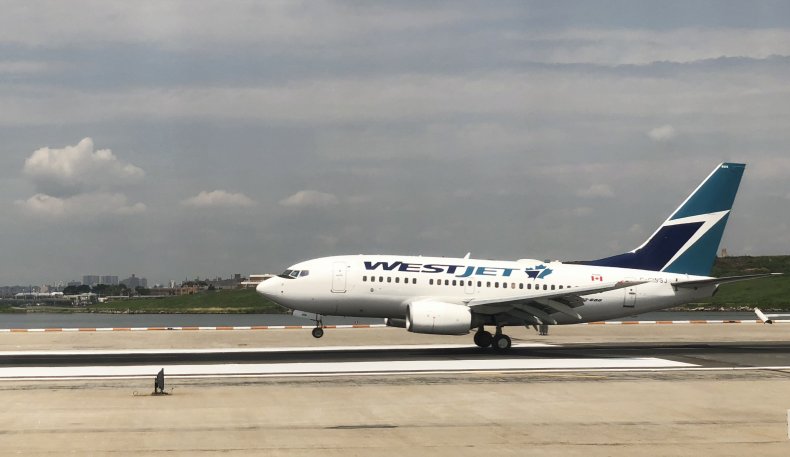 "It is a legal gender marker in our laws, it's a violation of the [Charter of Rights and Freedoms]," Lloyd told CBC, adding that the airline offered $50 to right the situation.
The airline allegedly did not respond to Lloyd's repeated calls.
In a statement posted online Wednesday by WestJet, the airline said it was working "on ensuring a gender inclusive booking and check-in experience" for passengers, adding that "a further explanation and apology" was necessary.
"In 2019, we welcomed the Government of Canada's announcement regarding the implementation of gender X in the sex field of Canadian passports and made a commitment to make the necessary changes to our technology and systems to support the travel journey of our non-binary guests," the statement said.
The delay in implementation was due to several technological setbacks with third-party providers resulting from the COVID-19 pandemic, the company said.
They have assured that changes to the domestic reservation system will include gender 'X' by the end of this calendar year, in addition to software that will eventually move away from the "need of a gender assignment" to calculate weight distribution on aircraft.
"At WestJet, it is our commitment to ensure our guests have an equitable travel experience and we owe a further explanation and apology regarding our progress on adding non-binary options to our booking and check-in systems," Denise Kenny, a media representative for WestJet, told CBC.
Newsweek reached out to WestJet for further comment.
Gender Diversity Data
In 2017, the Canadian government amended its "Canadian Human Rights Act and the Canadian Criminal Code" to protect individuals from discrimination and hate crimes based on gender identity and expression.
Last year, Canada became the first country to collect and publish data on gender diversity when its census for the first time included a question on gender that allowed all cisgender, transgender and non-binary individuals to report their gender, according to Statistics Canada.
Data reported and collected in that census showed that about 100,815 Canadians are transgender or non-binary, according to U.S. News & World Report, including 31,555 transgender women, 27,905 transgender men, and 41,355 non-binary residents.
That equates to about one of every 300 Canadians over age 15 identifying as transgender or non-binary.
'Still No Apology'
In subsequent TikTok videos, Lloyd has provided updates on their communication with the airline.
"They said the only mistake they made was letting me become aware of the transphobic policy," Lloyd claimed in a June 3 video. "That's it, that's the only mistake they made. They stand behind the policy because they really need to know what's in between our legs to determine what we weigh for the plane."
In a video posted Thursday night Lloyd stated there was "still no apology, still no recognition of how they treated me."
When asked if WestJet's company statement and promise to rectify the situation by year's end was satisfactory, Lloyd told Newsweek it was "just a third round of damage control."
"They'd have spoken with me," Lloyd said. "They're not speaking with community members. They've promised to fix this before...This issue has been brought up to them at least five times externally, and they always say by year's end, or blame some third party.
"They haven't addressed how their gate agents have treated numerous folks now, either. If they're so committed to apologizing to us, why have they not reached out?"
TikToker Reactions
Some commenters of the now-viral TikTok showed their understanding and support, even claiming they, too, have endured the struggle.
"Seriously?" Cin said. "I yelled at them about this on Twitter BEFORE THE PANDEMIC and they said their 'system wasn't updated yet.'"
"Their ounce of indifference creates tons of chaos," another said. "Sorry you had to go through that."
Others, however, weren't so understanding of the problem at hand.
"How about checking one of the two options and getting on the plane?" Leaf Fan/Liberal Hater asked.
Lloyd, however, didn't shy from the seemingly intolerant question.
"Ah yes because breaking the law is what I strive to do. It's illegal to board the plane with documents that don't match your ID," they said.
The travel industry not only took a hit during the pandemic, but it's also struggled in the endemic phase of the COVID outbreak due to an increase in unruly passengers.
One couple said they were removed from a flight because they were Trump supporters.
A woman said she was recently on a plane with a bachelorette party and vowed never to do it again.
But, it's not just passengers that have been receiving backlash.
Internet viewers are debating the airport staff response—or lack thereof—to a suitcase that fell on a tarmac in Nashville, Tennessee.