Trump and the FBI: What Past Directors' Résumés Say About Possible Pick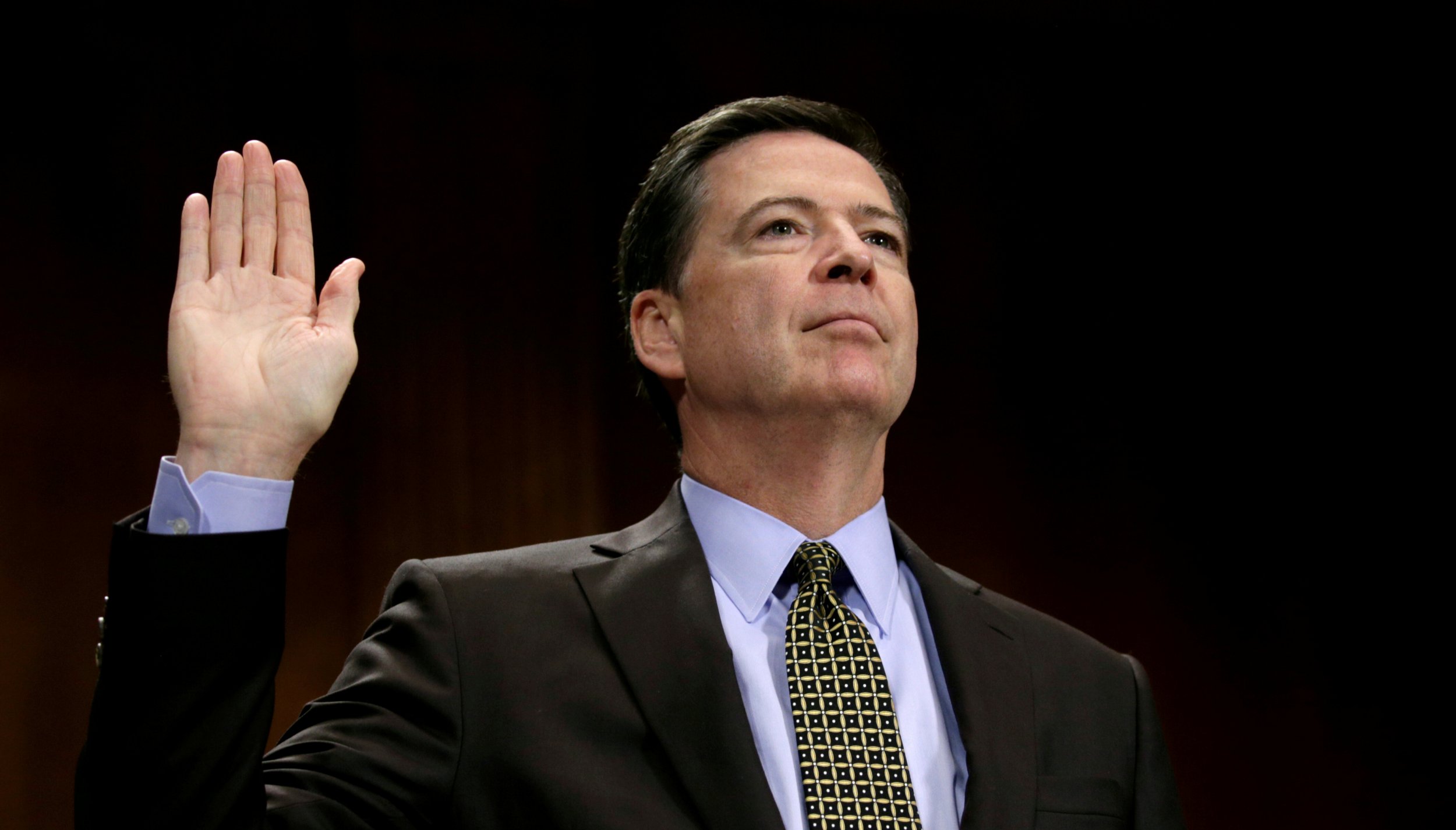 President Donald Trump has said his search for an FBI director to replace James Comey is "moving rapidly." He is interviewing eight or so people for the position, according to reports, and has said he could make his decision by the end of the week. Among those the president is considering are the acting FBI director, Andrew McCabe; Senator John Cornyn; an associate judge of the New York State Court of Appeals, Michael Garcia; and a former assistant U.S. attorney general, Alice Fisher.
Trump does not operate his White House in a traditional way, so he might not appoint the type of person other presidents might have chosen. But a look at the backgrounds of directors in the modern era of the FBI (since the death of longtime Director J. Edgar Hoover in 1972) could offer hints about who might get the job.
Related: FBI Acting Director McCabe: Russia probe 'continues'
Comey, who served as director from 2013 until Trump fired him on May 9, had been a lawyer at private firms, a U.S. attorney for the Southern District of New York and a deputy U.S. attorney general under John Ashcroft. He also spent time in the private sector, working as an executive at Lockheed Martin, the security and aerospace giant, and at Bridgewater Associates, a hedge fund.
His predecessor, Robert Mueller, who entered the role one week before the attacks of 9/11, had served with the Marine Corps in Vietnam and later worked in U.S. attorney's offices in San Francisco and Boston. He became assistant U.S. attorney general and led the criminal division of the Department of Justice. He was also a U.S. attorney for the Northern District of California in San Francisco.
The director before Mueller, Louis Freeh, whom President Bill Clinton appointed in 1993, also had military experience, having served in the U.S. Army Reserve. Unlike the most recent two directors, Freeh had FBI experience—he was a special agent for six years in the New York City Field Office and at FBI headquarters. After his initial stint at the bureau, he became an assistant U.S. attorney and then a judge for the Southern District of New York, where Comey also worked.
William Sessions, who served as director from 1987 to 1993, had a similar career path compared to his successor. He served in the U.S. Air Force and later worked as a lawyer and with the Justice Department. He became chief judge for the Western District of Texas, a post he left for the FBI job.
William Webster, director from 1978 to 1987, served in the Navy during World War II and the Korean War. He then worked as a lawyer and later as a U.S. attorney, then as a judge for the Eastern District of Missouri.
Besides Freeh, the only other modern director with FBI experience was Clarence Kelley, who led the bureau from 1973 to 1978. Kelley was an FBI agent for 21 years before his retirement in 1961. He came out of retirement to serve as director.
Right now, the possible candidate whose background perhaps most resembles that of the previous directors is Michael Garcia, the associate judge of the Court of Appeals in New York. Besides working at law firms, he served as U.S. attorney for the Southern District of New York, as did Comey and Freeh, and held positions at the Justice Department, as did Mueller and Sessions, and the Department of Homeland Security. He would be the first person of Latino heritage to lead the bureau, where as of 2012, Hispanic/Latino people made up 7 percent of the total number of special agents and 5.9 percent of the number of professional staff.
Alice Fisher's background is also consistent with that of previous directors. Like Mueller, Fisher was the assistant U.S. attorney general in charge of the criminal division at the Justice Department; in her case, under President George W. Bush. She is now a partner at the firm Latham and Watkins. Fisher would be the first woman director in the FBI's almost-109-year history, which could generate some much-needed positive PR for Trump and the bureau. In 1972, the FBI didn't have a single female agent, according to The FBI: A Comprehensive Reference Guide, edited by historian Athan Theoharis. As of 2012, the FBI workforce was 43 percent women.
Senator Cornyn has legal experience that is comparable to that of previous directors, having worked at a law firm and served as a district court and Supreme Court judge in Texas. He also served as Texas attorney general before becoming a U.S. senator, in 2002, a position he still holds. But some in politics are worried that appointing someone with such partisan experience could be problematic, according to Politico and other outlets.
McCabe, the FBI's acting director, has been with the bureau since 1996. But history shows that such experience is not always important to presidents. McCabe seems an unlikely pick, given that Trump is said to have dumped Comey because of his lack of loyalty, and at a recent Senate Select Committee on Intelligence hearing, McCabe said the FBI's investigation of Russia's meddling in the 2016 presidential election and possible collusion with Trump associates will continue. McCabe is also under review by the Justice Department's Office of the Inspector General for donations that his wife received for a political campaign from groups with ties to Hillary Clinton.
Other people whom Trump is reportedly considering are Frances Townsend, an executive vice president at the investment firm MacAndrews and Forbes, who served as assistant to President George W. Bush for homeland security and counterterrorism and worked in the Justice Department for 13 years under three presidents; Henry Hudson, a U.S. judge for the Eastern District of Virginia (where Comey once worked); and Adam Lee, special agent in charge of the FBI's Richmond, Virginia, division, who has been with the bureau since 1996.
The FBI Agents Association, which represents 13,000 active and former special agents, has endorsed another person with FBI experience—Mike Rogers, a former congressman who chaired the House Permanent Select Committee on Intelligence. Rogers was an FBI agent in Chicago for five years until 1994, when he began his political career.
"We need a director who understands the details of how the agents do their work, which means you probably need someone who has experience as an agent or at least something close to that," says Joshua Zive, outside general counsel to the association. Zive says that while previous directors have come from prosecutorial backgrounds, given the current public perception of the bureau, "it's more important now, I think, than it's ever been to have someone in there that knows how to communicate with agents and understands their work."
After the initial publication of this article, Senator John Cornyn announced in a statement that he is removing himself from consideration for FBI director.