Pastor Greg Locke urged his followers not to get vaccinated, claiming that "political elites" pretend to get vaccinated by getting injected with "sugar water" instead.
Locke, head of the Baptist Global Vision Bible Church in Tennessee, previously predicted on multiple occasions that former President Donald Trump would remain in office—even after it was clear that President Joe Biden had won the election. Earlier this month, Locke claimed that Biden is a "fake president" and that he "stole" the election. During a Sunday sermon this week, the pastor took aim at COVID-19 vaccines.
"I have not changed my stance. I haven't softened my stance. I have strengthened, strictly my stance against the [COVID-19] vaccine," Locke asserted. Right Wing Watch first reported the pastor's remarks.
"I don't care what Pfizer—I don't care what any of the four groups do out there. Look, if you think... for one minute that those political elites actually got that vaccination, you are smoking meth in your mama's basement," the pastor argued, drawing loud applause from those attending the religious service. "Bunch of fake liars is what they are. They didn't shoot nothing in their arm but a bunch of sugar water," Locke insisted.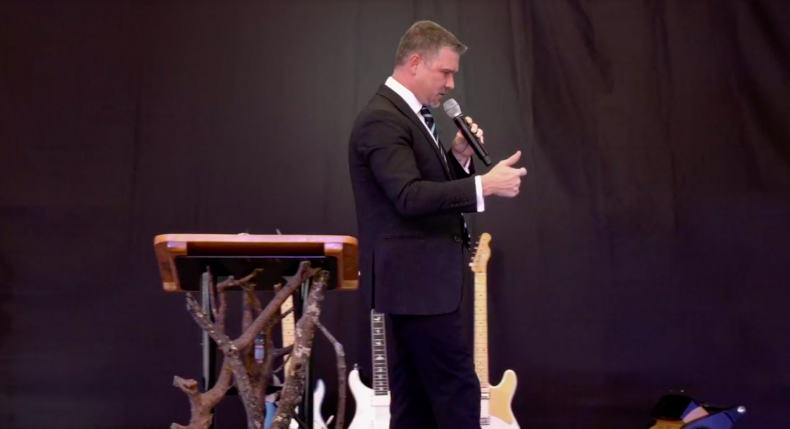 The pastor went on to say that he would write "religious exemptions" for anyone who refused employer demands to get vaccinated. "We will sue their stinkn' pants off!" he screamed as some in the crowd stood and cheered loudly. "This is America, not China!" Locke yelled, jumping with both feet in the air.
Locke's claims are completely false. Republican, Democratic and many prominent religious leaders—such as evangelical Christian leader Franklin Graham—have urged all Americans to get vaccinated. Rigorous scientific trials have clearly demonstrated that the vaccines are safe and highly effective against preventing severe cases of COVID-19.
"I would recommend it and I would recommend it to a lot of people that don't want to get it and a lot of those people voted for me, frankly," Trump told Fox News in mid-March. He added that the vaccines are "safe" and "something that works."
Graham, president of the Billy Graham Evangelistic Association and humanitarian aid organization Samaritan's Purse, urged Americans to get vaccinated during an interview with CNN earlier this month. "I thank God for the vaccine," the prominent Christian leader said.
In an interview with Axios, Graham said: "I want people to know that COVID-19 can kill you, but we have a vaccine out there that could possibly save your life. And if you wait, it could be too late."
Previous polling has shown that white evangelicals are one of the demographics most skeptical of the COVID-19 vaccines. A February poll conducted by Pew Research Forum found that some 45 percent of white evangelicals said they will "definitely" or "probably" not get the vaccine. Another recent poll carried out from May 4 to 10 by PBS NewsHour/NPR/Marist showed that 41 percent of Republicans said they do not plan to be vaccinated compared to just 4 percent of Democrats.
White evangelicals have long been a key base of support for Trump and Republicans. Exit polls during the 2016 and 2020 presidential elections showed that about eight in 10 voters within the religious demographic cast their ballots for Trump.
Newsweek reached out to Locke's ministry for further comment but did not immediately receive a response.
Newsweek, in partnership with NewsGuard, is dedicated to providing accurate and verifiable vaccine and health information. With NewsGuard's HealthGuard browser extension, users can verify if a website is a trustworthy source of health information. Visit the Newsweek VaxFacts website to learn more and to download the HealthGuard browser extension.