Pastor Greg Locke Says Respond to Social Media 'Censorship' With 'Second Amendment Right'
Pastor Greg Locke said Monday that in response to what he sees as First Amendment attacks on his church, the church will respond "with our Second Amendment right."
Locke, head of the Baptist Global Vision Bible Church in Juliet, Tennessee, was speaking to Stew Peters on the Red Voice Media program The Stew Peters Show about being banned from social media, as well as COVID-19 restrictions stopping large gatherings.
"People that say that this is not an attack have lost their mind. This is an absolute attack on our First Amendment right," Locke said in a clip surfaced by Right Wing Watch. "And I tell people all the time; look, when it comes to our church—and what we need to say and remaining open—that when they impede upon our First Amendment right, we'll meet them at the door of the tent with our Second Amendment right."
"They are trying to silence us, and I think our compromise is our silence. The fact that we are not willing to push back. And so I think big tech is in for a big rude awakening, because I think the Lord is going to turn this whole thing around, and they're going to start breaking this stuff up. Lawsuits are going to come in. And it's not going to be good for them, but I think it's going to turn out good for us," Locke continued.
Newsweek reached out to Locke for additional comment.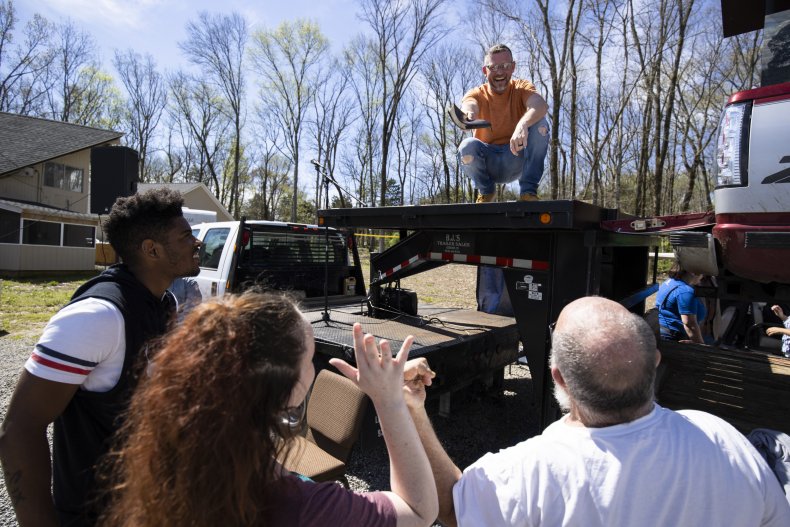 Since early in the pandemic, Locke resisted lockdown orders. In July of last year, he said in a Facebook video that he "will go to jail before I will close our church." In April of this year, he reiterated his statements that his church would stay open in the face of the military.
"They will roll up in tanks. They will drop down from helicopters. And I promise you, it won't be a dozen police out there from Wilson County and Mt. Juliet. It's going to take the entire United States military to roll up into this parking and tell us, 'Hey, we can't worship Jesus, and that we got to shut our church down and that we can't preach, and we can't pray,'" Locke said.
"You have lost your mind if you think I've given in to that! You have lost your mind if you think I'm giving into that mess! We are staying open forever," he added.
Locke also told his followers to not get the COVID vaccine, falsely claiming that "political elites" shown being vaccinated were instead given a placebo.
"I have not changed my stance. I haven't softened my stance. I have strengthened, strictly my stance against the vaccine," Locke said.
"I don't care what Pfizer—I don't care what any of the four groups do out there. Look, if you think... for one minute that those political elites actually got that vaccination, you are smoking meth in your mama's basement. Bunch of fake liars is what they are. They didn't shoot nothing in their arm but a bunch of sugar water," Locke insisted.