A patient is suing her anesthetists after she was left wide awake and suffering the prolonged agony of the surgeon's knife during a hernia operation.
Stacey Gustafson was given drugs that temporarily paralyzed her, but barely anything to provide pain relief—and nothing to make her lose consciousness until up to 35 minutes after the operation had already begun, she alleges.
The mom-of-one told Newsweek she's been left so traumatized by what happened, that she has made the heartbreaking decision not to have any more children, because she dreads ending up in an operating room again should she need a C-section.
Gustafson compared the situation as akin to a horror film or torture, as she was unable to move or scream to stop the surgeon cutting her open.
She says she now suffers from severe post-traumatic stress disorder (PTSD) and crippling daily flashbacks.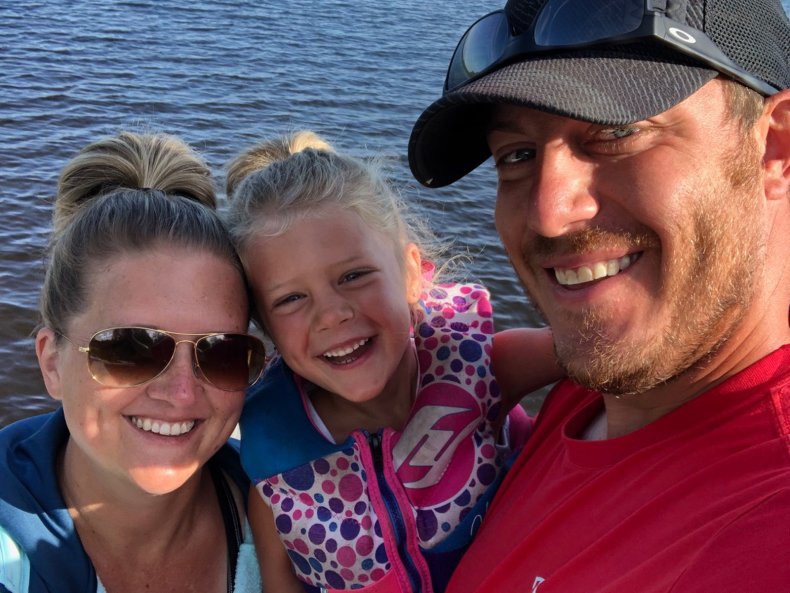 Newsweek has seen Gustafson's medical records, which show staff seemingly recorded their discovery that her propofol IV (short-acting medication causing decreased level of consciousness) was not connected to her during the procedure at the Rose Medical Center in Denver, Colorado, on October 2, 2019.
However, the U.S. Anesthesia Partners of Colorado, the company that employed the two medics responsible for anesthetizing Gustafson, denies negligence and is seeking to defend the case in court, and will be "defending this case vigorously."
Problems With the Intravenous Line
The 34-year-old was close to tears at times as she told Newsweek: "It was just complete black. I couldn't move, I couldn't talk. I was basically paralyzed, lying on the table. I felt a really sharp pain in my abdomen, which felt like I was being cut. I could hear the doctor, the surgeon, it sounded like he was giving instructions to somebody. I could feel everything—it was pulling, ripping, burning. And the only way I can think to describe it is just feeling like my insides were being ripped out."
Gustafson claims she was told later that her IV (intravenous line) had been disconnected so medics could administer an anti-nausea drug, but then they failed to reconnect the line again afterwards.
Instead of the IV pumping the crucial anesthetic directly into her body, it pumped out of the tube straight onto her bed—making her pillow sodden with it—while she remained fully conscious.
Meanwhile, medicine that had been administered earlier had succeeded in paralyzing Gustafson, so she was unable to signal for help.
Gustafson said she hadn't even been particularly nervous before the surgery: "It was like any other day; I'd had multiple surgeries before."
But the day turned bad when she realized she was somehow fully conscious, and she desperately tried to move to show she was still awake as she felt the excruciating pain of being cut open. She tried to move her hands, her feet, her legs—but nothing happened.
She said: "I could hear everything in the room. I heard somebody told a joke about a truck driver at one point, but then the pain brought my attention away from that.
"And then at another point I thought how when you have a baby, they tell you 'breathe deep,' that's how you get through the pain, so I tried to do that but I couldn't breathe [on my own] because I was intubated and so I wasn't able to do that.
"I had a moment of panic and a complete freak-out because I couldn't do anything. I was super anxious and panicking, [thinking] 'What do I do to get through this?'
"I just kept lying there shaking my head back and forth, hoping they would realize that I was awake and aware and could feel everything. To me, I thought I was shaking my head vigorously but apparently it was very small movements."
Moving Her Head
The surgery had begun at 14.20 p.m., but at around 14:42 p.m. Gustafson's medical records show staff noticed "purposeful movement with head" and they peeled off her eye tape to look at her eyes. However, seeing no other signs of consciousness, they simply gave her an "inhalation agent" and continued with the surgery for another 13 minutes.
Gustafson said: "When I was paralyzed, going through it, I didn't have a sense of how long it was, other than it seemed like it was lasting a lifetime, it seemed never-ending."
But eventually staff noticed the IV was leaking on to the pillow, which is when Gustafson was finally put under.
The medical notes state: "14:55 pt [patient] pillow wet, propofol infusion discovered not connected. Propofol infusion connected... [Patient told staff after surgery] she did remember pain and knew something was wrong."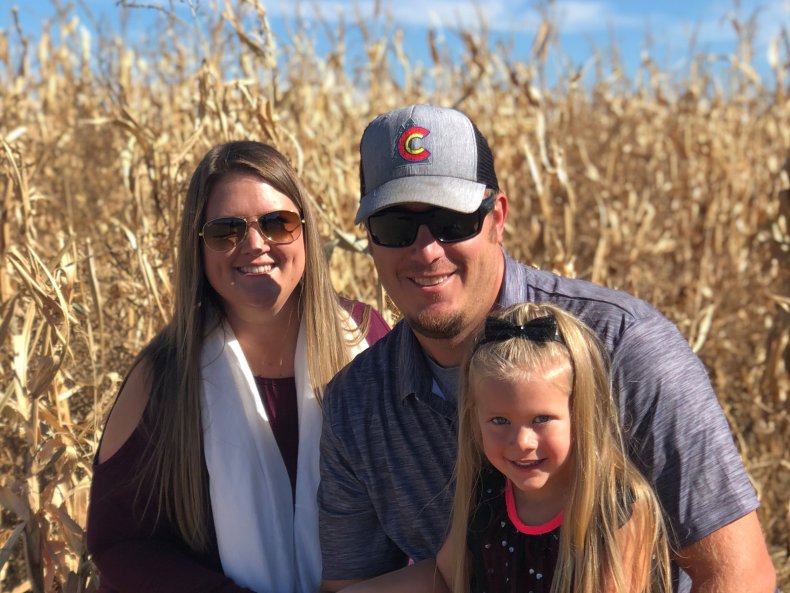 Gustafson remembers awaking in a panic in the post-anesthesia care unit (PACU) and weeping as staff spoke to her about what had happened.
She claims that is when she was told the IV had been disconnected while she was given some other medicine, and was never plugged in again. Her husband found her crying in bed when he was allowed to see her, and she broke the news to him about what she had endured.
Legal documents filed on her behalf state: "Mrs. Gustafson was fully aware of what was happening to her and around her, and could feel everything being done to her body in the surgery. Mrs. Gustafson could feel the surgeon operating within her abdomen and suffered from excruciating pain without anything to dull it... Mrs. Gustafson endured approximately 35 minutes of the hernia operation, completely aware and unable to communicate."
The complaint goes on to allege: "As a direct and proximate result of the defendants' negligence, Mrs. Gustafson has suffered and will continue to suffer injuries, damages, and losses, including, but not limited to, severe emotional trauma."
Continuing Issues After Surgery
Gustafson says the fallout from the surgery continues to haunt her, and has affected every element of her life, from her job, to her family life with husband Dallas and seven-year-old daughter Khylin, who was just five when her mom had the surgery.
Gustafson said: "We're two and a half years out since the surgery, and it affects me every day... I have PTSD from it. I still have nightmares. I get daily flashbacks. This is something that I needed professional help with, so I started therapy.
"The flashbacks are really strange, in that sometimes I don't know why I have a flashback to it... it seems like there's no rhyme or reason to what the flashbacks are.
"My poor husband has to deal with the PTSD. Before, it took a lot to upset me. I was pretty go-with-the-flow, and that's changed. With my husband and my daughter, I get irritable and I may snap.
"If I'm having a really hard day, and I need to cry, I will go in my closet and shut the door so my daughter can't see me. And she doesn't totally know what's happened, we've kept her pretty away from it, but she knows that something is not right. It's not fair to her.
"My daughter knew that something was going on. She's a five-year-old who wants her mom to pick her up, but if I lift her I could re-injure the area and that's scary. So that's another thing—for a five-year-old you want that from your mom and I couldn't give that to her. It's hard."
Ongoing Fear of Surgery
Gustafson says she lives in fear that she may require surgery again one day.
"I don't know how I would do it. But there were other surgeries at one time I would have wanted. I would have loved to have a tummy tuck—I lost a bunch of weight. And so that was my plan, but not in this universe would I ever do that [now].
"We wanted to have more children, and mentally I couldn't put myself through it. There's a chance I could have a C-section, and if I had a C-section I would have to have an anesthesiologist and the trust there is gone. Which is the hardest part too. I should be able to trust the medical industry, but now there is just an inherent mistrust."
Before the operation, Gustafson had applied for a promotion at her marketing job. But she says she was so psychologically scarred by what had happened that she no longer felt up to the more demanding role and was forced to withdraw her application.
She said: "You go in that day and think you're just going to come out and go home to recoup from the surgery. But not only did I have to come home and recoup from the surgery, but then also figure out how I cope with this every day. You don't go in to it [surgery] thinking, 'My life is going to change after this,' other than a couple of weeks of recuperating time."
Gustafson's attorney, Jennifer Keel of Thomas, Keel & Laird LLC, said: "It is pretty shocking because it's so rare to have that 'awake' paralysis, and it's so psychologically traumatic—that part is very shocking and unusual.
"It was a long time where she's feeling all of this. And she did have some pain medication on board. But it's not very much and the pain that she felt, it's pretty awful.
"The terror of being paralyzed and yet totally aware, and being paralyzed to the point where you can't even inhale because even your diaphragm is paralyzed from that medication. To realize you're totally helpless, and they don't know, and there's nothing you can do to stop it. It's hard to get your mind around that."
Keel alleges that testimony she took from the defendants reveals they did not tell the surgeon to stop the surgery at any point, even when they were concerned she may have been aware.
The attorney added she's extremely confident that her client has a case: "Because they documented that the IV was not connected and had been running out on to the pillow, we feel like it's a pretty clear-cut case where the medication that was supposed to be keeping her asleep just never got into her."
Gustafson is suing U.S. Anesthesia Partners of Colorado and two of its employees: anesthesiologist Gregory James Goldenhersh and certified registered nurse anesthetist (CRNA) Katherine Palomino.
She is alleging the pain and awareness she suffered during her surgery was the result of negligence.
Allegations Denied, Vigorous Defense
However, U.S. Anesthesia Partners (USAP) of Colorado denies the allegations, and provided a statement to Newsweek on behalf of the defendants named in the lawsuit.
The firm's vice president of communications, Tony Good, said: "USAP provides excellent anesthesia care for approximately 225,000 patients in Colorado each year. Our over 500 clinicians in Colorado are focused on one thing—patient safety.
"This is demonstrated by the high-quality outcomes we have across the many thousands of surgeries and procedures in which we provide anesthesia care each year.
"As this case is a legal matter, it is inappropriate to comment or litigate the matter publicly other than to say that USAP will be defending this case vigorously."
The trial is set to begin on July 18.
Need for an Anesthesia Checklist
Meanwhile, Gustafson is calling for more to be done in operating rooms across the U.S. to prevent this from happening to anyone else.
She wants to see hospitals following an anesthesia checklist before every operation, with a series of checks staff must undertake, similar to the safety checklists used by the aviation industry before flights.
And she would also like to see an EEG-style brain monitor that measures the level of a patient's unconsciousness used during every surgery.
Discussing what she hopes to gain from trial, Gustafson said: "This could bring awareness to any other anesthesiologists. This was something that could have been prevented.
"The other thing is, as I've gone through this, I have been searching for somebody that I can relate to, who's going through it. Because that was one of the hardest things. You feel very lonely going through this because it's not something that happens a lot. And it would just be helpful to know that somebody else is out there. So for anybody [else] who goes through it, they won't feel like they're the only person."