Patrick Mahomes' Wife Slams Online Criticism—'Jealousy Is Ugly'
Patrick Mahomes' wife, Brittany Matthews Mahomes, has discreetly shown her feelings on the constant online criticism she has faced as she celebrates her husband's Super Bowl victory with the Kansas City Chiefs.
During America's biggest night of football on Sunday, the Chiefs clinched a 38-35 win over the Philadelphia Eagles at State Farm Stadium in Glendale, Arizona.
The win came after multiple seasons of Matthews Mahomes being her husband's most prominent cheerleader, including when he became the youngest quarterback to be named Super Bowl MVP when the Chiefs beat the San Francisco 49ers in 2020.
However, her behavior has annoyed some football fans over the years, who have subjected her to a range of criticisms online—primarily centering around her celebrations of her partner's victories.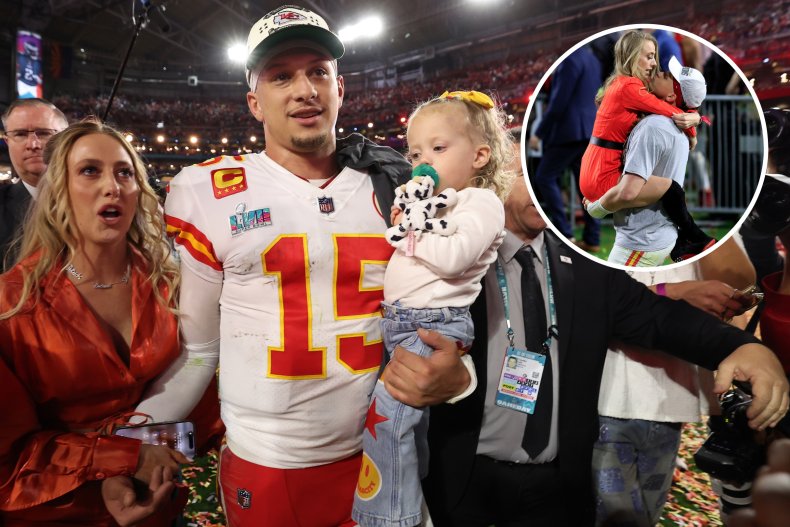 In the lead up to Sunday's big game, a tweet caught Matthews Mahomes' eye that defended her from the onslaught of criticism, and she showed her appreciation with a like.
"People hating on @BrittanyLynne makes me so ANGRY," read the tweet in question. "Jealousy is really ugly y'all. She is enjoying her life with her husband and kids and y'all are..... sitting behind a computer talking bad about someone you don't know!!!!! #teambrittany #ChiefsKingdom."
Back in January 2022, Matthews Mahomes expressed her frustration at the criticism she faced after she posted a video on Instagram showing her celebrating the Chiefs' divisional round win over the Buffalo Bills.
In the video, she was seen popping open a bottle of champagne inside her suite in the stadium and spraying it all over fans.
"I just wish I could do what I want without getting attacked every week," Matthews wrote on Twitter in response to the backlash.
Matthews Mahomes and her sportsman husband tied the knot on March 12, 2022 after a decade of dating. The couple welcomed their daughter, Sterling Skye, on February 20, 2021. Their son, Patrick "Bronze" Lavon Mahomes III, was born on November 28, 2022.
She has been one of Mahomes' biggest cheerleaders throughout her husband's career and has often shared photos of his games. She also made headlines in the 2019-2020 season after she was harassed by New England Patriots fans who became upset with her support of Mahomes.
Matthews Mahomes revealed in a Twitter post that she had to be removed from her section because of the rowdy hometown fans, but that didn't stop her from cheering him on.
The mother of two was her husband's biggest fan long before he became a first-round pick for the Chiefs during the NFL Draft in 2017. The couple, who are both 27 years old, first met when they were in high school in Whitehouse, Texas. Mahomes was a star athlete at Whitehouse High School, where he played both football and baseball, while Matthews, also an athlete, played soccer.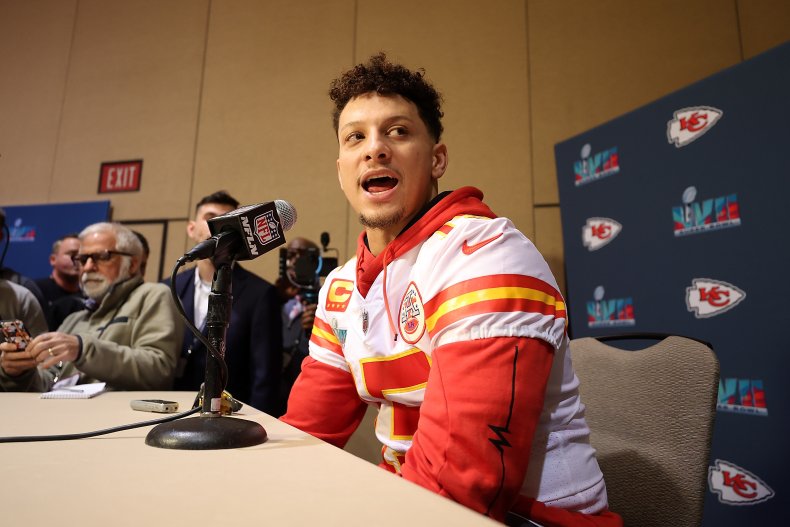 The pair began dating during Mahomes' sophomore year. One of his earliest Instagram posts was of the young couple attending prom in 2013.
Although Matthews stayed nearby when she left home for college in 2013—she played soccer at the University of Texas at Tyler—Mahomes was recruited to Texas Tech University in Lubbock, nearly 440 miles away, in 2014 on a football and baseball scholarship.
Despite the distance, their relationship remained strong and continued to flourish even when Mahomes uprooted to Missouri following the draft in 2017. Meanwhile, Matthews Mahomes, who graduated with a kinesiology degree that same year, went to play professional soccer in Iceland after signing for UMF Afturelding/Fram.
Matthews Mahomes has since retired from soccer and now works as a personal trainer through her own company, Brittany Lynne Fitness. However, she credited her time in Iceland for inspiring her to make health and wellness a profession. She is also co-owner of the National Women's Soccer League team Kansas City Current.