Super Bowl Halftime ASL Interpreter Goes Viral—'Went Harder Than Rihanna'
Rihanna's performance during Sunday's Super Bowl Halftime Show has become a social media talking point for a number of reasons—not least because an American Sign Language (ASL) performer almost stole the show.
Chart-topping singer Rihanna thrilled fans when she ran through a medley of her biggest hits at Glendale, Arizona's State Farm Stadium. She also revealed that she was expecting her second child by unveiling her growing baby bump on the stage.
And while the Barbados-born singer's performance proved to be a hit ahead of the Kansas City Chiefs' 38-35 win over the Philadelphia Eagles, deaf TikTok sensation Justina Miles won herself legions of fans for her passionate signing at the show.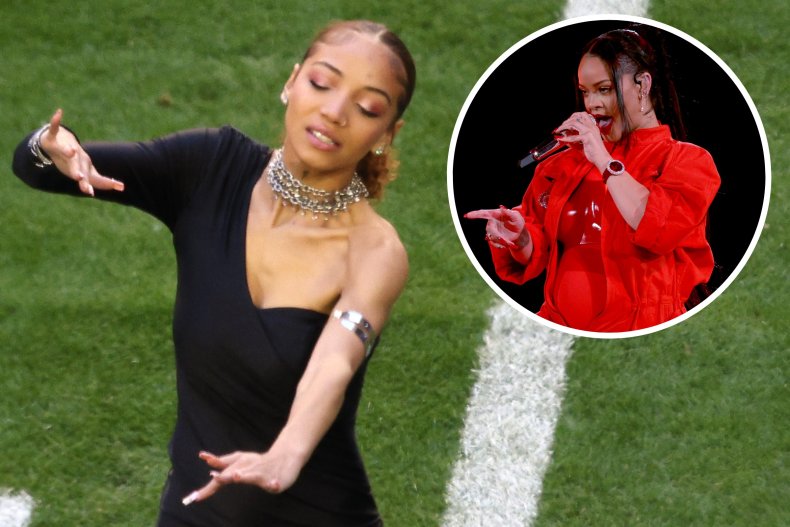 Miles was one of three performers, including Oscar-winning CODA actor Troy Kotsur and deaf Navajo scholar Colin Denny, who were seen providing onscreen services for the deaf and hard of hearing.
Miles, 20, was first seen on Sunday during Abbott Elementary star Sheryl Lee Ralph's pre-show rendition of "Lift Every Voice and Sing," before making a return to keep apace with Rihanna's high-energy, multi-track performance.
In video footage shared on social media, Miles was seen looking like a pop star in her own right as she signed and mouthed the lyrics of Rihanna's hits with as much style and passion as the hitmaker herself.
Sharing a clip of Rihanna and Miles side-by-side during a performance of "B**** Better Have My Money," one Twitter user wrote: "The ASL Interpreter for the Super Bowl went in harder than Rihanna!" The clip, which can be seen here, has been viewed over 500,000 times.
Another posted video footage of Miles dancing and signing away as Rihanna transitioned from singing "Rude Boy" to her reggae dancehall-inspired hit "Work."
"Honestly, I'm having more fun watching Rihanna's interpreter own it," they captioned the clip, which has received over 230,000 views.
"I really wish this ASL interpreter got some national airtime during Rihanna's Halftime performance," commented another. "SHE IS GETTING HER LIFE, LITERALLY ATE AND LEFT ZERO CRUMBS!!!!!"
Showing their allegiance, one Twitter user quipped: "Um Justina Miles for the ASL #SuperBowl #Rihanna was the true star of the #AppleMusicHalftimeShow."
"The ASL interpreter absolutely slayin Rihanna my god," said another, as they also shared footage from the show-stopping performance.
Philadelphia native Miles, who is a nursing student at HBCU Bowie State University, made history on Sunday as the first woman deaf performer at the Super Bowl Halftime Show.
It's an important moment "not only for me to share this experience with the whole world, but to really bring that empowerment to millions and millions of Black deaf people all over the country who've never really seen that before," she said at a pre-Super Bowl press conference on Thursday. "I feel that is truly lifting every voice, even my voice."
Miles further told CNBC: "I value the opportunity to make it possible for all deaf people to enjoy these songs, and not have them miss out on the full Super Bowl experience."
Per the National Association of the Deaf, Miles was the valedictorian at the Model Secondary School for the Deaf in Washington, D.C. She also was part of the team that represented the U.S. at the 2021-22 Deaflympics in Brazil. At the event, she scooped a silver medal as part of the 4x100 women's track relay team.
Ahead of her Super Bowl appearance, Miles told CNBC that she hoped her moment in the spotlight would inspire others to "not to let any obstacles prevent you from achieving your dreams, and to always believe in yourself to go beyond."
She also made a special mention of her mom, "who told me that she already loves me, and that if I am my Philly Black Deaf self, everything would be amazing."