Elon Musk Responds to Discourse Around Him and Rupert Murdoch at Super Bowl
Elon Musk has weighed in on the huge social media reaction to footage of him sitting with media mogul Rupert Murdoch at Sunday's Super Bowl LVII.
Following Rihanna's highly-anticipated performance during the Super Bowl Halftime Show, cameras caught the two billionaires sitting beside one another in prime seats at Glendale, Arizona's State Farm Stadium.
Before the Kansas City Chiefs ultimately defeated the Philadelphia Eagles on football's biggest night, viewers took to Twitter in droves to share their opinions on Twitter CEO Musk, 51, spending time with Fox News owner Murdoch, 91.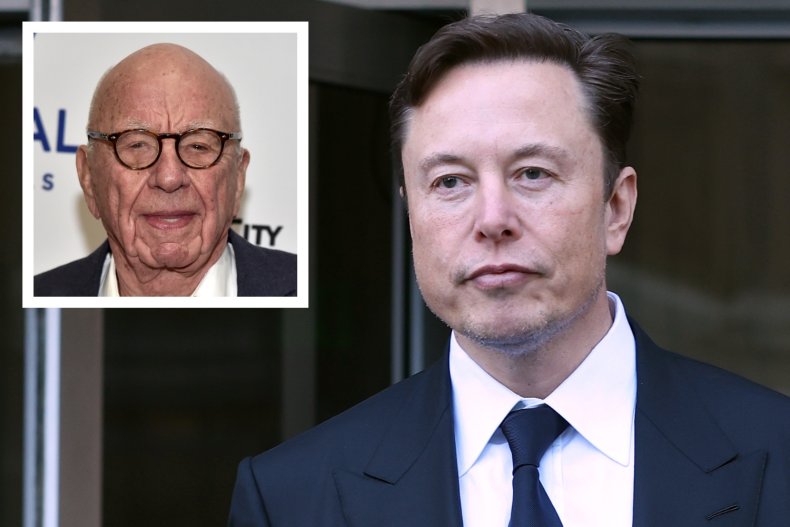 While there was a flood of negative comments, Grit Capital CEO Genevieve Roch-Decter took a playful approach by engaging Twitter users in a guessing game.
Roch-Decter posted a screenshot of the moguls sitting side-by-side as she wrote: "Elon Musk is sitting next to Fox News owner Rupert Murdoch at the Super Bowl. What are they talking about? Wrong answers only."
Amid tongue-in-cheek suggestions that Musk is planning to purchase Fox News, the South African-born entrepreneur weighed in and shared an answer of his own.
"Dogecoin," responded Musk, who is known to be a champion of the cryptocurrency.
His mere mention of DOGE—albeit jokingly—saw the cryptocurrency rise 3.6 percent to $0.085, per Benzinga. In the preceding week, the meme coin was down 4.5 percent. Its trading volume spiked 192.8 percent to $645.79 million, according to CoinMarketCap data.
While Musk's comment was met with a positive reaction from his army of followers, there was a wave of negative comments elsewhere on the micro-blogging platform.
"Elon Musk sitting next to Rupert Murdoch at the Super Bowl. Rightwing billionaire media moguls gotta stick together, I guess," wrote MSNBC host Mehdi Hasan. "But remember that image next time you hear Musk pretending to be anti-elitist or anti-Establishment or anti the media, or some kind of populist. Lol."
"Elon Musk is sitting with Rupert Murdoch at the Super Bowl. Don't tell me how he's not a Republican ever again," tweeted social media personality Ed Krassenstein.
Krassentein's twin brother, Brian Krassenstein, also reacted to the footage, commenting: "Of course Fox News' Rupert Murdoch and Elon Musk are sitting together at the Super Bowl. Everything makes too much sense."
Democratic political activist Kaivan Shroff was notably damning in his assessment of Musk sitting with Australian-born Murdoch during the game.
"Elon Musk sitting next to Rupert Murdoch at the Super Bowl," Shroff said. "2 men who are working as hard as possible to destroy American democracy as they pretend to celebrate an American cultural moment."
Meanwhile, it was pointed out on the Twitter account @DecodingFoxNews that the Super Bowl commentators spoke of Musk and Murdoch's "brilliant minds," before jokingly conceding that the latter "pays our checks."
"The announcers call Elon Musk and Rupert Murdoch brilliant then immediately declare WHY they called Murdoch brilliant," read the tweet. "Good to know the owner of this platform is hobnobbing with the head a right-wing propaganda machine. Politically independent or fascist?"
Businessman Musk has courted controversy since his deal to purchase Twitter for $44 billion was finalized on October 27, 2022.
The Tesla CEO vowed Twitter would be a beacon of free speech, and reinstated the accounts of divisive figures, including disgraced former national security adviser to former President Donald Trump, Michael Flynn.
Racist and Adolf Hitler apologist Nick Fuentes was also reinstated on Twitter before he was swiftly removed from the platform once again.
Musk also came under fire when he amplified an unsubstantiated narrative that Paul Pelosi was not in fact the subject of a random assault at his San Francisco home on October 28, and that he somehow had a prior relationship with the suspect, a conspiracy theory shared by many right-wing accounts.
But many conservatives have praised Musk for what they view as the platform being removed from the control of liberals.