How Mike Pence 'Absurdity' Made Him Donald Trump's VP: Paul Manafort
Donald Trump was so impressed by the "absurdity" of Mike Pence endorsing Ted Cruz for president in 2016 that it helped him to pick the then-Indiana governor as his running mate, according to Paul Manafort.
Manafort, Trump's former campaign chairman who was jailed for tax and bank fraud charges in 2019, described the events which led up to Pence being named on the then-presidential hopeful's ticket in 2016 in his new memoir, Political Prisoner: Persecuted, Prosecuted, but Not Silenced.
In his new book, a copy of which was supplied to Newsweek, Manafort discusses how he planned with former New Jersey Governor Chris Christie to ensure Pence remained neutral with regards to his presidential pick, despite it being well known he wanted to back Cruz in the GOP primary.
Manafort said after the three all had a meeting in Indiana, Pence had "privately agreed" to not endorse the Texas senator.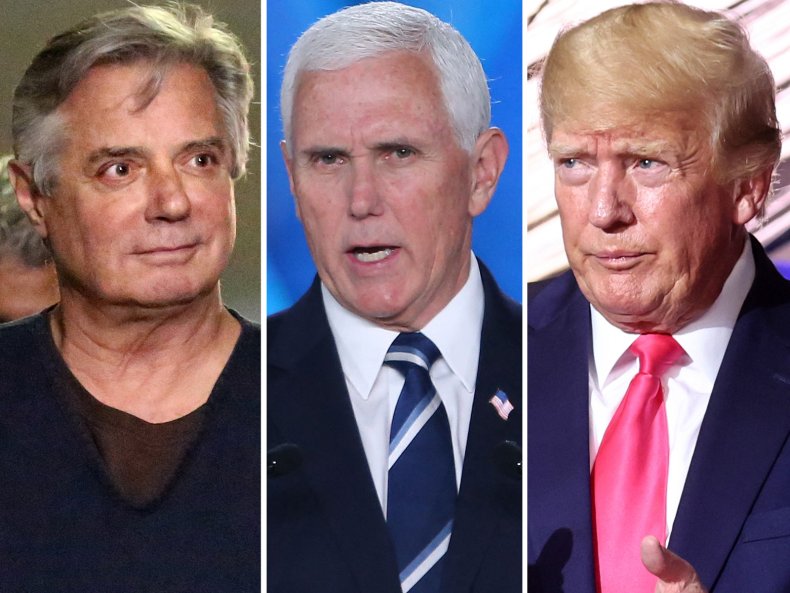 Manafort claimed that Cruz then "put the squeeze" on Pence to ensure his endorsement, noting how the governor needed the continuing backing of the Chicago-based Ricketts family—who were also huge fans of Cruz—for financial support if he wanted to win the upcoming gubernatorial midterm in Indiana.
Manafort said that the Friday before the Tuesday primary in Indiana, Pence went on his regularly scheduled radio show, WIBC, in Indianapolis.
"For five minutes, Pence talked about what a great guy Donald Trump was. He talked about all the issues that he and Trump agreed on, basically building Trump up to the sky. Then, he endorsed Cruz and ended the radio broadcast," Manafort wrote.
"Trump called me immediately. 'That was the best non-endorsement I ever got,' he laughed. 'But what's it going to do that he endorsed Cruz?' 'Nothing,' I said. 'Based on everything I am seeing, it's too late to help Cruz,'" Manafort said.
"This calmed Trump down and allowed him to enjoy the moment. Although he had endorsed Cruz, Pence had praised Trump in a way that the Cruz endorsement meant nothing. Trump enjoyed the absurdity of the situation."
Later on in a chapter entitled "Running Mates," Manafort details how Trump went on to choose Pence as his vice president, despite the governor not being on an original "list of twenty" potential candidates drawn up by Trump and his campaign team.
Eventually, the list was narrowed to three names: Christie, former Speaker of the House Newt Gingrich, and Pence after his name was later thrown into the hat by Manafort.
"Pence checked the conservative box and the congressional box, having managed the budget process as part of the Republican leadership in the House," Manafort said. "He was popular with the Christian constituency, and he brought significant governance experience.
"He was well thought of in Washington. He was well thought of as governor. He was assertive and strong, but he was not going to be challenging the president."
Manafort said the biggest obstacle for Christie's chances was the potential conflict with Jared Kushner, who is married to Trump's eldest daughter Ivanka.
As an attorney, Christie had prosecuted Jared Kushner's father, Charles Kushner, and negotiated a deal in which the real estate developer pleaded guilty to 16 counts of tax fraud, witness retaliation and making false statements to the Federal Election Commission in 2004.
In July 2016, just days before the Republican National Convention, Trump, along with his son Eric, went to see Pence in Indiana, before planning on seeing Gingrich in New York the next day. When Trump's plane could not take off from Indiana due to technical issues, they stayed overnight in Indianapolis.
"First thing the next morning, we had breakfast in the governor's mansion—Trump, the family, and Pence. It was a great meeting," Manafort wrote.
"Meanwhile, Gingrich decided that, due to the delay, he wouldn't be able to meet us in New York. Instead, he would fly to Indiana and meet Trump there. At around eleven o'clock, we met with Gingrich. Trump was very comfortable at this point in time with the idea of Pence as VP."
Trump is said to have told Gingrich that despite not being his choice as running mate, he considered him "part of the kitchen cabinet," according to Manafort.
"You're going to be there every day. I want you. I need you," Trump said, as quoted by Manafort.
The next morning, on July 15, 2016, Trump tweeted, "on his own initiative" that he had chosen Pence as his VP.
"Not the conventional way, but not the conventional nominee for President. Once again, Donald Trump made history and announced his choice 'his way,'" Manafort wrote.
Trump and Pence have been contacted for comment.
Manafort was pardoned by Trump in December 2020 after being jailed for seven years for tax and bank fraud charges brought forward by special counsel Robert Mueller's Russia investigation. Manafort was released from prison to home confinement in May 2020.
Update 08/03/22, 6:31 a.m. ET: This article was updated to indicate that comment from Trump and Pence was sought.