What Paul Mescal Said in Irish at the BAFTAs
Paul Mescal's viral interview on the BAFTA Awards red carpet has been called a landmark moment for Irish speakers.
The Oscar nominee, 27, captured social media's attention after speaking to the Irish broadcasting network TG4, ahead of the British Academy of Film and Television Association (BAFTA) film awards on Sunday.
Mescal was nominated for his role in Aftersun and stopped to speak to Irish reporter Caitlín Nic Aoidh on the red carpet.
The actor impressed fans around the world when he conversed with Aoidh in Irish—the indigenous language of Ireland.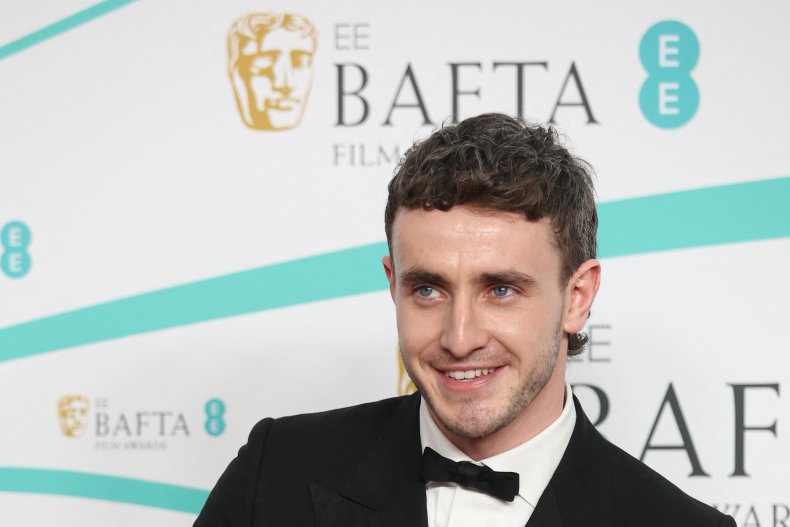 The pair chatted about Aftersun and he was asked about his young co-star, Frankie Corio, 12, on whom he heaped praise, according to Darach Ó Séaghdha. The actor said it was great to be at the BAFTAs and that Irish-language films had been nominated (An Cailín Ciúin [The Quiet Girl]).
While about 39.8 percent of Irish people say they speak the language, only 6.3 percent of people speak it on a weekly basis, according to 2017 data from the Central Statistics Office.
"[Mescal] was very complimentary about his co-star," Ó Séaghdha told Newsweek, but added, "I don't think the content is really what mattered, though.
"While Paul Mescal is not a very Irish-confident speaker... the fact he had a go with his schoolboy Irish is probably more significant."
Ó Séaghdha started the popular Twitter account, The Irish For, which shares Irish words and phrases to help promote the language. The success of the account led him to start a podcast and publish two books about the language, including Motherfoclóir.

Mescal, who rose to fame in Hulu's Normal People, even gave The Irish For a follow. This was long before he became an internationally acclaimed actor, showing his longstanding interest in the language.
"I think the fact he went to the effort [to speak in the language] using his schoolboy Irish might have other people think, 'I can do that,'" Ó Séaghdha said.
"It was something I wasn't expecting of him, and he did it anyway."
For journalist Clodagh Griffin, the moment was exciting not only to see "Hollywood stars" speaking in Irish, but also because she was standing next to Aoidh on the red carpet when the viral moment happened.
Griffin was covering the BAFTAS for The News Movement, a social media-based news company, and told Newsweek that "this was by far the most exciting assignment I've been on."
"Having Hollywood stars like Paul Mescal and Brendan Gleeson (The Banshees of Inisherin) speaking Irish is a fantastic way of keeping our native language alive and thriving. To see it on a world stage like the BAFTAs being spoken with pride by the stars and in the films nominated was an incredibly proud moment for me as an Irish person and gives me a lot of hope for the future of our language," Griffin said.
Ó Séaghdha described how the mass migration of the Irish around the world, coupled with classist views of Irish led to the drop of its use. But a recent concerted effort to revive the language, including the founding of TG4 in 1996 and an increase in films being made in Irish, is starting to shift that perception.
"Learning Irish didn't help people when they went abroad... and that led to an increasingly negative attitude towards the Irish. For a while, it was [also] associated with the poor parts of Ireland, in that native Irish speakers tended to be poorer than those who spoke English," Ó Séaghdha said.
"So those kinds of middle-class ideas did push the representation of the Irish language down, but it's changed a lot now... It's seen that Irish is a good thing to have now and is a cool thing to have and opens a lot of doors."
Griffin added: "I was really excited to see that Paul was speaking in Irish at the BAFTAs. He's such an influential figure for young people, so I hope this is a great push for the language. He went to an Irish-language primary school and does a great job in the interview, but still apologizes for his Irish."
Despite feeling nervous about speaking Irish, Aoidh told Mescal at the end of the interview, "tá do Ghaeilge foirfe," which means "your Irish is perfect."
What is even more impressive is that Mescal was able to talk with Aoidh. She hails from Donegal, a region of Ireland with a distinct way of speaking that other Irish speakers can often struggle to understand.
"It's widely seen as the hardest to speak... Donegal Irish speakers are seen as talking very fast and have different turns of phrases we learn at school," Ó Séaghdha said.
He added: "It was doubly hard for him to speak to her, and she encouraged him on."
For Aoidh, Sunday night's viral moment was not her first brush with international fame. In 2016, the reporter was seemingly struck by lightning when delivering a weather report and disappeared from the screen.
The set went silent, and screens quickly changed to a TG4 title card. Even though it was part of a Halloween prank, the moment went viral around the world.
Newsweek contacted Mescal's representatives for comment.