PCO is Ring of Honor's 52-Year-Old World Champion & Says He's Far From Retirement
Of all the champions in professional wrestling, PCO may be the most unlikely.
The 52-year-old signed with Maryland-based promotion, Ring of Honor in 2019 and in less than a year became its top champion after defeating Rush at the Final Battle pay-per-view in December.
PCO or Pierre Carl Ouellet may be recognizable to wrestling fans, as he was one half of the WWF Tag Team Champions, The Quebecers in the early '90s. Afterwards, PCO would bounce around to other promotions like WCW, but it seems the veteran has found a home with ROH.
As he enters his second year with the promotion, PCO looks to bring Ring of Honor into the new era as he defends his title against Rush this Saturday, January 11, in Atlanta.
The promotion had a troubled 2019, but PCO expects change in Ring of Honor and feels the wrestling community will experience the results of those adjustments soon.
Newsweek caught up with PCO to discuss his journey to being ROH World Champion, his outlook for 2020 and his thoughts on retirement.
Note: This interview has been edited for clarity and length.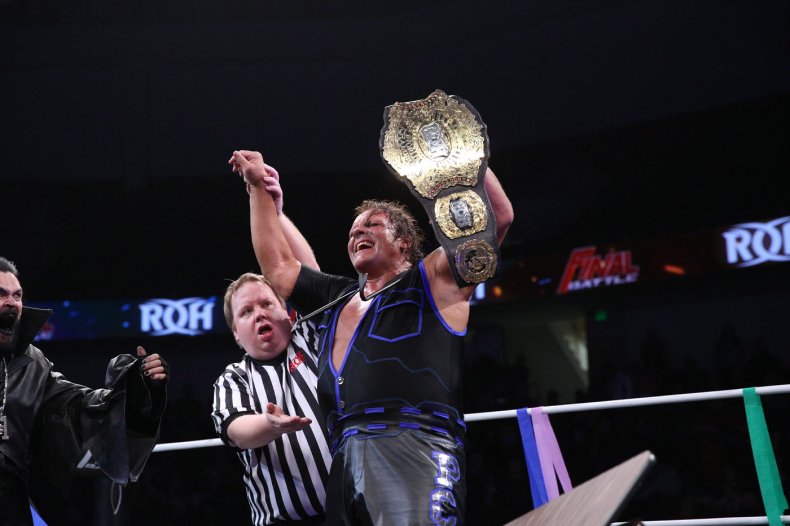 How does it feel to start the new year as Ring of Honor World Champion?
It's great. It's a goal I had when I was 14. It's a dream come true. To finally see the commitment and to start another one [Laughs]. We always want to extend it to the end, so I'm delighted and happy and [feel] rewarded for all the sacrifices that my entourage, friends and everyone around me and myself that I was able to capture the gold. I tried to adjust and I finally found it. I'm very, very excited about it.
Ring of Honor is putting a lot of faith in you as champion less than a year after signing. How do you feel knowing that?
I think they saw how committed and driven I was. And I think they were able to see everything I was doing in the ring: taking a lot of risks putting my body and life on the line every time I step into the ring. I'm always trying to find ways to improve myself and ways to get the name out there as much as possible to everyone, not just the wrestling community. My goal is to be on top, and everyone knew who [the champions] were whether it was WWF or anywhere else, and that's my goal in ROH. I want the same thing. But I want to be creative about it and do it, in a way, as a champion for ROH as a team and a company. I obviously can't do it by myself. I had incredible help from everyone, from the whole roster to everyone working there.
Ring of Honor had a tumultuous 2019. The rise of AEW and the growth of other promotions has left ROH on the backburner. Does that put more pressure on you as the champion?
I guess so. There are changes in the company. We just got great exposure with the NHL in front of the Montreal Candadien hockey fans. The Montreal Candaians are the greatest dynasty in sports history, and being there and sharing videos of the event, I think it's a good step in the right direction. There's so much more to come in 2020, and the company itself has huge plans. I feel like we're back in the discussion with the top three: WWE, AEW and Ring of Honor. And I think there's so much more to come. There's such a great feel for it. We will surprise a lot of people in 2020.
What's your contract status with ROH?
That's something that I want to make no news about it if I re-sign with them for a year or any details that come out. But I'm on great terms with this company who has treated me so well and so professionally from Day 1. Whenever I needed something, they were there. It's not just about the money, it's about the people. When it's about the people then the money comes in. I think we have great principles, great values, and I think it's going to pay off.
They produce so many great names in this industry. There are a lot of big names that came out of Ring of Honor, and, now that ROH is becoming more of a very professional entity, there is more money allowed to the budget, more money allowed to get the talent... There's more money for everything. I can see already a huge difference. Sinclair is behind Ring of Honor, and they are in it for the fight, and I don't like to say that. To me it's not about competition. It's more about being creative. It's about creating your own fan base, your own style, your own stars and creating the way you do your thing and creating your own public and fans. We will show that, and that will translate into being one of the top companies this year. It's going to happen in a pretty short span of time.
You defeated Rush for the championship and you'll face them again this weekend. Can you take me through the day you won the ROH Heavyweight Championship?
Getting the title is something. I had chills all over me, tears in my eyes and, in five minutes, the thrill of my life. I had flashes of my life when I was 18, 20, 25... Every age, every setback, success and then you see the light at the end of the tunnel, and something else comes crashing on me. All the adversity that I had to go through and figure out, that has driven me to learn from it.
When I was young becoming the champion was all about the flash and the looks of being a world champion, but it wasn't deep down inside my heart. I knew that I had to achieve it, and it was so hard to do. On the way there I had to learn lessons, grow as a human being and not make the same mistakes over and over. And I was going to learn from different things.
To me getting to the top is like "The Alchemist" by Paulo Coelho. It's not the title, it's the journey that transformed PCO. You don't get what you want, you get what you are. Once I learned that, I realized there was a lot of work to do. When I was the world tag team champion I kind of wasted it because I wasn't ready, and I wasn't ready for success like Elvis Pressley and Micahel Jackson. They all struggled because they couldn't find their way to be serene while they were achieving their goal. But in my case it made me a better person. I want to impact the wrestling world with my accomplishments, and I really want to give back.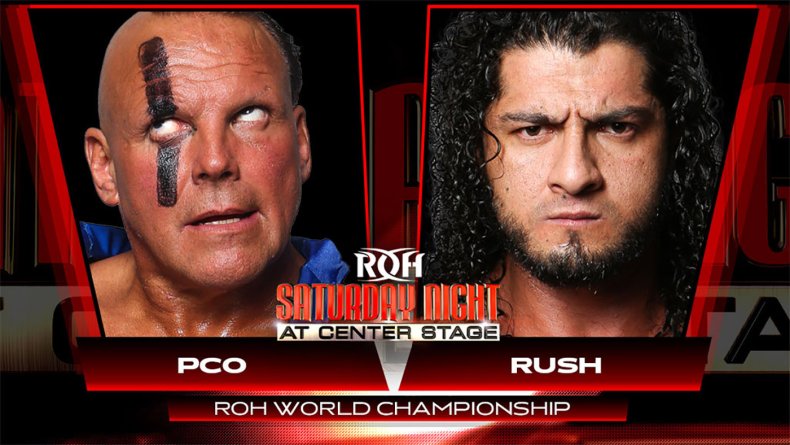 As the ROH Champion, do you feel you have to change your wrestling style to protect yourself?
Nothing changes. I don't feel like I have to change anything because it's my style. It doesn't have to be hardcore, but it's going to be hard-hitting and tough on my body. And it's going to be something that others cannot do. I want people to say "how can he be doing this at 52 years=old? How can he be so crazy and do things that someone who is 25 won't even dare to try?" I'm working on my craft everyday, and I feel like I'm getting better.
2020 is going to be a great year for me as well. I've been working on different things in the ring. I've had a chance to get a nice gym and buy a ring [at home], and I'll be able to get some work in that ring. It's crazy how [much] you can improve. Most people think they are done at 45 but I'm doing things I couldn't do at 25. I couldn't do a moonsault at 25. I remember a time in Puerto Rico working for Carlos Colon that I went to the top and went for a moonsault and hurt my knee so bad and I had to go to Japan right after. I was almost on one leg for the whole tour of Japan it was so bad. I promised myself I would never try a moonsault again. So after some years I told myself that I was going to hit that moonsault.
So I hired the right people, the right coaches, personal trainers and went to the trampoline two times a week. It took a year but by the end I could hit the moonsault, and it's been great. What I do for people they are on the edge of their seats, and they think [laughs] "Is he going to hit it or is he going to crash?" And then they see everytime I hit the moonsault, and there's a wave of relief that goes through the crowd. It's a big pop all the time, so I'm happy I put a lot of effort into doing a moonsault. I learned that when I was 49 or something like that. If you put the time and the work [in] and don't get discouraged it'll happen eventually. There are so many roads to improve as a wrestler, as a performer, as the face of the company. You can talk to the media, be active on social media... There are so many things that can make a huge difference for your career.
You've entered this next stage of your career late in life when a lot of wrestlers younger than you are thinking about retiring. Does retirement even come to mind?
That hasn't crossed my mind. The only thing that has is to achieve all my goals in the wrestling business. Once I do that, I will hang them up. The good thing about it it might be done in one year, two years, three years, I don't know... I just know I'm going to have a super-perfect opponent for me, location for me and perfect feud for me down the road. We're going to do some crazy ratings and buy rates and money. It's going to be historic. That's what I know for sure, and that's the goal itself. Once that's been reached, I'm not going to stretch it out by any means. A lot of people, when I told them I was going to be world champion, they looked at me [surprised]. But I'm very driven and I know what I want. Like JFK said, we were going to the moon. He didn't know how but we were going, and that's me with pro wrestling. I'm going to do everything I want to achieve.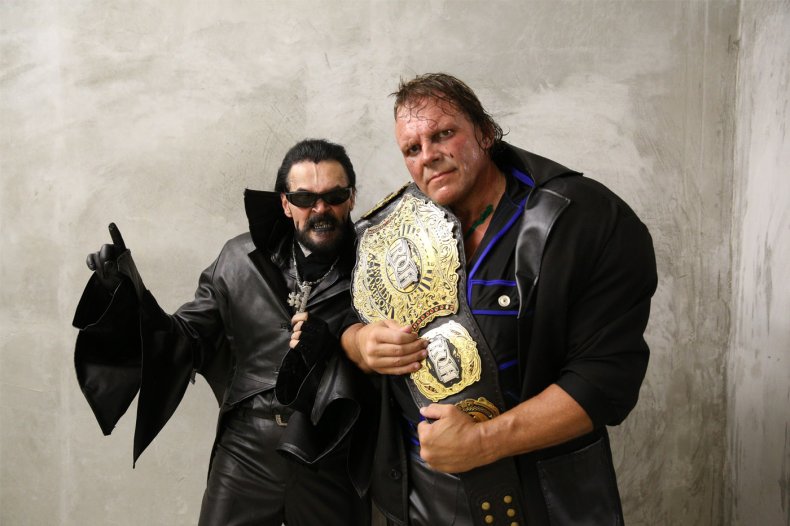 You talk about having this last match or feud is there something in mind?
I think it's going to happen organically like pieces to a puzzle like what's been having the last three years for me. I don't have to push any body or push any buttons. Everything happens by synchronicity, and great hazards happening at the right time. Everything has been going smoothly, but I'm working my butt off day in and day out.
When we spoke last year, you said that Marty Scurll was a big reason for you coming to ROH. Was it helpful to come in as part of a faction?
I didn't know how things were going to go. As far as I know, I'm still part of Villain Enterprises. Marty is a good friend of mine, and I'm so proud to be his friend. He's a great guy, savvy and I told you how smart he is in the ring.
But there's something that I hear from critics about what a company should do or shouldn't do. All the people that are putting things out there, they don't know what's going on behind the scenes. What the contract status is with such and such guy, what's the attitude in the office or in the dressing room...
And I'm not talking about Marty, I'm talking about everyone in general. You can't just base your analysis on what you see in the ring. I was talking about life, but a lot of things are happening. If someone in the WWE goes out one night and crashes their car or gets cut doing something and the WWE wants to keep it private, they kill that push and people say "why don't you push this guy? He should be on top." That's the worst example I can give, but there are a thousand reasons why...
Even me as a performer, I don't know the other performers, what they say, what they think or how they are with other people. So it's hard to say. Like Draft picks. They say he's going to be a star because he was great in high school and college but he gets signed and they don't become anything. It's the same thing. You see guys with potential, but nobody has the whole picture. Just the people in the office have the whole picture. So it's hard to judge companies. There's too much information that's not known no matter the company whether it's ROH, AEW or WWE. There's too much information.
You said 2019 was the most successful year of your career. What's the outlook for 2020?
Raising the standards. Having sell-out crowds, having a great atmosphere [and] working towards that super crazy date that I've been talking about. That unknown date with that unknown opponent. Everything this year will be leading to that. It might happen this year or 2021, who knows? With that said, I want to see improvement in ROH and in myself and in everyone working with us.
You can watch Saturday Night Center Stage via the promotion's HonorClub streaming service.