First 'Peacemaker', Now 'Penguin' — All the DC Spinoff Series Coming to HBO Max
With some huge movies and exciting television series on the way, 2022 could be DC Comics' year.
Colin Farrell is the latest star to sign up for his own DC TV series, reprising his role as Penguin from the upcoming The Batman movie, which is due to launch in theaters on March 4, 2022.
Rivals Marvel launched their own MCU Disney+ TV shows in 2021, now DC are set to follow suit with a number of programs which will air from the beginning of 2022. DC have recruited some big name actors and terrific behind-the-scenes talent to launch their shows on HBO Max.
Here are the DC shows and spinoffs that have been confirmed so far, and everything we know about them.
Peacemaker
The only show with a confirmed release date at this point is the John Cena-fronted, James Gunn-backed Peacemaker. Reuniting after their work on The Suicide Squad, the pair told Newsweek how it was a project born out of lockdown.
Gunn admitted he wrote the series because "I needed something to get my mind off of being in quarantine." Gunn said he pitched the show on August 5, 2020, then had written and shot everything before The Suicide Squad launched in cinemas on August 5, 2021.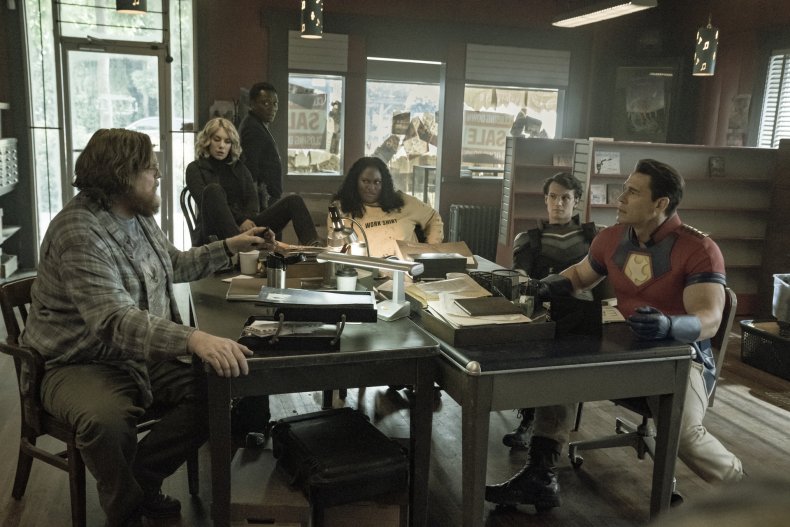 As teased by The Suicide Squad post-credits scene, John Cena teams up with Steve Agee and Jennifer Holland for the Peacemaker series.
The first season starts on Thursday January 13, 2022, on HBO Max with the first three episodes dropping on that date. The following five episodes will drop one at a time weekly.
Gotham PD
Gotham PD is one of two planned spin-off series from the upcoming The Batman movie. Joe Barton has been announced as the showrunner for the TV show which will focus on the police department in Batman's hometown, Gotham City.
Not much is known about the series still, or if The Batman's Commissioner Gordon (Jeffrey Wright) will feature, but Barton did suggest on Twitter that the series will be "very different" to the FOX series Gotham which ran for five seasons focussing on similar characters.
Dead Boy Detectives
Dead Boy Detectives is another show in the works, based on characters created by famed writer Neil Gaiman.
The series follows a group of young men who decided not to enter the afterlife in order to stay on Earth and investigate crimes involving the supernatural. The series has been cast with young actors George Rexstrew, Jayden Revri and Kassius Nelson cast in the lead roles.
Green Lantern
A decade on from the last infamous live-action outing for the DC superhero, Green Lantern will return to HBO Max in his own TV series. Finn Wittrock, Jeremy Irvine and Tobias Menzies are all set to star while Seth Grahame-Smith has been selected as the showrunner.
Grahame-Smith told Collider that it will take a while for the series to come to our screens. He said: "That show is gigantic. It has taken quite a bit of time to get to this point and it's just a big, big undertaking. All I can say is that it's going really well and there are gonna be Green Lanterns in it, and it's gonna be on HBO Max."
His suggestion that we'll see multiple versions of the hero implies the show will follow the intergalactic militarized law enforcement organisation Green Lantern Corps.
Madame X
J.J. Abrams is behind this series which focuses on a character known as part of the Justice League Dark series. In the comics, Madame X is a sorceress while Justice League Dark is a branch of the Justice League that features lesser known heroes dealing with supernatural threats.
In June 2021 it was announced that Angela Robinson (The L Word) will develop the show as a scripted drama series for HBO Max. Abrams will produce under his Bad Robot production company.
The Penguin
The most recent announcement from DC sees Colin Farrell get his own show as Oswald Cobblepot, aka Penguin. Variety confirmed that Farrell had signed up to star in the series which has reportedly been in the works for a number of months.
We have only seen glimpses of his performance as the character in trailers for The Batman in which he'll star alongside Robert Pattinson who plays the caped crusader. The series will likely follow The Penguin's rise to power in the Gotham criminal underworld.
No release date has been mentioned yet.