Pedophile Avoids Jail After Being Stabbed During London Terror Attack
A man who was seriously injured during a terrorist attack in London has avoided a prison sentence for possessing child pornography after a court heard the incident helped him suppress his illegal desires.
Adam Harris, 38, was caught with more than 1,000 images and videos of children being abused. He pleaded for leniency because he was stabbed twice during the attack in London Bridge on June 3, 2017.
Eight people were killed and 48 injured after three terrorists drove a van into pedestrians on the bridge, before going on to attack people with knives at bars and restaurants in nearby Borough Market. It was one of four major terror attacks to occur in the English capital last year.
Harris was stabbed at Borough Market during the rampage. He had already been charged with possession of child pornography five months prior to the attack.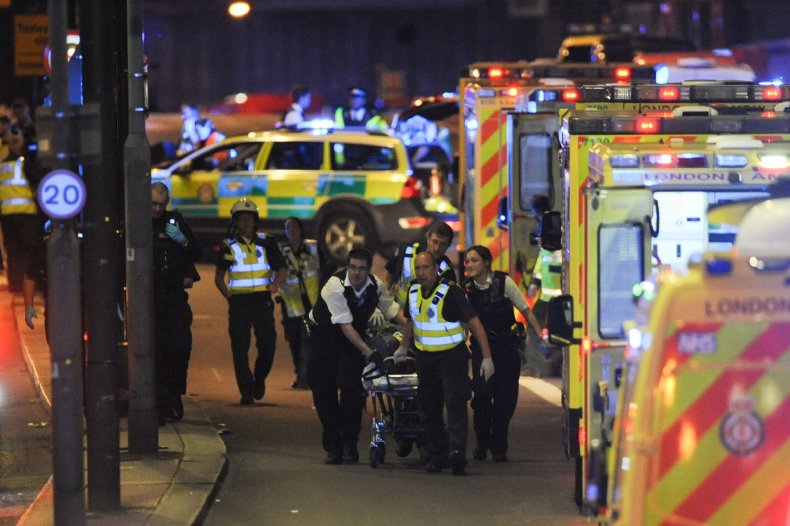 Appearing at London's Blackfriars Crown Court, Harris' lawyer argued against a custodial sentence because he has since received counselling to help address his behavior.
"In June 2017 he began to take steps to address the behaviour that lead to this, in short he was abused as a child," Defence lawyer Judith Benson said in court, according to the Daily Mail.
"He began to receive counselling for the PTSD from being stabbed during the London bridge attacks," she continued. "He has been left with extreme anxiety, depression and as a result of that was provided counselling and, in the course of that, dealt with the sexual abuse."
After previously pleading guilty to three counts of making indecent images of children at another London court, Harris has now been handed a nine month prison sentence, which has been suspended for two years.
Judge Deva Pillay told Harris: "The reality is that whenever anyone appears before this court in possession of contraband of this extreme nature it is to prison they go immediately.
"In your case I have had sight of a very detailed pre-sentence report and that of a clinical psychologist," the judge continued. "She says there are certain risks to your receiving a custodial sentence and that you have engaged with her in the process of overcoming these interests that you have."
Harris was also ordered to complete a 60-day rehabilitation program will be placed on the sex offenders' register for 10 years, reports the BBC.
Terrorists Khuram Butt, 27, Rachid Redouane, 30, and Youssef Zaghba, 22, were gunned down by police at the scene. The men were all found to be wearing fake suicide belts to create "maximum fear" during the attack which lasted around eight minutes.