Pedro Pascal, Tiffany Haddish Dance at Nic Cage 'Massive Talent' Event
Co-stars Pedro Pascal and Tiffany Haddish have gone viral with many videos were posted to social media of the stars dancing together at an afterparty of a screening of their new movie.
After a screening of Nicolas Cage's new film, The Unbearable Weight of Massive Talent in Los Angeles, California, Pascal and Haddish busted some moves on the dance floor at the post-show party. Many people are shown cheering them on around them.
On Twitter, fans exclaimed their excitement for the co-stars as well as admitting that they were a bit jealous.
"How fun! It looks like they're having the time of their lives," exclaimed a fan.
One fan tweeted, "one of the first things I said coming into this fandom was that I wanted me and pedro pascal to get down on the dance floor... and Tiffany haddish done stole my dream!! I can't even be mad tho they looked straight fire!!!"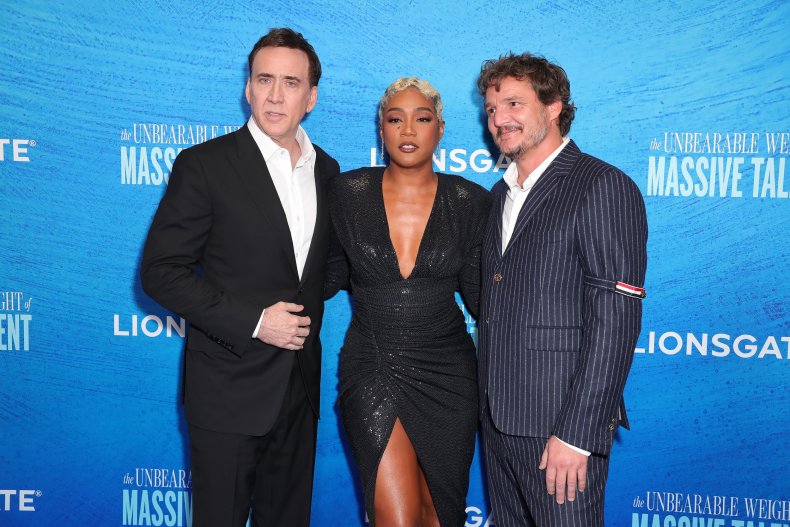 "I really need that video of Pedro Pascal and Tiffany Haddish to stop showing up on my tiktok because seeing Pedro dance like that wow, please let me be Tiffany," said another.
"Ohhhh to be @TiffanyHaddish twerking on @PedroPascal1," wrote a fan.
One fan tweeted, "honey wake up footage of tiffany haddish throwing it back on pedro pascal dropped."
The Unbearable Weight of Massive Talent follows Nicolas Cage portraying himself—but as a struggling actor who takes an offer to attend his biggest fan's (played by Pascal) birthday party. Fans will also see some familiar characters as Cage will bring some favorites back in the film. The film also stars Haddish, Neil Patrick Harris, Lily Mo Sheen and Ike Barinholtz.
In recent interviews, Pascal has talked highly of his co-star, Cage.
"He was just as great as I expected him to be, he was just as strange as I expected him to be, he was just as funny, he was just as mysterious, he was just as thoughtful, open," Pascal said.
Haddish is also a big fan of Cage as well. At the Los Angeles screening, Haddish talked about what it was like being in a movie with Cage.
"I just wanted to have a conversation with him. I didn't care if the part was super small or super big. I just needed to make sure I was gonna be in a scene with Nicolas Cage that's all that mattered," she said.
The Unbearable Weight of Massive Talent arrives in theaters Friday, April 22.