As Pelosi Denied Communion by Bishop, What Pope Said on Refusing Eucharist
Speaker of the House Nancy Pelosi has been barred by a Roman Catholic bishop from receiving the Eucharist because of her support for abortion rights and continuing to refer to her Catholic faith in public.
Archbishop Salvatore Cordileone of San Francisco sent Pelosi a letter on Thursday informing her that he would prevent her from receiving the Catholic sacrament of Holy Communion because of her advocacy for abortion access.
Cordileone told Pelosi she was not to be given Communion "until such time as you publicly repudiate your advocacy for the legitimacy of abortion and confess and receive absolution of this grave sin in the sacrament of Penance."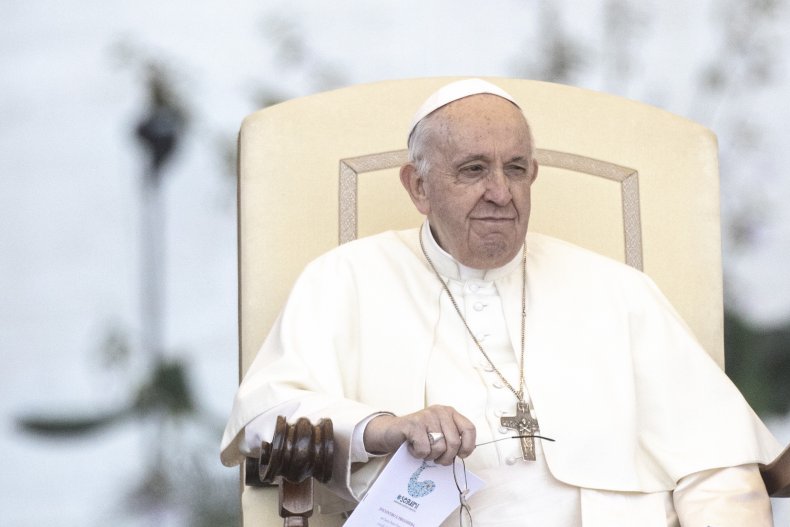 However, Pope Francis, who is head of the Catholic Church, has previously urged bishops to tread softly on the issue of denying people the Eucharist—which Catholics consider the body of Jesus Christ—and advised the U.S. Conference of Catholic Bishops against adopting a policy that would have denied communion to President Joe Biden.
On September 15, 2021, Francis was asked about the issue of bishops denying pro-abortion politicians the right to participate in Communion and said he had never refused the Eucharist to anyone.
"What should a shepherd do? Be a shepherd and not going around condemning or not condemning," the pope said.
"They must be a shepherd with God's style. And God's style is closeness, compassion and tenderness.
"If we look at the history of the church, we will see that every time the bishops have not managed a problem as pastors, they have taken a political stance on a political problem."
While Pope Francis reiterated the Catholic Church's position that "abortion is homicide" he went on to say: "No, I have never denied the Eucharist to anyone, to anyone.
"I don't know if someone came to me under these conditions, but I have never refused them the Eucharist, since the time I was a priest."
The pontiff also said at the time that "Communion is not a prize for the perfect" but was "a gift, the presence of Jesus in his church and in the community. That is the theology."
Francis last year advised the U.S. Conference of Catholic Bishops not to adopt a policy that would potentially have seen Biden, who is also a Catholic, barred from receiving Communion. In November, the bishops approved a new document that fell short of denying the Eucharist to pro-abortion politicians.
Archbishop Cordileone stressed that his decision to deny Pelosi Communion was not political.
"Speaker Pelosi remains our sister in Christ. Her advocacy for the care of the poor and vulnerable elicits my admiration. I assure you that my action here is purely pastoral, not political," Cordileone wrote in an open letter to the Catholic faithful.
Pelosi has described herself as a devout Catholic and has been open about her personal faith but she has also strongly defended abortion rights and condemned a draft Supreme Court majority opinion that would overturn Roe v. Wade.
"The Republican-appointed justices' reported votes to overturn Roe v Wade would go down as an abomination, one of the worst and most damaging decisions in modern history," Pelosi said on May 3, a day after the leaked draft was published.
She has also pledged to codify abortion rights into federal law but legislation passed by the House of Representatives that would have done so failed in the Senate last week.
Newsweek has asked the Archdiocese of San Francisco for comment.