Speaker of the House Nancy Pelosi is publicly trying to put to bed the differences that she and Representative Alexandria Ocasio-Cortez have.
"In our caucus, we have our differences. Respect that instead of making a big issue of it. Respect that," Pelosi told members of the press Friday. "Those are differences, and how we express ourselves as representatives of our districts is our responsibility."
"I would never even say there was a hatchet [between us]," she added.
Those remarks came after a roughly 30-minute private meeting that morning in her Capitol building office with Ocasio-Cortez, an outspoken freshman lawmaker whose more progressive ideology has clashed with Pelosi's in recent months, tension that has recently boiled over into the public sphere.
"As speaker, I have to bring unity to our caucus. And to do so with the boldest common denominator in our caucus, I say to our members, 'your job description and job title are one and the same: representatives,'" Pelosi continued. "And I consider myself a weaver, at the loom, just making all of those threads come together in the boldest possible way."
Few details are known about the closed-door meeting. Pelosi declined to elaborate, only to say that the two discussed issues related to Ocasio-Cortez's district and that they don't "have that many differences." She further said that she meets with members "all the time" and chided reporters for closely covering the matter.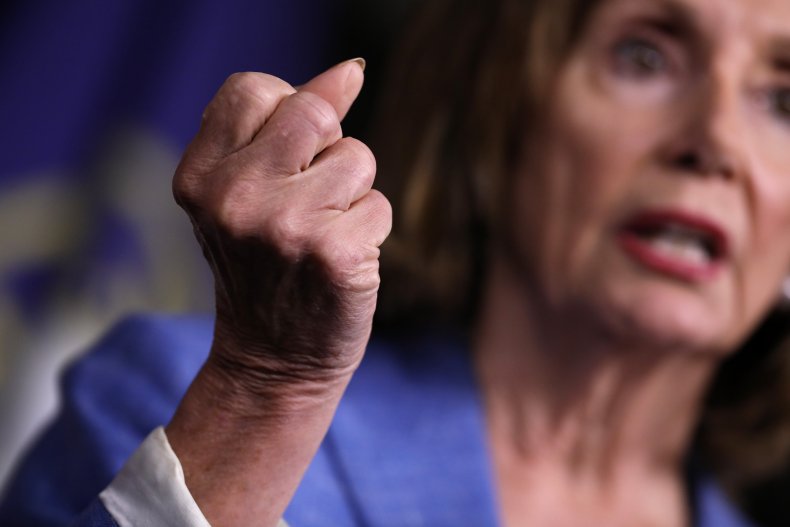 "I wish you would be interested in [my meeting] from yesterday on money for community health centers," Pelosi said.
Ocasio-Cortez, who said she was "looking forward to us continuing our work," originally eluded reporters by slipping out of Pelosi's office via a private exit.
"As always, I think that the speaker respects the fact that we're coming together as a party with unity," she later told reporters after a House Oversight Committee meeting.
A spat between Pelosi, the party's top Democrat, and four first-term lawmakers—Rashida Tlaib of Michigan, Ilhan Omar of Minnesota, Ayanna Pressley of Massachusetts and Ocasio-Cortez of New York—known as "The Squad" has exposed the deep ideological differences within the party.
Pelosi has questioned the political power of the freshmen. The minority congresswomen accused her of making racially charged remarks when she scolded members during a private caucus meeting earlier this month for publicly ridiculing Democratic colleagues on Twitter. Pelosi's warning to refrain from issuing public gripes came in the wake of Ocasio-Cortez and her chief of staff taking to the social media platform and the press to chastise Pelosi and other moderate, rank-and-file members for supporting an emergency humanitarian aid bill for the southern border. "The Squad" believed it lacked safeguards for migrant detainees.
Ocasio-Cortez later told The Washington Post the speaker had been "outright disrespectful" with "the explicit singling out of newly elected women of color." Pelosi denied the accusation, but Ocasio-Cortez's remarks eventually snowballed into President Trump interjecting himself by issuing racist tweets that "The Squad" should return to the countries they came from.
Pelosi replied "no" when asked leaving the meeting if she and Ocasio-Cortez discussed her rift with "The Squad."
Ocasio-Cortez declined to comment about it leaving her committee hearing.
"It's like you're in a family. In a family you have your differences. But you're still a family," Pelosi said at a press conference. "Does your family always agree on everything?"
Democratic Representative Elijah Cummings, chairman of the Oversight Committee, expressed similar sentiments that it was not uncommon for rifts such as this to occur and reiterated the "family" component.
He was, however, optimistic that the criticism would subside, saying his first prayer each morning is "God, guard my mouth."
"In other words, do not allow me to say something that might be hurtful to somebody else," he told reporters. "Whenever you have folks who criticize anybody, I think it can be distracting. I think we'll see a little difference in that in the future."