Pence: Trump Will Be Impeached If Democrats Take House
Vice President Mike Pence thinks that Democrats will launch an attempt to impeach Donald Trump should they take control of the House of Representatives in November's midterm elections.
Pence said he believed the Democrats when they said they would begin hearings against the president following comments from House members such as Al Green, who warned Trump that the "countdown to impeachment has already started."
"They're all talking about it and so, you know, I take them at their word, even though some of them have decided to not talk about that quite so much," Pence told CBN News.
Pence defended Trump's recent comments, made at a White House dinner with members of the evangelical community, in which he warned that left-wing groups such as Antifa would react "violently" if the Republicans lost control of Congress.
Newsweek subscription offers >
"It's not a question of like or dislike, it's a question that they will overturn everything that we've done, and they will do it quickly and violently. And violently," Trump said, according to recordings obtained by The New York Times. "There is violence. When you look at Antifa—these are violent people."
Pence said he agreed with the president and that the Democrats would "turn back everything that we've done for the American people" if they took the House from the GOP in November.
"Well, obviously we condemn any examples of violence on the streets of this country," said Pence. "Zero tolerance for any violence against Americans."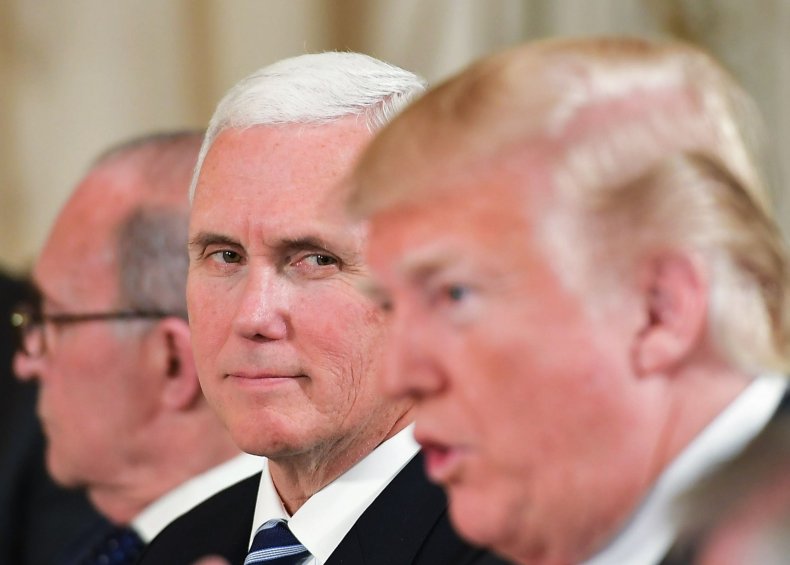 Newsweek subscription offers >
He also laid out the options for people deciding who to vote for in the midterms.
"The American people understand the choice in this election," he said. "Do we want to continue our nation on a path that's creating jobs, rebuilding our military, that's resulted already in new trade deals now with Mexico and earlier with South Korea? It's changing America's economic dynamic in the world in a way that puts American workers first. Do the American people want to continue to see conservatives appointed and confirmed to our courts at every level?
"That's a choice Republicans are offering, and our administration is offering, whereas Democrats essentially are saying, 'We want more obstruction, we want more of the kind of controversy in Washington, D.C., that doesn't really put anybody to work here in Michigan or anywhere across the country, doesn't make our country more safe or more prosperous.' We frame that choice on Election Day; we're going to do great in 2018."
Pence is due to speak at the U.S. Capitol Rotunda in Washington, D.C., on August 31 for a memorial commemorating Senator John McCain, who died August 25.
Pence: Trump Will Be Impeached If Democrats Take House | U.S.