Mike Pence Warns Venezuela After It Moves Troops to Colombian Border: 'Do Not Test the President'
Vice President Mike Pence issued a strong warning to Venezuela on Tuesday after it stationed troops along the border of Colombia in a move seen as highly provocative by Bogotá and Washington.
Citing news reports of the military buildup, Pence called the decision from Caracas "an obvious effort at intimidation" as he spoke at the U.N. General Assembly in New York.
"Let me be clear: The United States of America will always stand with our allies for their security," Pence said, in a stern statement directed at the government of embattled Venezuelan President Nicolas Maduro. "The Maduro regime would do well not to test the resolve of the President of the United States or the American people in this regard," he added.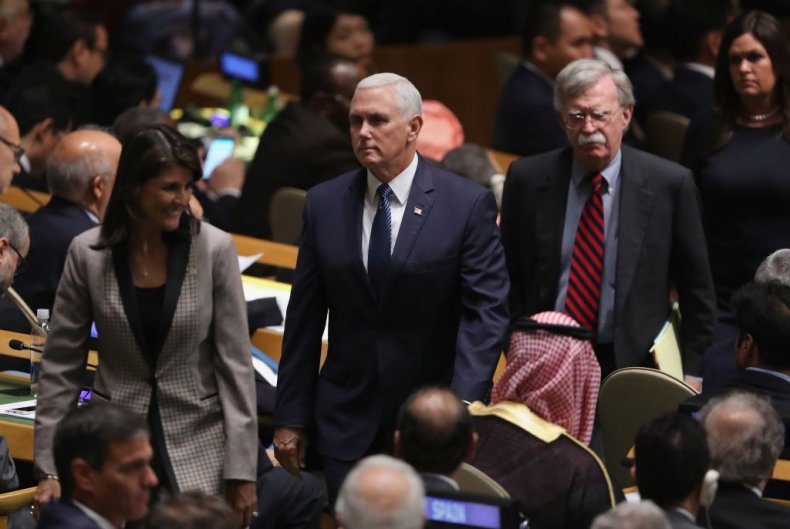 "We stand with Colombia and with our allies across this new world because of our shared values and our shared interests," he said.
The vice president's comments came after President Donald Trump met directly with Colombian President Iván Duque Márquez to discuss bilateral concerns. During the meeting, Trump did not rule out the possibility of a military intervention in Venezuela, but suggested he didn't like the idea.
"The Maduro regime is obviously is not doing the job. First of all, it's brutal, and people are seeing what's happening," Trump said, The Hill reported. "It's one of the truly bad places in the world today…Many of those [neighboring] countries, including Colombia, are taking in refugees who are literally starving," he said.
More than 2 million Venezuelans are estimated to have fled their country as refugees due to a severe economic crisis and growing instability. They have mostly traveled to surrounding South American countries, with Colombia, Ecuador, Peru and Brazil taking in large numbers. In August, Ecuador and Brazil temporarily moved to clamp down on the flow of refugees, but 11 Latin American nations met earlier this month and agreed on a way forward to jointly work toward addressing the crisis.
Pence pledged on Tuesday that the U.S. would give an additional $48 million to aid refugees caught up in the ongoing crisis, the Associated Press reported. The funds will be directed to several U.N. and non-governmental organizations to support displaced Venezuelans in impacted Latin American countries, including Brazil, Colombia, Ecuador and Peru.
Meanwhile, Maduro has repeatedly mocked those fleeing his country, calling them "slaves and beggars" who are tricked into menial labor in neighboring nations. His government also accused embassy staff from Colombia, Chile and Mexico of supporting an early August assassination attempt against Maduro.
"We are ready to present confessions made by the detainees to the foreign ministers of Colombia, Chile and Mexico," Venezuela's Communications Minister Jorge Rodriguez said on Monday, the AP reported.
Despite Trump's and Pence's stern statements against Maduro and his government, Navy Vice Admiral Craig Faller, who is the president's nominee to lead U.S. military operations in Latin America, has said no military action against the South American nation is currently in the works.
"We are not doing anything other than normal prudent planning that a combatant command would do to prepare for a range of contingencies," Faller said in a response to a question during his confirmation hearing on Tuesday, according to Voice of America.