Pennsylvania GOP Gets Win as Mail-In Voting Law Declared Unconstitutional
A Pennsylvania Commonwealth Court declared the state's two-year-old mail-in voting law unconstitutional on Friday in what is seen as a win for Republicans in the state.
The GOP had been working to repeal the measure, called Act 77, claiming that it opened up possibilities of voter fraud, a position that was amplified by President Donald Trump in connection to the 2020 election, in which he lost Pennsylvania.
The 2019 law authorized no-excuse mail-in voting for all voters, the Associated Press reported. But on Friday, a five-panel judge of three Republicans and two Democrats ruled that the measure was unconstitutional unless the state's current constitution is updated to allow for it. The two Democratic judges dissented in the ruling.
According to WPMT-TV, some state Republicans started calling to repeal Act 77 after the 2020 election, saying that election codes must be changed only via a constitutional amendment. When the law was originally passed in 2019, though, it enjoyed wide bipartisan support as part of a compromise with Governor Tom Wolf that included the elimination of straight-ticket voting, a GOP priority.
Since the 2020 election, some of the former president's allies have filed lawsuits in the state to invalidate mail-in ballots, as reported by the Pennsylvania Capital-Star. The state's Supreme Court rejected many of those challenges but will likely hear them in light of the latest ruling.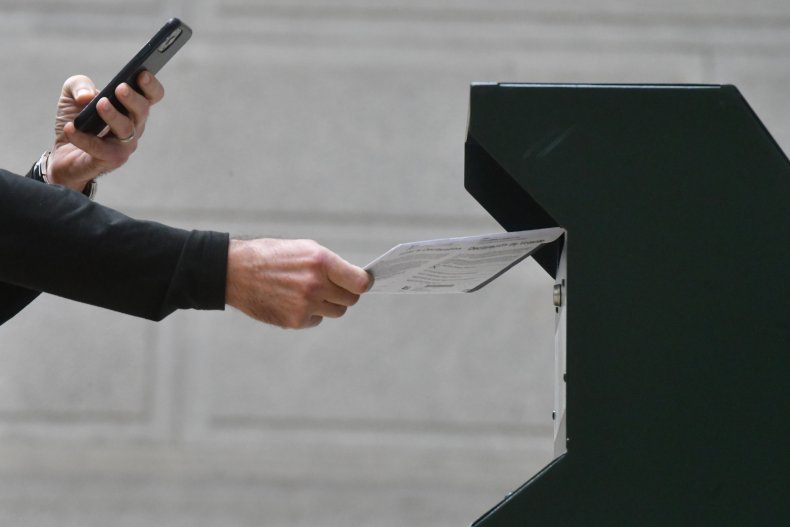 "If presented to the people, a constitutional amendment to end the…requirement of in-person voting is likely to be adopted," Judge Mary Hannah Leavitt wrote in the ruling, which was quoted by WPMT. "But a constitutional amendment must be presented to the people and adopted into our fundamental law before legislation authorizing no-excuse mail-in voting can 'be placed upon our statute books.'"
Trump praised the court's decision, writing, "Big news out of Pennsylvania, great patriotic spirit is developing at a level that nobody thought possible. Make America Great Again!"
A Philadelphia elections attorney, Adam Bonin, told the Capital-Star he expects the ruling to be overturned by the state Supreme Court. Additionally, if Governor Tom Wolf appeals the ruling, Pennsylvania appellate court procedure guidelines will mean that mail-in voting will be legal until the high court rules on it.
This decision comes as the 2022 midterms approach, when voters in the state will elect a new governor and U.S. senator. According to the AP, more than 2.5 million Pennsylvanians voted under the law in the 2020 presidential election.