A two-month freeze on overseas deployments for U.S. military personnel and their families has been ordered to help stop the spread of COVID-19.
Secretary of Defense Mark Esper has enacted the 60-day stop order for all Department of Defense (DOD) uniformed and civilian personnel and their families in a move which is expected to effect exercises and "global force management activities," the DOD said in a memo.
It said that around 90,000 service members will be affected although there are some exemptions such as for those providing medical treatment to personnel and those who are already en route to their deployment.
"Additional exceptions may be granted on a case-by-case scenario where travel is deemed mission essential, humanitarian in nature or warranted due to extreme hardship. Such exceptions may be approved by Combatant Commanders, the Chairman of the Joint Chiefs of Staff, or Secretaries of Military Departments," the memo said.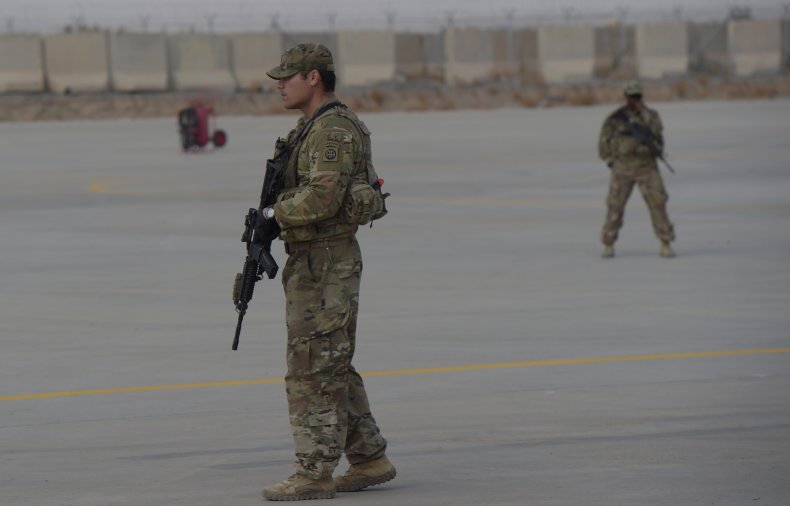 The order is not expected to impact the continued drawdown of U.S. forces from Afghanistan, following an agreement struck in Doha last month with the Taliban in which the U.S. agreed to initially reduce its presence to 8,600 soldiers over 135 days. However this week, the commander of U.S. Central Command Marine Gen. Kenneth McKenzie Jr. told lawmakers the plans for the full withdrawal have not been developed yet, the Military Times reported.
On Tuesday, a U.S. marine stationed at the Pentagon was put into isolation at his home after testing positive for COVID-19.
In a statement, the DOD said that the marine's "work space has been cleaned by a Pentagon response team and a thorough contact investigation is underway to mitigate risk and preserve the health of the workforce at the Pentagon."
The Pentagon, which has a staff of around 22,000, has reported 415 coronavirus cases, 227 of whom were active-duty military, 81 civilians, 67 dependants, and 40 contractors. One person who was a contractor has died.
Kim Joiner, deputy assistant secretary of defense for military community and family policy, said in a statement, "We are working hard to provide timely and accurate updates and helpful resources for our service members and their families.
"Our families can feel confident about finding official information and guidance on our websites and social media platforms. While we have made necessary changes in response to this pandemic, one thing remains the same — our commitment to serving our military community." Newsweek contacted the Pentagon for further comment.
The graphic below from Statista shows the confirmed COVID-19 cases globally.