Pentagon to House Migrant Children at Two Texas Military Bases as Immigration Crisis Intensifies
The Department of Defense (DoD) has approved a request from the Department of Health and Human Services (HHS) to temporarily house unaccompanied migrant children at two military installations in Texas. The decision comes as the number of unaccompanied immigrant minors at the southern U.S. border has increased.
The two installations include a vacant dormitory at Joint Base San Antonio in Lackland, Texas and an area of land on Fort Bliss, Texas. HHS will construct a temporary housing facility at the Fort Bliss location.
"DoD will provide HHS officials access to these locations immediately to begin initial actions to prepare for receiving unaccompanied migrant children as soon as preparations are complete," the Pentagon said in a statement.
The Pentagon said the HHS' use of the military installations will be "on a fully-reimbursable basis," and "won't negatively affect military training, operations, readiness, or other military requirements." It also said that the HHS will retain custody and full responsibility for the children during their entire stay in the base locations.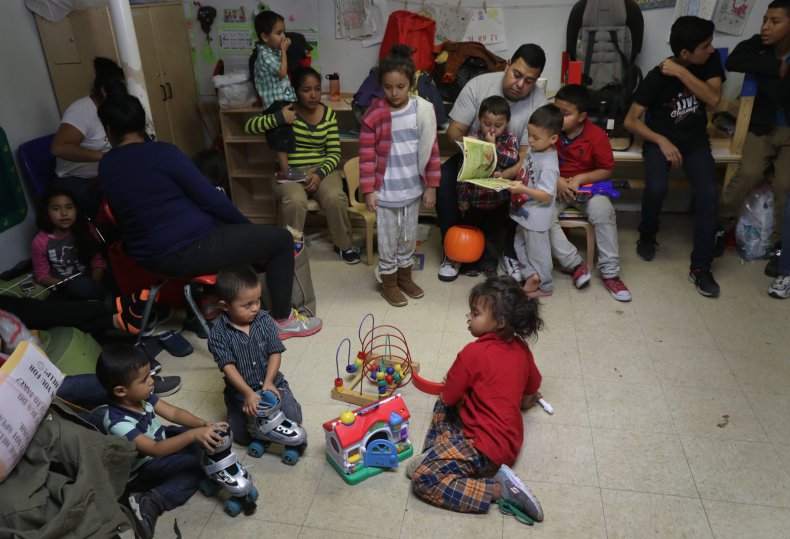 The Pentagon's announcement comes a day after the administration of Democratic President Joe Biden announced that it will open a second camp in Carrizo Springs, Texas. The camp will accommodate 500 immigrant children.
The Biden administration has said that such accommodations are needed due to a recent surge of unaccompanied minors arriving at the U.S.-Mexico border during the pandemic.
In February, an estimated 9,297 unaccompanied minors came to the border. The highest number to arrive at the border during the administration of former President Donald Trump was 11,475 children in May 2019, according to data from U.S. Customs and Border Protection (CBP).
The number of unaccompanied children crossing the border has also increased by 96 percent from the same time last year, according to CBP. As the situation at the border has gained more public attention, Biden's disapproval rating has increased by about 4 percent.
The Biden administration has pledged not to deport vulnerable children brought to the border. Instead, children are detained by CBP. After that, they are either reunited with family members already inside the U.S. or transferred to HHS facilities better equipped to handle children.
Biden faced criticism when the HHS announced on February 22 that it would be reopening a temporary child detainment facility—also in Carrizo Springs, Texas—which was used during Trump's presidency. The facility will accommodate up to 700 teenage immigrants.
Progressive Democrats and Republicans criticized the decision, especially since Democrats had previously blasted Trump for putting "kids in cages" within the facility.
On Monday, Vice President Kamala Harris said that the surge of migrants at the border represented "a huge problem." Previous to her comment, the White House had repeatedly pushed back against labeling the influx of migrants as a "crisis."
"Look, it's a huge problem. I'm not going to pretend it's not. It's a huge problem. Are we looking at overcrowding at the border in particular because of these kids? Yes," Harris told CBS This Morning on Monday.
Several top administration officials traveled to the border on Wednesday to observe conditions there. A number of House Democrats accompanied Angela Ramirez, House legislative affairs liaison, and Julissa Reynoso, first lady Jill Biden's chief of staff. They will visit the Carrizo Springs facility, Axios reported.
Newsweek contacted HHS for comment.