Putin May Have 'Incompetence' to Blame for Russia Missile Failure: Pentagon
The Pentagon has suggested there may be several reasons why missiles from Russia have missed their intended targets in Ukraine, including incompetence.
During a Wednesday afternoon briefing, Pentagon press secretary John Kirby said that Russia has not been hitting its targets in Ukraine with its precision-guided missiles and was asked about possible reasons for those misses.
"There's probably any number of reasons for that. It could be technical issues. It certainly could be Ukrainian defenses, or it could just be incompetence on the part of operators. There's likely, for any miss, there's likely a lot of reasons for that," Kirby responded.
Kirby's comments came amid reports that Russia, in the past few days, has built up its army along its border with Ukraine. Also, some believe Russian President Vladimir Putin may officially declare war on Ukraine sometime next week, a move that the Russian president has denied is under consideration.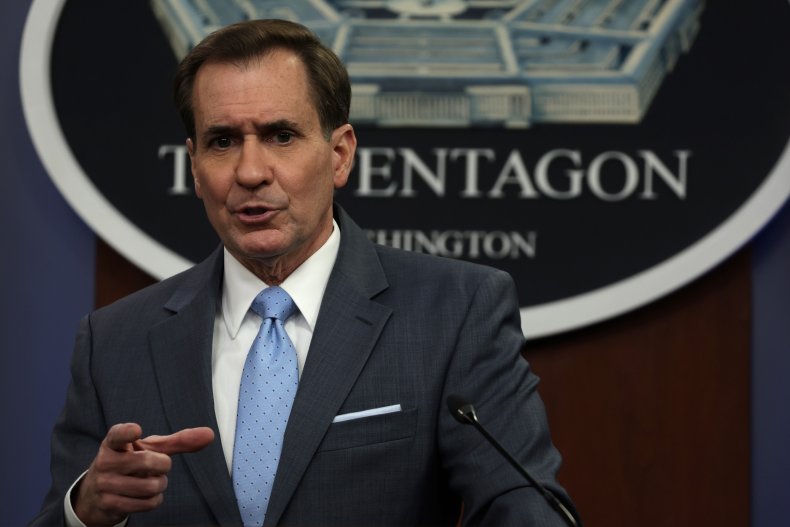 Also, during the briefing, Kirby stated that Russia's invasion of Ukraine has not gone as well as Putin and the Russian government may have hoped.
"All I can tell you is that the Russians have not made the kind of progress in the Donbas and the south that we believe they wanted to make. We do believe they're behind schedule. We do believe it's been slow, and at every turn, they have met a stiff Ukrainian resistance," he said.
Kirby also indicated that the current focus of the Pentagon is working to ensure that the Russians continue to encounter resistance to their military efforts.
"What we are focused on every day, including this day, is to make sure we are helping Ukraine defend itself by getting them the weapons and the material they need as quickly as possible," he said.
In addition to Russia's military facing resistance in Ukraine, the Russian government's ability to get its message out to a viewing audience also took a hit on Wednesday.
Ursula von der Leyen, the president of the European Commission, announced the three Russian state-owned television broadcasters would be banned in the 27 countries that make up the union.
In her remarks, von der Leyen referred to the three broadcasters as "mouthpieces that amplify Putin's lies and propaganda aggressively."
"They will not be allowed to distribute their content anymore in the EU, in whatever shape or form, be it on cable, via satellite, on the internet or via smartphone apps," von der Leyen told the European Parliament in Strasbourg, France.
In a response to Newsweek, the Defense Department indicated it had nothing further to add to Kirby's statement.
Newsweek reached out to the Russian Foreign Ministry for comment.