People Are Getting Salmonella From Tiny Pet Turtles Bought Online: CDC
Tiny pet turtles purchased on the internet have spread Salmonella to 15 people in 11 states, according to an investigation from the Centers for Disease Control and Prevention (CDC).
A national Salmonella outbreak has sickened at least 572 people across 48 states this year, with illnesses reported between February and June. Two deaths have been reported in Tennessee and Wyoming. However, the true number of people infected is likely much higher than the number of reported cases, the CDC said last week.
The bacteria can cause diarrhea, nausea, fever, and abdominal cramps that typically appear between six hours and six days after a person is infected. Symptoms usually clear up in four to seven days.
"Many people in this outbreak purchased small turtles online before getting sick," said a warning from the agency on Thursday. "Do not buy small turtles with shells less than 4 inches long."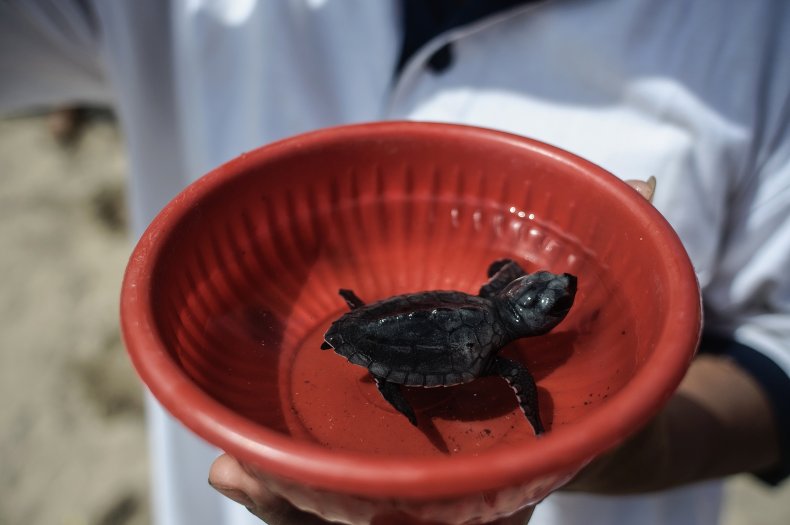 The notice added: "A federal law bans the sale of these small turtles as pets, because they have caused many Salmonella outbreaks, but they are sometimes available for sale online and at stores, flea markets, and roadside stands."
Three people who fell ill bought their tiny turtles from a website called myturtlestore.com. The strain of Salmonella in the current outbreak was also found on turtles from the website, said investigators.
The sale of small pet turtles has been banned in the United States since 1975. Any pet turtle can carry Salmonella through its droppings and spread the germs to its body, tank water and anything in its environment. However, tiny turtles are considered especially risky because they are more likely to be handled by children, according to the CDC.
Although most people recover from Salmonella without treatment, young children, senior adults and people with weakened immune systems are vulnerable to more severe cases requiring medical treatment or hospitalization. During this year's outbreak, 23 percent of sick people are young children under 5 years old.
The CDC investigates many Salmonella outbreaks linked to pet reptiles. Earlier this year, the agency announced that an outbreak infecting 44 people in 25 states had been triggered by pet bearded dragons. However, tiny turtles cause the most illnesses of any pet reptile.
In May, several Jif peanut butter products were recalled and investigated after being tied to Salmonella infections. Supermarket chain Giant Eagle also recalled apple slices that included a Jif-branded single-serving peanut butter cup for dipping, which was linked to potentially contaminated peanut butter.
Newsweek reached out to the CDC for comment.