People Trapped in Florida Homes Left With No Way to Call for Help
Hurricane Ian has been downgraded to a tropical storm after numerous hours of destruction in Florida, resulting in an unknown amount of deaths and civilians still trapped in its aftermath with no way to communicate.
Over 2.5 million Floridians lost power as a result of the surges of the Category 4 hurricane, one of the strongest to ever impact the United States. Winds exceeded 150 miles per hour, making it the fifth-strongest hurricane on record, and extended outward up to 415 miles.
The Collier County Sheriff's Office said on Facebook that crews are out and about, utilizing ambulance services, fire rescue teams and police officers. Drones and photographers are documenting damage and looking for survivors.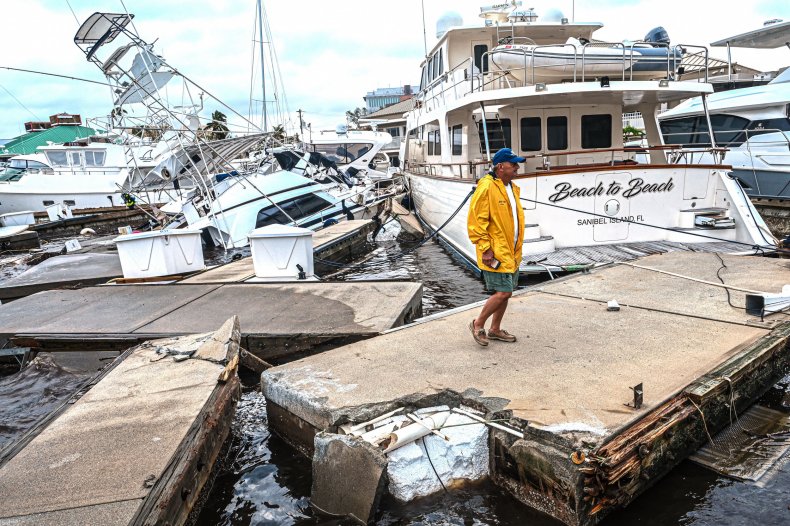 Traffic lights are down in the county and water boil advisories have been issued.
"Your CCSO deputies have been working diligently through the night," the office said. "We can tell you as daylight reveals the aftermath, it's going to be a hard day...For those out of town and are worried about family and loved ones: we have limited power, virtually no cell service and no internet."
That is "especially the case in the coastal area where the surge came in," though portable towers are reportedly being brought in for communication.
The Volusia County Sheriff's Office confirmed that a 72-year-old man in Deltona fell into a canal while using a hose to drain his pool in the heavy rain, dying as a result, the Associated Press reported. Another person died in Cuba.
NBC 2 News in southwest Florida communicated via video with a family trapped in Fort Myers Beach as the hurricane was on its way to touching down. The water in the home was reportedly rising to the second floor.
"Unfortunately the call dropped before they got to a safe location," tweeted NBC 2 reporter Kyla Galer.
Fort Myers, located in Lee County, was among the southwestern Florida areas most heavily impacted.
Fort Myers Mayor Kevin Anderson told the Today Show on Friday morning that "this is by far the worst storm I have ever witnessed." He said he was standing on a concrete block that had been moved by the storm's impact to the middle of an intersection two blocks away.
"We would estimate several dozen people who stayed behind were in need of some assistance," Anderson said. "Our teams have been working on that. I'm happy to report that at this time I haven't been told of any loss of life in the city."
Fort Myers resident Valerie Bartley told the AP that her family spent hours holding a dining room table against their patio door.
"I was terrified," Bartley told the AP. "What we heard was the shingles and debris from everything in the neighborhood hitting our house... We just assumed that it was tearing our house apart."
On Good Morning America on Thursday, Lee County Sheriff Carmine Marceno originally said "fatalities are in the hundreds" but later clarified that he didn't have "confirmed numbers."
"I can't give a true assessment until we're actually on scene assessing each scene," Marceno said. "And we can't access, that's the problem."
Florida Governor Ron DeSantis later said Marceno's death toll was unconfirmed and likely based on an estimate of 911 calls, the AP said.
Miami New Times reported that prior to hurricane touchdown, the Lee County Sheriff's Office confirmed that inmates at its 457-bed downtown Fort Myers jail would not be evacuated. An office said procedures were in place to "keep inmates safe."
On Friday morning, Marceno released a statement reiterating that inmates remain safe.
"In an abundance of caution, inmates were relocated within the main jail to a higher floor," he said.
The Department of Homeland Security (DHS) said Thursday it is working with its federal, state, local and non-governmental partners to support needs in the hurricane's aftermath.
U.S. Immigration and Customs Enforcement (ICE) and U.S. Customs and Border Protection (CBP) are not conducting immigration enforcement activities in protected areas, such as along evacuation routes, or at sites used for sheltering or for food, emergency or water distribution.
FEMA Region 4, which covers the Florida regions devastated by Hurricane Ian, is imploring citizens to apply for disaster assistance.
On Thursday FEMA Administrator Deanne Criswell urged those in the hurricane's path "to heed the warning of local officials" to evacuate "life-threatening storm surge and widespread flooding."
FEMA established a search and rescue coordination group in Miami that includes urban search and rescue teams, the U.S. Coast Guard, Department of Defense, Department of the Interior and local Florida rescue teams. All are reportedly prepared to coordinate search and rescue efforts by sea, air and land.
Newsweek reached out to FEMA for damage assessment and numbers of reported casualties.
For continued coverage of Hurricane Ian, visit our live blog.