Period Tracking Apps May Now Worry Users Amid Abortion Data Concerns
Period tracking apps are facing a major shift in their user base as data privacy concerns mount following the U.S. Supreme Court's decision to overturn Roe v. Wade last week.
The decision to overturn the landmark 1973 case has now allowed individual states to enact sweeping bans on abortion. Thirteen states had trigger laws that went into effect immediately and 25 states are likely to prohibit abortions. In some cases, the penalties for those performing abortions can be severe.
In Texas, doctors who perform illegal abortions can face life in prison or a fine of up to $100,000. Similar threats of lengthy jail terms also loom over healthcare professionals who provide abortions in states including Arkansas, Louisiana, and Oklahoma. Questions have also been raised as to whether mothers themselves could also face punishment for having an abortion, despite the fact that several states that have enacted new abortion bans specify that only doctors will face penalties.
The concern is that prosecutors will be able to use a wealth of patients' personal data to build their case in any abortion offenses that go to trial. This might include internet search history, text messages, location tools, and, notably, medical apps.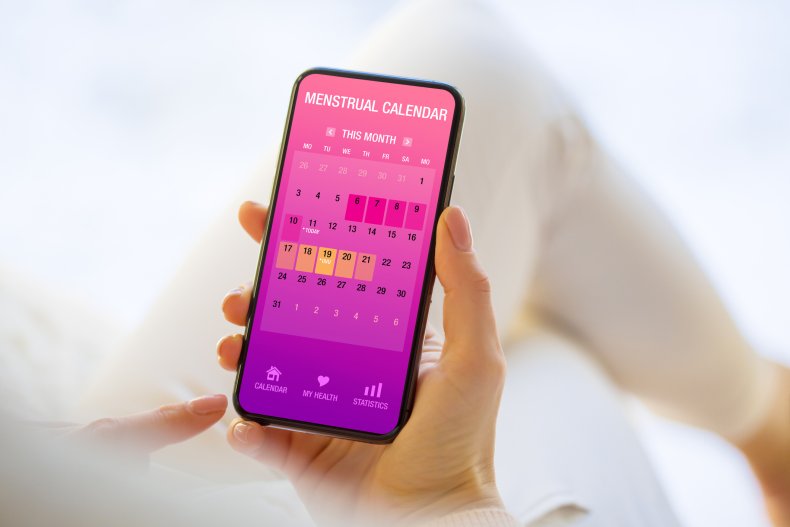 Millions of women in the U.S. are estimated to use period tracking apps in order to help them to monitor their menstrual cycles for the purposes of future planning, detecting late periods, and logging other health effects. Now, women are being urged by some people to stop using them.
"We anticipate an increase in people being criminalized in spite of what the law says, because of the additional surveillance, stigma and scrutiny on pregnancy outcomes on people who are suspected to have had abortions," Farah Diaz-Tello, senior counsel and legal director of reproductive justice group If/When/How told NBC News.
"Delete your period tracking apps today," tweeted author Jessica Khoury last week, getting around 100,000 retweets.
"Delete any apps/websites that track your period. Now," lawyer Tristan Snell wrote on Twitter, adding in a subsequent tweet that "with no right to privacy, and states banning abortion, it is only a matter of time before anti-choice state governors start pushing those apps/sites for backdoors to that data."
According to a report from app usage platform Apptopia obtained by Newsweek, there was a 21 percent decline in new users signing up to five different period tracking apps in the 90 days ending June 27, compared to the same period ending March 29. Daily active users had fallen by 8.8 percent over the same time.
It should be noted that this data may not be entirely reflective of the current situation since it includes worldwide usage, including countries where the Supreme Court ruling may not have had an influence, and also includes data from several weeks before the ruling took place.
Further Apptopia analysis of period tracker usage was supplied to TechCrunch, which showed that some consumers appear to be swapping from their current apps to one they perceive to be safer rather than deleting them altogether. One such app, Clue, saw a 2,200 percent increase in installs over the weekend that was likely due to people switching over to it from other apps.
A spokesperson for Flo, one of the most popular period tracking apps, told Newsweek in a statement: "Flo will always stand up for the health of women, and will do everything in its power to protect the data and privacy of our users. To add to our security measures already in place, we will soon be launching a new feature called "Anonymous Mode"—an option that allows users to remove their personal identity from their Flo account. Lastly, Flo will never require a user to log an abortion or offer details that they feel should be kept private, and users can delete their data at any time."
Clue, pointed Newsweek to a statement on its website that stated that since the company is based in Europe, "we would not respond to any disclosure request or attempted subpoena of our users' health data by U.S. authorities. But we would let you and the world know if they tried."
"Our users' health data, particularly any data they track in Clue about pregnancies, pregnancy loss or abortion, is kept private and safe," the statement said.
Newsweek reached out to Ovia and NaturalCycles for comment.