Pete Buttigieg Says Trump Deserves Impeachment, and He Will 'Relegate Trumpism to the Dustbin of History'
Pete Buttigieg said President Donald Trump "deserves impeachment," although he stopped short of demanding that Congress act on it.
The 37-year-old mayor of South Bend, Indiana, and rising star among candidates for the Democratic Party's 2020 presidential nomination, made the comments during a CNN town hall with Anderson Cooper on Monday night.
Trump is facing renewed calls among many of his critics for impeachment after the release of a redacted version of special counsel Robert Mueller's final report, which laid out in detail 10 potential instances in which the president attempted to obstruct justice.
"I think he's made it pretty clear that he deserves impeachment," Buttigieg said after CNN's Cooper asked him for his views on impeaching Trump.
"But I'm also going to leave it to the House and the Senate to figure that out because my role in the process is trying to relegate Trumpism to the dustbin of history, and I think there's no more decisive way to do that—especially to get Republicans to abandon this kind of deal with the devil they made—than to have just an absolute thumping at the ballot box for what that represents."
Buttigieg also said Democrats must make sure they stay focused on the issues that voters care about, and not just Trump.
"Congress is going to have to figure out how to do several things at once, but while we're making sure there's oversight and accountability, which there's got to be, we've also got to make sure we're talking about the things that most affect people in an immediate and concrete sense. The more we're talking about him—if we're only talking about him—then folks at home feel like nobody's talking about them.
"It's hard to look away from a horror show. That's just how it is. It's mesmerizing. But we have got to figure out a way to change the channel," Buttigieg said.
According to a Morning Consult poll conducted in the week to April 21, Buttigieg is in third place, at 9 percent, among likely voters in the Democratic primary. Senator Bernie Sanders ranks second, at 24 percent, and former Vice President Joe Biden is first, with 30 percent.
The graphic below, provided by Statista, illustrates the rising support for Buttigieg in the average of primary polls, calculated by Real Clear Politics.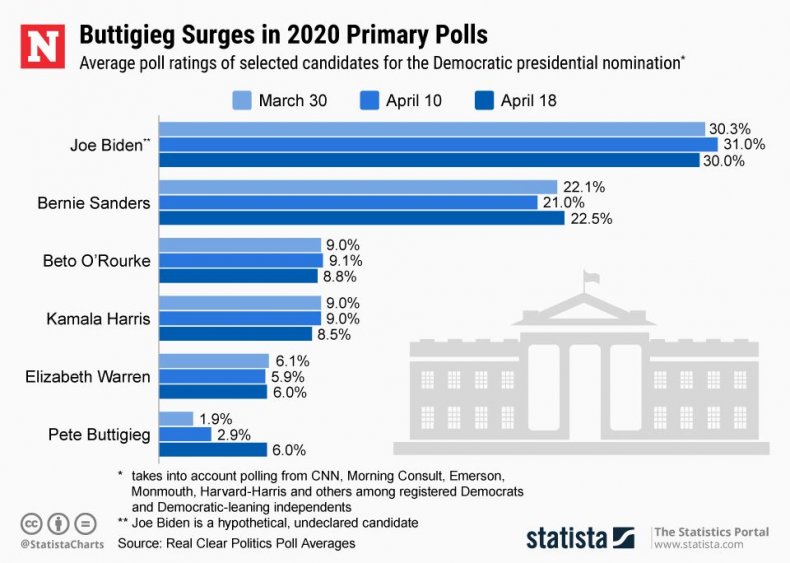 During a conference call on Monday, House Speaker Nancy Pelosi, a California Democrat, told House Democratic leaders to continue their investigations into Trump during a conference call on Monday but cooled talk of beginning impeachment proceedings against the president.
"While our views range from proceeding to investigate the findings of the Mueller report or proceeding directly to impeachment, we all firmly agree we should proceed down a path of finding the truth," Pelosi wrote in a letter to House Democrats sent on the same day. "It is important to know that the facts regarding holding the president accountable can be gained outside of impeachment hearings."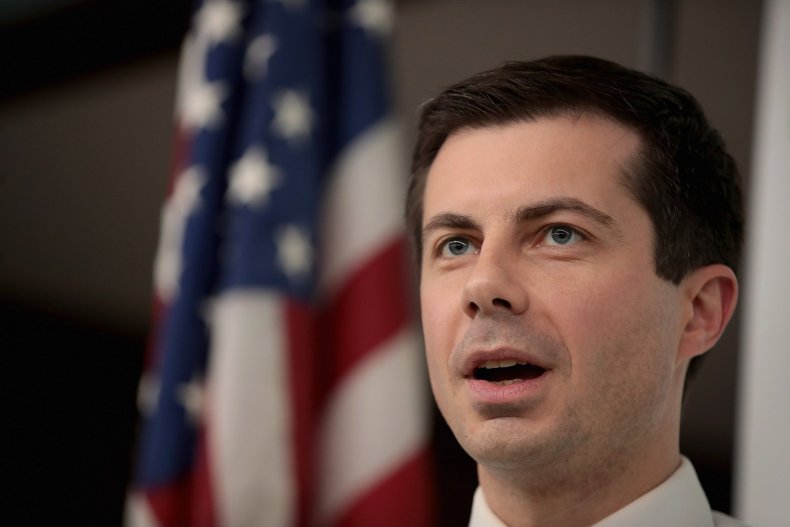 This article was updated to include an infographic.