Fans Rib Pete Davidson's Apparent Spray Tan in Met Gala Appearance
Pete Davidson fans are having a chuckle over his apparent decision to have a spray tan ahead of a weekend of glamorous events including the Met Gala—with some implying the comic is flirting with cultural appropriation.
Fans first noticed a change in Davidson's appearance in photos taken at the White House Correspondents Dinner on Saturday night, where he and girlfriend Kim Kardashian walked the red carpet. He also appeared tanner than usual on the Met Gala red carpet on Monday night, alongside Kardashian once again.
The cherry on top was an appearance on Netflix's comedy-centric Instagram account, @netflixisajoke, in which he jokes about his spray tan over the same weekend.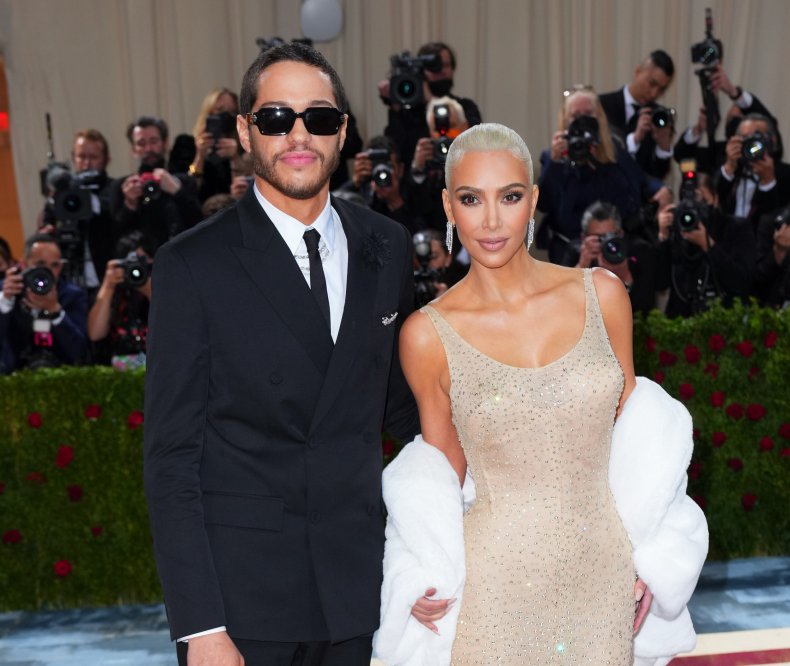 Some Twitter users, like @youvegotnomales, light-heartedly dragged Davidson for apparently undergoing the beauty treatment, saying: "Pete Davidson is the only person I've ever seen look less healthy with a tan."
But some criticism echoed concerns that the Kardashians have used spray tans and certain hairstyles as a form of cultural appropriation.
Kim Kardashian in particular has previously come under fire on several occasions for using spray tan too liberally. Writer and Twitter user @MediumSizeMeech wrote: "The way I predicted Pete was gonna get darker and darker now that he's with Kim K. My mind. He on his way to Wesley Snipes color, I just know it."
Another Twitter user, @DestroyerOfNat2, called Davidson's look "a hate crime amount of spray tan."
Others couldn't help but remember the time Davidson previously ribbed ex-fiancée Ariana Grande's spray tan proclivities. He accused her of "spray-paint[ing] herself brown" for a 2019 Vogue cover.
But it turns out this weekend wasn't the first time Davidson indulged in a spray tan—and his appreciation of the treatment predates his relationship with Kardashian.
He confirmed in early January that he'd had a spray tan before hosting a New Year's Eve special with Miley Cyrus, according to Us Weekly. He also joked at a Netflix comedy show taping this weekend about what it was like to undergo the treatment.
Netflix's comedy Instagram, @netflixisajoke, got in on ribbing Davidson for his Met Gala look. The account re-posted the clip of Davidson joking about the procedure at the Netflix taping. "You may notice that Pete Davidson looks a *little bit different* tonight," Netflix captioned the clip. "There's a reason for that."
"I couldn't put makeup on for this because I got a spray tan," Davidson says in the clip. "Which I think is the weirdest thing I've ever said, ever. I asked my boy, I had never gotten a spray tan before."
Davidson asked his friend for advice on whether his entire body should be tanned. "I asked my boy, I was like, do I do my d*** and my a**?" he said. "I don't know like what I'm supposed to do. Do I get like one of those like Borat speedos? I had no idea. And my boy was like, 'Leave it white. More impressive that way.'"
Fans had a field day with the clip. "And the Kardashians strike again," @rachel.danaa wrote. "Ugh Pete spray tan?" said another, under the name @jkinteachem76. "Ur turning into a person u used to make fun of."
The clip and photos from the taping are dated May 2, the same day as the Met Gala. They are part Netflix's comedy festival, Netflix Is a Joke, and will appear on a Netflix special called The Hall: Honoring the Greats of Stand-Up, featuring Davidson and airing later this year.