Is Staten Island The Ideal Date Spot We've Been Overlooking All These Years?
The rumor mill has been in overdrive over the relationship status of one of Hollywood's least likely potential couples, Pete Davidson and Kim Kardashian.
Kardashian is the latest star to become caught in Saturday Night Live actor's gravitational pull, after he was previously engaged to Ariana Grande and then linked to Kate Beckinsale, Kaia Gerber and Phoebe Dynevor.
They shared a kiss in a skit while Kardashian, 41, was hosting SNL last month.
She and Davidson, 27, starred as Disney's Jasmine and Aladdin, where they joked about how "street rat" Aladdin didn't compare to Jasmine's previous partners, including "a few athletes and some rappers."
At the weekend they were first photographed holding hands on a ride at Knott's Berry Farm in California, then Kardashian was allegedly spotted visiting Davidson's "native NYC."
Now, it looks like Davidson really did show her a whole new world, as she is rumored to have visited Staten Island for a date.
Speculation over their alleged date spot has sparked a wave of reactions and memes online.
Actress and comedian Fortune Feimster tweeted: "I honestly didn't believe the Pete Davidson and Kim Kardashian dating rumor until I just read she went to Staten Island. Even I know you don't go there to just see a friend."
Others joked about Kardashian's reception upon her arrival in Staten Island.
But if Staten Island is a good enough date spot for one of Hollywood's most powerful women, why not the rest of us?
These are some of the most romantic date spots to visit.
According to reports, Davidson, 27, took his new potential beau to Italian restaurant Campania.
There are three Staten Island locations and one in Brooklyn.
Campania specializes in coal-fired pizzas and its Richmond Avenue location is ranked the 53rd best restaurant in Staten Island on Tripadvisor.
The good news is that you can get a good pizza for as little as $14.
The even better news is there are 52 even better restaurants for Kardashian and Davidson to explore for a year's worth of weekly date nights.
2. Staten Island Ferry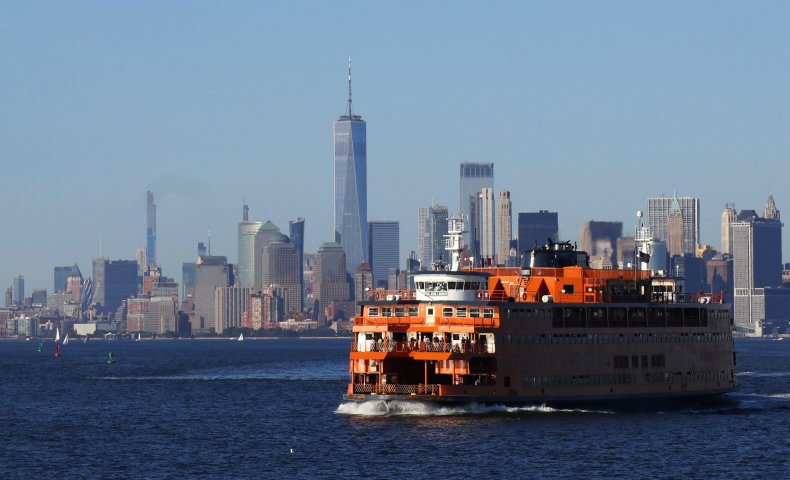 For a cheap booze cruise with great views of Manhattan, take a trip on the free Staten Island Ferry where a can of beer on board will set you back $5.
Fans of romcoms will know that taking the ferry from Manhattan to Staten Island was when Andie (Kate Hudson) and Ben (Matthew McConnaughey) in 2003 movie How to Lose a Guy in 10 Days fell in love.
Who knows, perhaps we'll see Kardashian and Davidson starring in "How to Lose a Guy in 72 Days" in the near future.
3. Snug Harbor Cultural Center
According to Tripadvisor, Snug Harbor Cultural Center is the most romantic date spot in all of Staten Island.
The 83-acre park boasts botanical gardens, museums and theaters.
The main campus is free to enter while entrance to the New York Chinese Scholar's Garden and Newhouse Center for Contemporary Art costs $5 each.
4. Franklin D. Roosevelt Boardwalk and Beach
For a different view across the water, take a cute walk along Franklin D. Roosevelt boardwalk and beach.
It's an ideal spot for a romantic stroll.
The St. George Theatre's stunning interior is inspired by Spanish styles, much like Kardashian's personal fashion taste as she's been photographed almost exclusively wearing Spanish fashion house Balenciaga for the last few months.
In all seriousness though, it's a beautiful venue to see some amazing shows where legends like Tony Bennett and Cyndi Lauper have performed.
Can you keep your love locked down in an escape room?
One of Unreal Escapes rooms to try and break out of is Disco 54, in which you will be transported to world in which the feds are about to close down an iconic nightclub after one last party.
Dressing the part in 70s or 80s attire gets you two extra clues.