How Kim Kardashian's Family Have Responded to Her 'SNL' Roast So Far
While appearing as guest host on Saturday Night Live this weekend, Kim Kardashian wasn't afraid to make jokes about her nearest and dearest.
She even made herself the subject of some self-deprecating humor with jokes about her sex tape and her marriage to Kanye West.
Throughout her opening monologue and the show's skits, her family and friends found themselves to be the subject of her roasts.
Here's all the best jokes from Kim's SNL appearance and how the Kardashian family have responded so far.
Her Dating Life
Kardashian made several jibes about her own romantic history with a reference to her own infamous sex tape which was filmed while she dated singer Ray J in 2002 and released in 2007, just before the first season of her reality show Keeping Up With The Kardashians was set to air.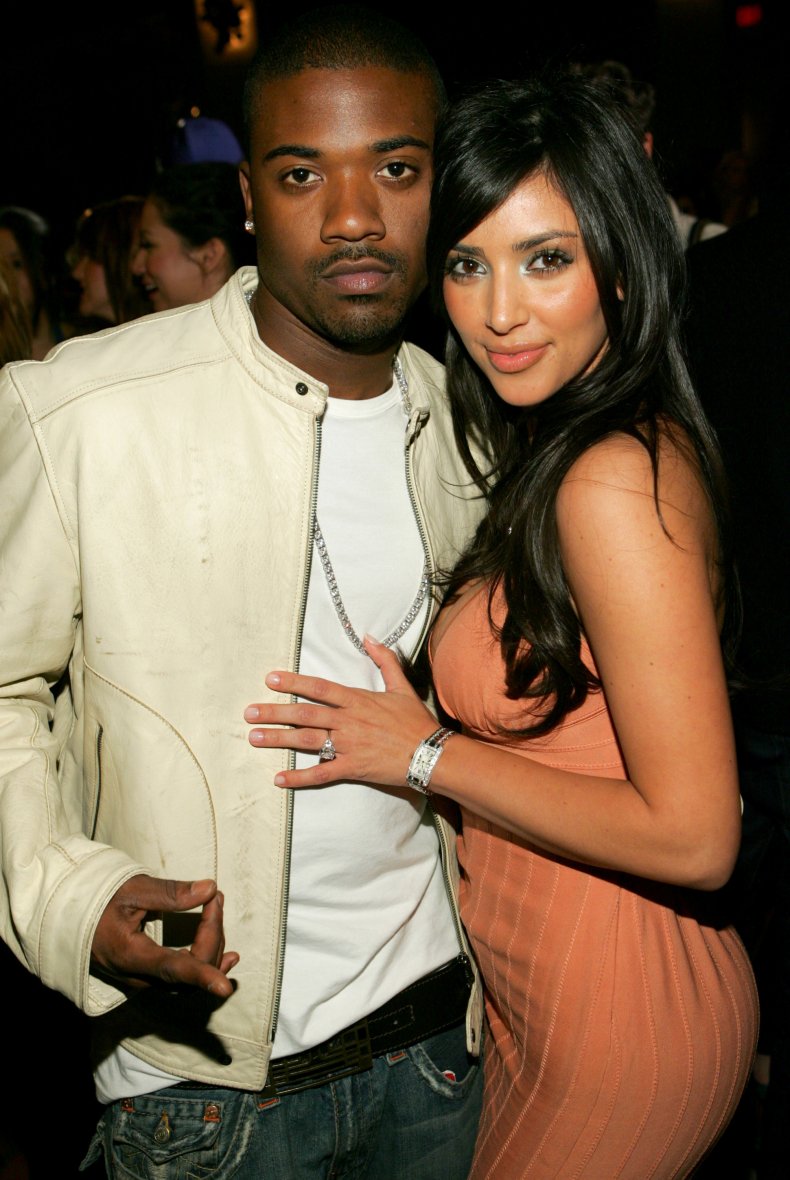 The timing of the tape's release has contributed to unsubstantiated speculation that family matriarch Kris Jenner coordinated the tape's release to orchestrate the family's rise to fame.
Kardashian referenced the rumor and joked in her opening monologue: "I only had that one movie come out and noone told me it was even premiering. It must have slipped my mom's mind."
Ray J, who is now married to Princess Love, has not posted any reaction on social media to his ex's comments.
She went on to joke about her past public relationships in the "Dream Guy" skit as her character Rochelle called forward Brooklyn Nets star Blake Griffin to receive a token.
She said: "Blake G, I'm going to be honest. Your behavior at the luau barbecue was inexcusable... But you're also a six time NBA all star and that intrigues me."
Kardashian's second marriage was to former NBA player, Kris Humphries, and lasted just 72 days before she filed for divorce.
Appearing alongside Pete Davidson in a skit making light of Disney movie Aladdin, Kardashian starred as Jasmine, who said of her dating history: "Well, I guess I dated a few athletes and some rappers and I dated the King of Uganda for a while and that was crazy."
While she has yet to be linked to any members of a royal family, she did previously date stars including Nick Cannon and NFL player Reggie Bush.
Her Famous Family
Not even her family were safe from the roasts as she jibed: "I'm just so much more than that reference photo my sisters showed their plastic surgeons."
The family has remained tight-lipped on the extent of their rumored cosmetic procedures, with youngest sister Kylie Jenner admitting to lip fillers and Kourtney had a breast augmentation.
When asked in the reunion of their reality show after its final season if the family is guilty of promoting "unattainable standards or beauty" by host Andy Cohen, Kendall responded: "We all really enjoy taking care of ourselves and being healthy so I think if anything the only thing we're really trying to represent is being the most healthy version of yourself."
Khloe chimed in adding: "I've had one nose job... Everyone gets so upset like why don't I talk about it, noone's ever asked me. You're the first person in an interview that's ever asked me about my nose."
"I've done, sure injections, not really Botox, I've responded horribly to Botox."
Her Business Ventures
Kim has had success with her underwear and shapewear line, Skims, even providing undergarments, loungewear and pajamas for U.S. athletes at the 2020 Olympics.
She wasn't afraid to make fun of her own brand though in a skit called "Skims For Thick Dogs" in which she supposedly was launching a shapewear line for dogs.
One character testimonial said: "My dog used to be ashamed of how she looked but Skims gave her confidence and now she's dating Scott Disick."
Disick is the former partner of her older sister Kourtney and shares three children with her.
Since their split, Disick, 38, has been linked to Sofia Richie and Amelia Hamlin, both of whom were aged 19 at the start of their relationships.
Disick has not posted a reaction to the joke on his social media accounts though he was photographed arriving at the SNL after party with Khloe.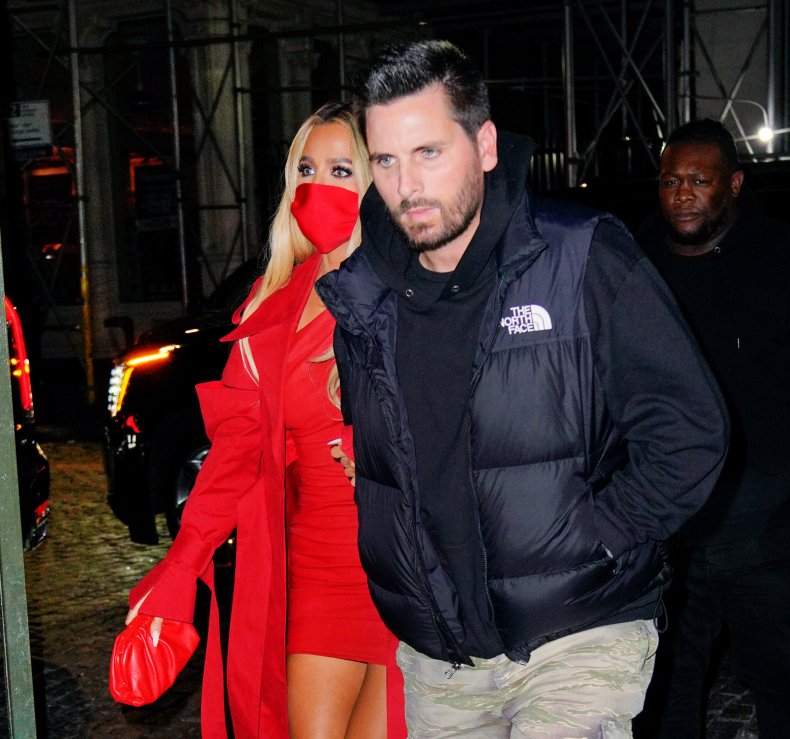 Kris Jenner
Her momager Kris Jenner seemed to be in on the fun, even appearing on the show in a sketch but this didn't mean she was safe from receiving a few playful jibes.
While talking about her rise to fame in her opening monologue, Kardashian said: "Nobody could ever call me a gold digger. Honestly, I'm not even sure how you become one, so I asked my mom's boyfriend Corey."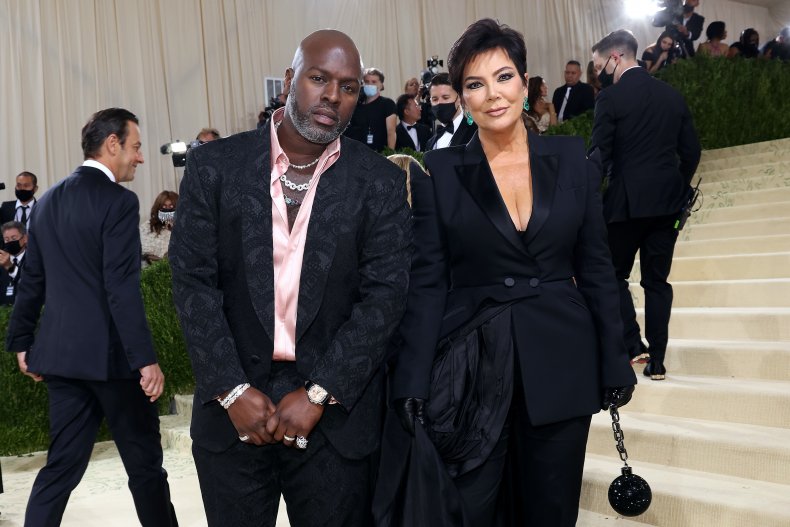 Kris has been dating Corey Gamble, 25 years her junior, since 2014.
Gamble has not posted anything on his social media accounts to acknowledge Kardashian's jokes about their relationship.
Kardashian continued, joking about her sisters all sharing names beginning with K and said: "I'm a Kim, not a Karen and honestly with all of the K names, it's really impressive that my mom didn't pick Karen. I mean, somehow she just knew. I don't know how she saw that one coming and not Caitlyn."
Kris had been married to Caitlyn Jenner for 24 years and the pair share daughters Kendall and Kylie together.
Around the time of their separation, Caitlyn announced that she identified as a transgender woman. The family outwardly appeared supportive of her transition, even dedicating an episode of Keeping Up With The Kardashians to discussing the topic at length, though in recent years their relationship has grown fractious.
Appearing in sketch "The People's Kourt", Kris poked fun at her own reputation as a pushy momager of her star children, saying she was suing youngest daughters Kendall and Kylie.
"I'm suing Kylie because she hasn't had her baby yet. We have a whole marketing PR plan and she's costing us money," she said.
Kylie is currently pregnant with her second child with rapper Travis Scott, and has not responded to the jibe on social media.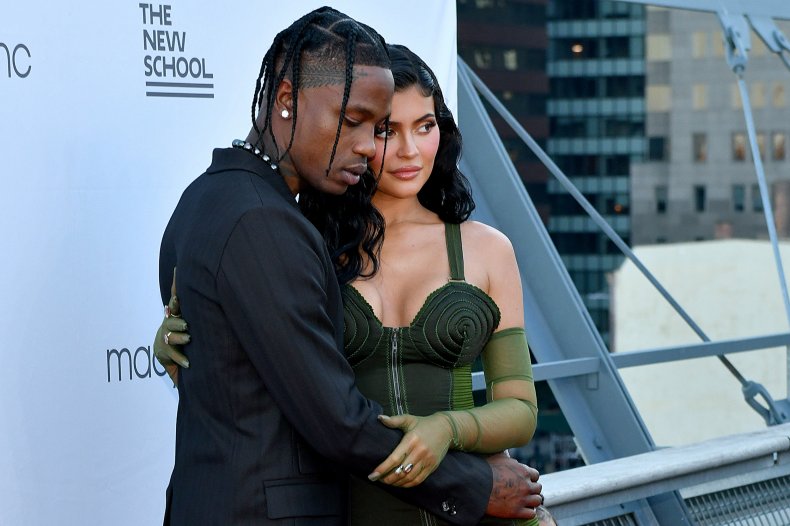 Kris continued, joking: "I'm suing Kendall because she has absolutely no drama. She won't cause any drama and it's damaging our brand."
Kendall, played by Halsey, responded: "I'm a Jenner, not a Kardashian," before Kris retorted: "And that's something you need to work on honey."
Kendall has also not posted anything on social media in reference to the skit.
Kris, however, took to Instagram to gush about her daughter's performance, captioning one post: "I'm so so proud of my amazing daughter Kim!!! She absolutely crushed one of the hardest stand up gigs in the world!!!!
"She is an absolute ROCKSTAR and I'm so proud of this accomplishment."
She also shared screenshots of an article from the Wall Street Journal, praising Kim's performance, on her Instagram Story.
Kourtney Kardashian
In the later seasons of their reality show, tensions between Kim, Kourtney and Khloe grew as they fought over Kourtney's work ethic and unwillingness to appear on screen.
Skit, "The People's Kourt", took aim at Kourtney as Kim starred as her older sister, presiding as a judge over disputes.
Introducing the segment, the narrator said: "She doesn't pull punches, she doesn't play favorites, and mostly just doesn't care."
Kourtney's relationship with Blink-182 drummer Travis Barker wasn't safe either as she sat on the lap of Mikey Day appearing as Barker and said: "Will you drum All The Small Things on my ass when we get home?"
The couple has been dating since January and they are not shy about sharing passionate public displays of affection on social media.
Though Barker has not shared a reaction to Kim's jibes, Kourtney shared a video of her watching the skit on her Instagram Story, writing: "ahhhhh! This is everything. You killed SNL."
As the sketch continued, Kim as Kourtney said: "Ugh. This is so boring, bring in my bailiffs best friends, Machine Gun Kelly and Megan Fox."
Kourtney and Barker have been frequently spotted hanging out with the famous couple, with Kourtney and Fox even shooting together for Kim's underwear brand Skims.
In the skit, Fox asked: "Wait, why are we best friends?" Kourtney replied: "Because our boyfriends have tattoos for necks."
Fox continued by making light of some of the things she has called her beau including an "achingly beautiful boy" and her "twin flame."
Neither Fox nor Kelly have reacted to the skit on social media.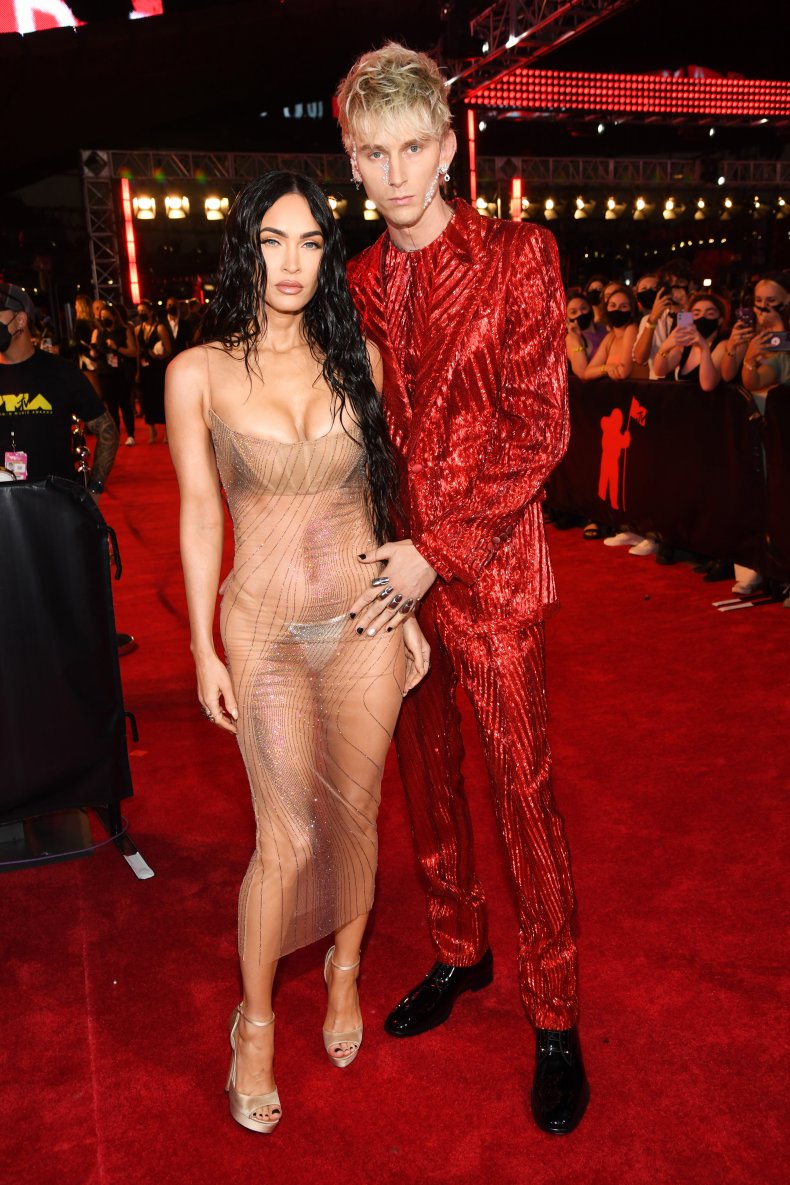 Kanye West
In her opening monologue, Kardashian discussed her legal advocacy and plans to become a lawyer before adding: "I'm not running for president. We can't have three failed politicians in one family."
Both her estranged husband Kanye West, and former step-father Caitlyn Jenner have run for office.
Continuing to make light of her marriage to the rapper she said: "I've been very blessed in this life, and I'm grateful for everything. All the ups, all the downs. I married the best rapper of all time," she said.
"Not only that, he's also the richest Black man in America. A talented legit genius who gave me four incredible kids. So when I divorced him, you have to know it came down to just one thing... his personality."
West has also not shared any reactions to the jibes on social media.
Khloe Kardashian
Younger sister Khloe managed to get away without becoming the butt of a joke, but did appear in "The People's Kourt" skit.
Praising her sister on her Instagram story, she wrote: "Proud is an understatement!!! I am beaming pride and admiration towards you! @kimkardashian Congratulations queen!!"
Kim ended the show by thanking West and her family "for being such good sports."