Former baseball star Pete Rose has been slammed on social media for brushing off a question about allegations that he had a sexual relationship with a minor decades ago.
The 17-time MLB all-star also served as a player-manager for the Cincinnati Reds from 1984 until he retired as an active player in 1986, staying on as Reds manager until he was eventually banned from the sport in 1989 for gambling on MLB games between 1985 and 1987.
Rose, now 81, faced another scandal decades later when a woman identified only as Jane Doe alleged in 2017 that she had a sexual relationship with Rose when she was 15 years old in 1973. At the time, Rose was married with two children. His lawyers have said the allegations are unverified. Because the statute of limitations for statutory rape has passed, Rose could not be criminally charged in connection with these allegations.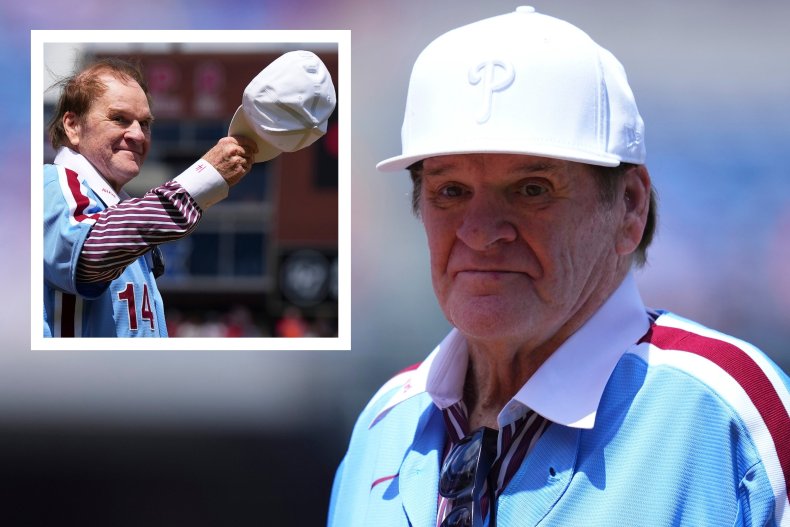 On Sunday, Rose made an appearance at Philadelphia's Citizens Bank Park to celebrate his part in the Philadelphia Phillies' 1980 World Series championship—and he left no doubt that he was unwilling to address the statutory rape allegations.
Alex Coffey, a Phillies writer for The Philadelphia Inquirer, revealed details of their exchange, tweeting: "I asked Pete Rose what he would say to people who say his presence here sends a negative message to women. His response: 'No, I'm not here to talk about that. Sorry about that. It was 55 years ago babe.'"
Coffey went on to share that she spoke with Rose once again following the ceremony, after another party stated that the former baseball player "had something to say" to her.
"Rose was made available after the ceremony," Coffey said. "Someone, maybe an agent, said he had something to say to me, but he didn't seem to know he was expected to say anything. He asked if he'd offended me, and said 'will you forgive me if I sign 1000 baseballs for you' before saying 'sorry.'"
According to The Philadelphia Inquirer, when the Associated Press asked Rose about his exchange with Coffey, he responded: "I'm going to tell you one more time. I'm here for the Philly fans. I'm here for my teammates. I'm here for the Phillies organization.
"And who cares what happened 50 years ago? You weren't even born. So you shouldn't be talking about it, because you weren't born. If you don't know a damn thing about it, don't talk about it."
Rose's response—and mere presence at the celebratory event—sparked an outcry among a number of Twitter users.
Jimmy Kimmel Live! star and sports broadcaster Sal Iacono, popularly known as Cousin Sal, commented: "Is it possible Pete Rose bet on himself coming off as a total dips*** today?"
That sentiment was echoed by a host of Twitter users, who posted in droves to share their opinions on Rose.
"Pete Rose was is and continues to be an absolutely horrible person," wrote Jesse Thorn, host of NPR's Bullseye.
When a Twitter user suggested that Rose had been asked a "hostile question," Thorn responded: "It was an entirely appropriate question, relevant to the situation. He revealed a lot in his answer, and a reporter reported it. That's how it is supposed to work."
Josh Innes, a host on Nashville radio station WNRQ, pointed out that there was a particular level of irony in Rose's response to the question posed by Coffey.
"Pete Rose says something that happened a long time ago doesn't matter....while being in Philly to celebrate something that happened a long time ago," Innes tweeted.
Meanwhile, The Athletic staff writer Zach Buchanan pointed out that the entire exchange could have easily been prevented by the powers that be at the Phillies.
"Pete Rose should be asked about this stuff until the day he dies, but all of this—how the necessary questions, and his dumbass, sexist responses to them are distracting from celebrating former Phillies greats—could have been avoided by the organization just not inviting him," Buchanan said.
The Phillies had planned to honor Rose in 2017 and induct him into their Hall of Fame before the statutory rape allegations arose.
Rose admitted in 2017 to having had a relationship with the woman in question, though he insisted that at the time she was 16, which is the legal age of consent in Ohio. He further contradicted his accuser's account by stating that none of their sexual encounters occurred outside of Ohio.
Ahead of the celebratory events, the Phillies defended the inclusion of Rose, who former President Donald Trump said should be inducted into the Baseball Hall of Fame.
The Phillies said in a statement: "In planning the 1980 reunion, we consulted with Pete's teammates about his inclusion.
"Everyone wants Pete to be part of the festivities since there would be no trophy in 1980 without him. In addition, the club received permission from the Commissioner's Office in invite Pete as a member of the championship team."
Uncommon Knowledge
Newsweek is committed to challenging conventional wisdom and finding connections in the search for common ground.
Newsweek is committed to challenging conventional wisdom and finding connections in the search for common ground.
About the writer
Ryan Smith is a Newsweek Senior Pop Culture and Entertainment Reporter based in London, U.K. His focus is reporting on pop culture and entertainment. He has covered film, TV, music, and Hollywood celebrity news, events and red carpets. Ryan joined Newsweek in 2021 from the Daily Mail and had previously worked at Vogue Italia and OK! magazine. Languages: English.
You can get in touch with Ryan by emailing r.smith@newsweek.com.