Peter Meijer's Chances Against Trump-Backed John Gibbs, According to Polls
Michigan Representative Peter Meijer is facing off against challenger John Gibbs in what is expected to be a difficult GOP primary for the freshman incumbent after he voted to impeach Donald Trump.
Trump endorsed Gibbs last November. The Republican contender previously served in the former president's administration as acting assistant secretary of housing and urban development for community planning and development. Meijer drew Trump's anger after he joined nine other House Republicans and all House Democrats in voting to impeach the president after he was accused of inciting his supporters to attack the U.S. Capitol on January 6, 2021.
In an interview with Newsweek last week, Meijer said he has no regrets and criticized Trump and his right-wing allies for refusing to take responsibility for the attack on the federal building.
"People almost seem committed to whatever absolves the people they identify with of any responsibility," he said. "I think trying to shirk responsibility is a fundamentally unconservative position."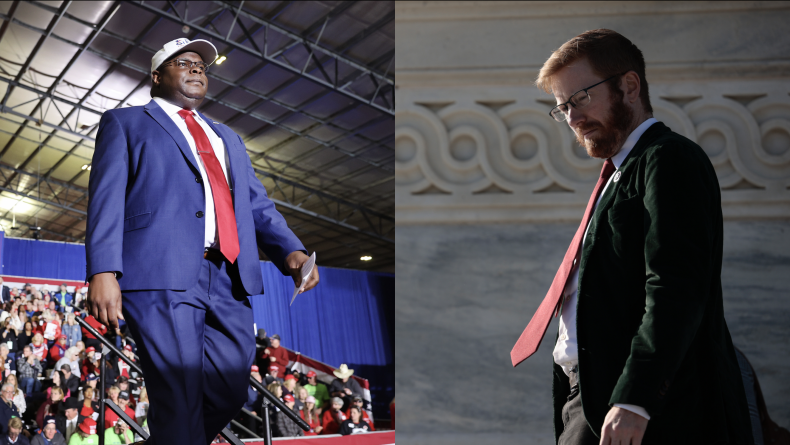 Little polling data has been released for Michigan's 3rd Congressional District race. But the survey results that have been released show Meijer facing an uphill battle with Republican voters.
A poll released in February by Impact Research showed that half of likely Republican voters in Meijer's district had an unfavorable view of the congressman. Only 34 percent viewed him favorably.
Furthermore, in a matchup with Gibbs, Meijer received only 19 percent of the vote, compared with 37 percent for his Trump-backed challenger. Other contenders garnered a combined 6 percent, while 38 percent of the respondents were undecided. Four hundred likely GOP voters were surveyed in the poll, which had a margin of error of plus or minus 4.9 percent.
More recently, polling data from Democratic contender Hillary Scholten's campaign showed Meijer in a significantly stronger position against her, compared with Gibbs. The Public Policy Polling survey, which was first reported June 1, showed Scholten at 39 percent and Meijer at 37 percent. Meanwhile, in a matchup with Gibbs, Scholten received 44 percent, compared with Gibbs' 35 percent.
The data suggests Republicans would be in a stronger position to hold on to the seat if they chose Meijer over Gibbs. The survey questioned 676 registered voters and had a margin of error of plus or minus 3.8 percent.
Notably, President Joe Biden easily beat Trump in Meijer's district in 2020. The Democratic president garnered the support of 55.6 percent of the voters there, compared with 44.4 percent who backed the president. Biden actually outperformed Meijer as well, as the freshman congressman won with 53 percent of the vote.
Whether that has any bearing on August's Republican primary is not clear. Michigan does not require voters to be registered with a specific party to participate in a primary—meaning Meijer could receive support from Democratic and independent voters.
Meijer has also managed to raise a lot of money for his reelection. In the first quarter of 2022, the congressman brought in more than half a million dollars. He entered April with some $1.5 million in the bank, Bridge Michigan reported.
Notably, Representative Tom Rice, a South Carolina Republican, lost by a wide margin this week to his Trump-backed opponent, Russell Fry. Rice, like Meijer, voted to impeach Trump. Four of the other Republican impeachers—Representatives Adam Kinzinger of Illinois, Fred Upton of Michigan, John Katko of New York and Anthony Gonzalez of Ohio—chose not to seek reelection.