Peter Navarro Says FBI Agents Strip-Searched Him During Arrest
Peter Navarro, a former White House trade adviser under Donald Trump, claimed that he was strip-searched during his recent arrest for defying his congressional subpoena.
Giving his first interview since he was arrested by federal agents for eluding a subpoena issued by the House select committee investigating the January 6 attack on the U.S. Capitol, Navarro told Fox News' Tucker Carlson about his alleged treatment while in custody on Friday, June 3.
Navarro, who after Steve Bannon became the second ally of former President Trump to be charged with contempt of Congress for refusing to comply with his subpoena, complained the FBI "chose a different route" instead of coming to him directly to cooperate.
"Instead, they went with this shock and awe terrorist strategy. They let me go to the airport and then take me with five agents, like an Al Qaeda terrorist, rock me into a car and the next thing I know I'm in leg irons, handcuffs, strip-searched," Navarro said.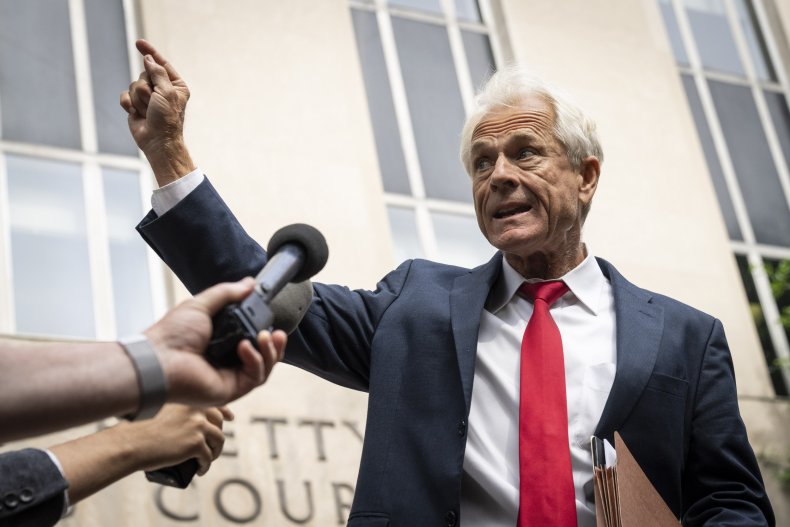 "People do not want to sit in solitary confinement and leg irons, denied food, denied water, denied an attorney, and this is what we live in," he added.
During his appearance on Tucker Carlson Tonight, Navarro also falsely claimed that he was subpoenaed "illegally" by the January 6 panel. Navarro, along with several members of Trump's inner circle, has attempted to cite executive privilege as reasons why they do not have to comply with the January 6 subpoena.
"I was faced with the untenable choice of upholding executive privilege, which was not my privilege to waive, that's Donald Trump's privilege to waive, so I did my duty to the President," Navarro said.
The Supreme Court rejected Trump's attempt to block the release of hundreds of documents to the January 6 panel using executive privilege, paving the way for the argument to be rejected elsewhere.
Bannon, a former Trump adviser, was charged with contempt soon after the decision was made late last year. While executive privilege can be asserted by a former president, it can only be invoked if the incumbent allows it. President Joe Biden decided would not be in the "best interests" of the country to invoke the privilege with regards to the January 6 investigation.
Elsewhere, a number of people have questioned why Navarro felt aggrieved by his treatment during his arrest.
"Why are the elite so appalled and shocked when they are arrested and treated like...everyone else?" tweeted radio host Randi Rhodes.
Michael J. Stern, a columnist for USA Today, tweeted: "Denied an attorney, food, water? For how long? You have no right to a snack if you're in custody for an hour."
Newsweek reached out to Navarro for comment.