Pfizer CEO Calls Anti-Vax Misinformation Spreaders 'Criminals' Who 'Cost Millions of Lives'
The CEO of Pfizer Inc. had strong words for those who spread misinformation about vaccines during an event on Tuesday.
Speaking with the CEO of the Atlantic Council, a think-tank based in Washington, D.C., Pfizer head Albert Bourla said that he considers the spreaders of this misinformation to be criminals. He also blamed them for the loss of "millions of lives" to COVID-19.
"Those people are criminals," Bourla said. "They're not bad people. They're criminals because they have literally cost millions of lives."
Furthermore, Bourla stressed that greater rates of vaccination are the only thing that will bring the pandemic era to a close.
"The only thing that stands between the new way of life and the current way of life is, frankly, hesitancy to vaccinations," he said.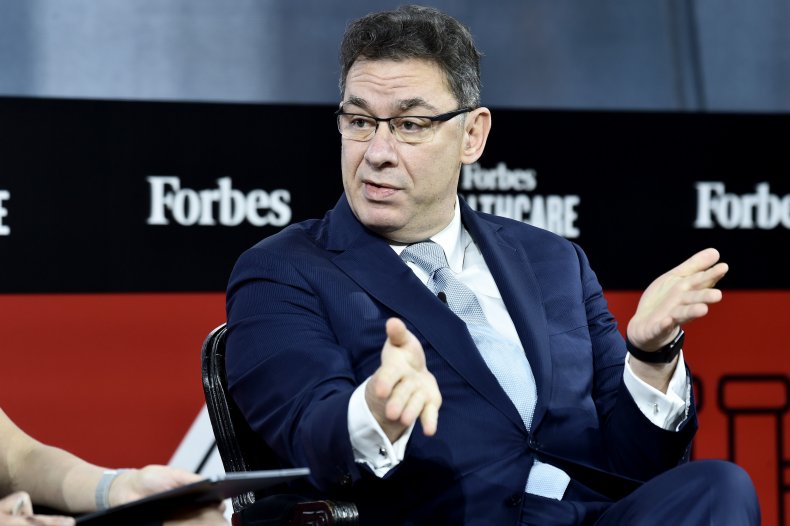 Officially designated as "Comirnaty," Pfizer's two-dose COVID-19 vaccine was among the first to receive emergency authorization for use by the general public, alongside the vaccines from Moderna and Johnson & Johnson. Pfizer's formula was also the first to be formally approved by the FDA in August, paving the way for a wave of stricter vaccination mandates in the U.S.
Despite the mandates and the wide availability of doses, millions of Americans have still not been vaccinated against COVID-19. Most health officials pin the blame for this on the spread of misinformation and conspiracy theories online related to vaccines, leading many in the U.S. alone to question their efficacy, safety, and side effects.
Roughly 79 percent of adults in the U.S. have received at least one dose of a vaccine, with 68 percent being fully vaccinated, according to The New York Times. In late October, the Pfizer vaccine received the approval of the FDA for use in children ages 5-11, paving the way for sharper increases in vaccination rates. Across all ages in the U.S., only 67 percent of the population has received at least one dose, with 58 percent being fully vaccinated.
In light of the Pfizer vaccines approval for younger children, the Biden White House recently called for elementary schools to begin running vaccination clinics for their students. These schools are also being asked to host conversations with members of their communities in order to share helpful information about vaccines and stem the spread of misinformation.
On Friday, Pfizer also touted the efficacy of its therapeutic antiviral pills designed to treat the symptoms of severe COVID-19 cases. According to its own findings, the pills have been 89 percent effective at preventing hospitalizations from the virus.