Pharma Bro Martin Shkreli Offering $5,000 for a Lock of Hillary Clinton's Hair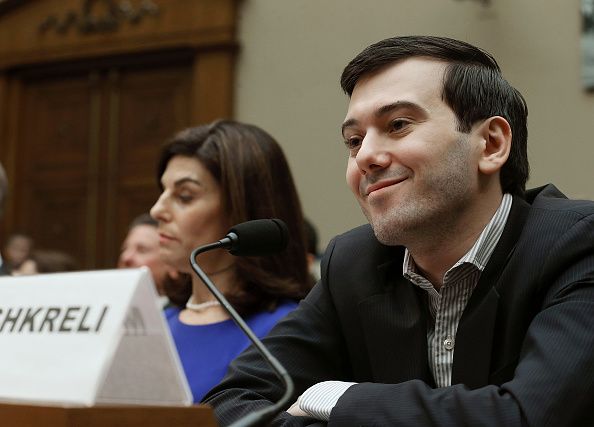 The so-called pharma bro, Martin Shkreli, is seeking to procure a lock of Hillary Clinton's hair, stating he would reward the person who could grant his wish "if the sequence matches."
The controversial former CEO of Turing Pharmaceuticals, who was found guilty of securities fraud in August, said he would offer money to anyone who can get some of Clinton's hair while she is on her book tour, in what could be viewed as assault if anyone attempts to do so.
"The Clinton Foundation is willing to KILL to protect its secrets. So on HRC's book tour, try to grab a hair from her. I must confirm the sequences I have. Will pay $5,000 per hair obtained from Hillary Clinton. Payment after the sequence matches. Good luck, patrollers," he wrote.
Shkreli then added, "(this is satire, meant for humor and not an endorsement of violence against a truly wonderful public servant)."
Following his initial post, which was met with a mixed reaction on his Facebook page—with many people questioning why the businessman was encouraging people to assault Clinton—Shkreli said he had been contacted by the Secret Service.
"The Secret Service has requested an interview with me. I am declining that interview—schedule is full. I will be peacefully protesting the Hillary Clinton book signing in NYC, chanting 'lock her up' with my friends, though," he said.
Shkreli previously spoke out about his dislike of Clinton, tweeting in September, ahead of the presidential election, "I enjoyed screaming "why are you so sick" and "go trump" at @HillaryClinton. Get well soon bae!"
Shkreli initially hit headlines in 2015, when he famously raised the price of an AIDS drug by 5,500 percent, from $13.50 a tablet to $750, in a move that prompted a backlash from HIV and AIDS charities as well as from the general public.