President Donald Trump's announcement for a phased approach to reopening the U.S. economy after weeks of restrictions bristled with optimism.
"America wants to be open and Americans want to be open," he said and his administration released an 18-page guidance document titled "Opening Up America Again," which details a three-phase approach to reopening economies, depending on the severity of the outbreak in each state or region.
K.C. Rondello, clinical associate professor at Adelphi University's College of Nursing and Public Health, in New York, was heartened to see that the document finally showed concrete federal guidance.
"In terms of the phased approach, I think it is a smart approach to reopening America. America is not a light switch, it's a dimmer switch," he told Newsweek.
"Another plus is that it encourages regions to work together and I think that is important because this virus does not recognize arbitrary political boundaries."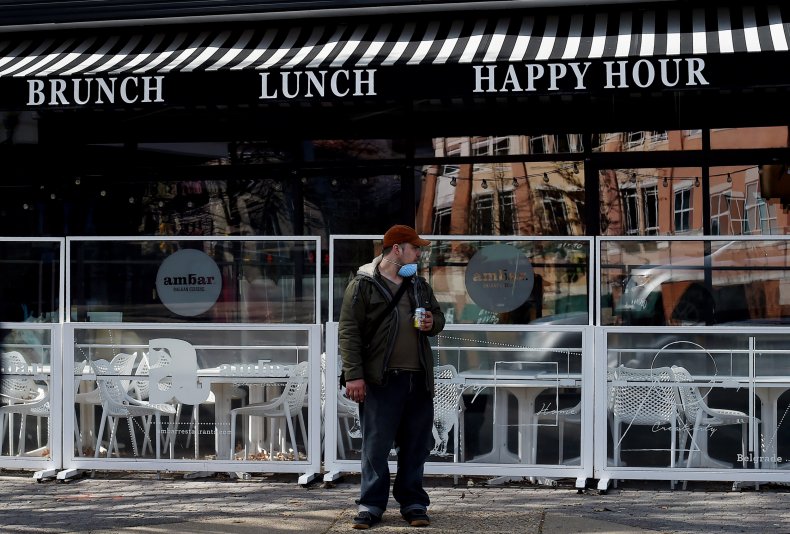 Many have been itching to see the end to lockdowns which have been implemented state by state. On Monday, protesters gathered outside California's Capitol Building in Sacramento to pressure Gov. Gavin Newsom to lift quarantine restrictions. There was also an Operation Gridlock protest in Michigan.
But Dr. Anthony Fauci, from the White House Coronavirus Task Force, warned that being too hasty in reopening the economy could cause a spike in COVID-19 cases and there has also been criticism of the opening up of parts of Florida, and Georgia.
Here are some of the main points to consider of Phase One of the reopening.
What are the recommended criteria before a state should start Phase One?
The guidelines are voluntary and it is up to governors to make the call, but they outline gateways that should be met before a reopening is considered. For Phase One, there are three criteria recommended which relate to symptoms, cases and hospitals.
Regarding symptoms, the guidelines suggest that there has to be a downward trajectory of both influenza-like illnesses (ILI) and COVID-19-like cases within a 14-day period. There also needs to be a downward trajectory of documented cases and the percentage of positive tests over 14 days.
Hospitals also have to have a robust testing program in place for at-risk healthcare workers, including emerging antibody testing.
Charlotte Baker, assistant professor in epidemiology in the population health sciences faculty at Virginia Tech, said that while the phased approach was a measured one, the biggest issue is that there is not enough testing.
"So when we talk about the downward trajectory of cases, it really is a misnomer at this point," she told Newsweek.
"As we have learned over the last few weeks, most people who have COVID-19 are asymptomatic. We don't know yet whether we are on a downward trajectory because we haven't been able to check everybody.
"Without testing everyone, we don't know yet if we are out of the woods, so we don't know that we are having less spread," she added.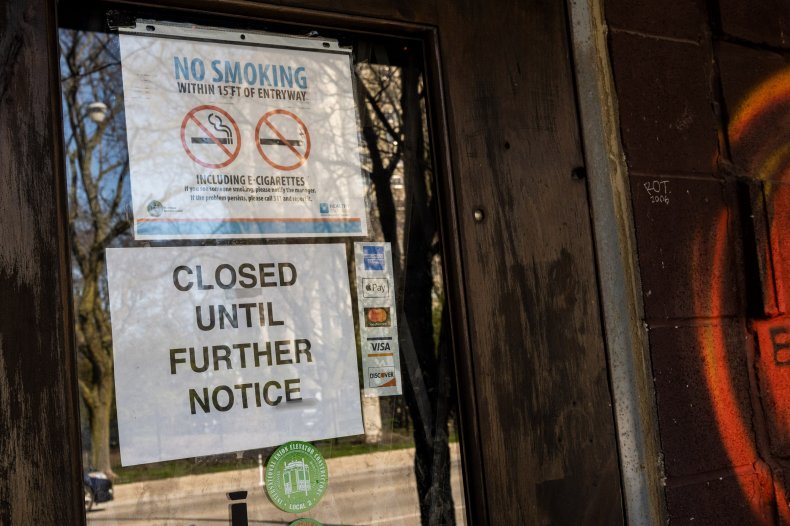 After Phase One is implemented, what restrictions will remain?
If Phase One goes ahead, restrictions are recommended for individuals and employers to follow.
Those who are vulnerable should continue to shelter in place. These include anyone who is elderly, who has a serious underlying health condition, or whose immune system is compromised.
Eduardo Gómez, associate professor at the College of Health at Lehigh University, in Pennsylvania said that "the good news is that the vulnerable population is going to be taken care of and that is of course a priority.
"But we know that isolating the vulnerable is not going to be enough, because if you don't ensure that family members are taking proper responsibility, vulnerable people are still going to get infected by family members coming back to the house," he told Newsweek.
If people do go to public spaces like parks, shopping areas and outdoor recreation areas, social distancing must be maintained. If distancing measures are not possible, groups of more than 10 people should be avoided. People should also minimize non-essential travel.
Employers are also advised to continue to encourage remote working where possible and plan for a phased return to work. Common areas for staff should be either closed or at least social distancing rules there should be enforced. Employers have also been asked to minimize non-essential travel.
However, Gomez was worried that this "assumes there is a lot of capacity at the employer business level," and that there were question marks over whether employers had the wherewithal to adequately implement social distancing and ensure establishments were clean.
"Similarly, with social distancing, how is that going to be enforced? What is going to be given to the police departments and what is that enforcement going to entail?"
Which venues will be closed and which will be open?
Schools and organized youth activities that are already closed should stay closed. Bars should also stay closed and visits to hospitals and senior living facilities are prohibited.
Large venues like movie theaters, places of worship, sporting venues, gyms and sit-down dining establishments can operate as long as there are "strict physical distancing protocols." Also able to resume are elective surgeries as clinically appropriate.
However, Baker said that she was concerned about the reopening of large venues.
"People travel to get to those places and if you are asymptomatic, you don't know if you're sick and carrying and passing it to other people and so when you have these large venues that are reopening you increase the chance that you have a spike in cases," she said.
"A lot of the people who work in those places are using public transportation and so unless they were also providing more money for public transportation and making sure they cleaned it every time a person got off the transit, then you are also putting those people at greater risk just getting to work.
"I am expecting to see spikes in Georgia and Florida because you can say I recommend to keep a physical distance but as we have seen in photographic evidence, people are going about their daily life without distancing."
More broadly, Rondello from Adelphi University praised the evidence-based approach to decision-making outlined by the "Opening Up America Again" guidelines, but was concerned about their lack of detail which could mean decisions over social distancing and face mask covering "are likely to be very unevenly implemented across the United States."
"As result of that, the trajectory of the epidemic is likely to last longer than it otherwise could have," he added.
In a statement to Newsweek, a White House spokesperson said: "From the beginning, President Trump has had one priority—the health and safety of the American people, which is why the guidelines to open up America again are a data-driven, phased approach that further the partnership with our Nation's governors and allow them to make the best on-the-ground decision for their communities.
"The president wants to see people working again, and the American people want to get back to work. President Trump's policies took this economy to record setting historic highs, and they will do so again as the President has placed us on a responsible path to reopen soon."
The infographic below, provided by Statista, shows the confirmed cases in the U.S. as of April 21.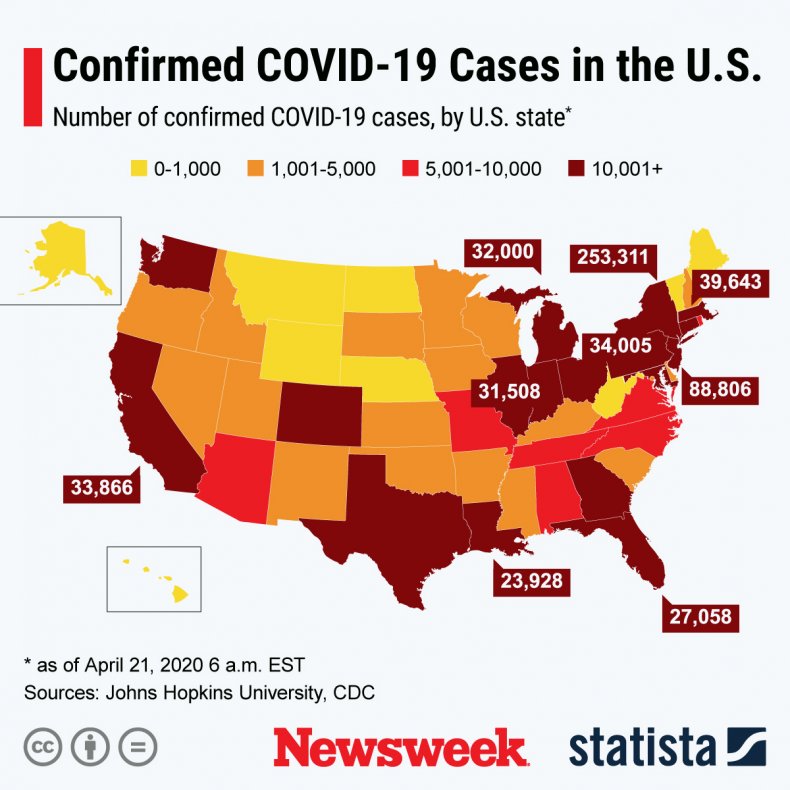 Centers for Disease Control and Prevention Advice on Using Face Coverings to Slow Spread of COVID-19
CDC recommends wearing a cloth face covering in public where social distancing measures are difficult to maintain.
A simple cloth face covering can help slow the spread of the virus by those infected and by those who do not exhibit symptoms.
Cloth face coverings can be fashioned from household items. Guides are offered by the CDC. (https://www.cdc.gov/coronavirus/2019-ncov/prevent-getting-sick/diy-cloth-face-coverings.html)
Cloth face coverings should be washed regularly. A washing machine will suffice.
Practice safe removal of face coverings by not touching eyes, nose, and mouth, and wash hands immediately after removing the covering.
World Health Organization advice for avoiding spread of coronavirus disease (COVID-19)
Hygiene advice
Clean hands frequently with soap and water, or alcohol-based hand rub.
Wash hands after coughing or sneezing; when caring for the sick; before, during and after food preparation; before eating; after using the toilet; when hands are visibly dirty; and after handling animals or waste.
Maintain at least 1 meter (3 feet) distance from anyone who is coughing or sneezing.
Avoid touching your hands, nose and mouth. Do not spit in public.
Cover your mouth and nose with a tissue or bent elbow when coughing or sneezing. Discard the tissue immediately and clean your hands.
Medical advice
Avoid close contact with others if you have any symptoms.
Stay at home if you feel unwell, even with mild symptoms such as headache and runny nose, to avoid potential spread of the disease to medical facilities and other people.
If you develop serious symptoms (fever, cough, difficulty breathing) seek medical care early and contact local health authorities in advance.
Note any recent contact with others and travel details to provide to authorities who can trace and prevent spread of the disease.
Stay up to date on COVID-19 developments issued by health authorities and follow their guidance.
Mask and glove usage
Healthy individuals only need to wear a mask if taking care of a sick person.
Wear a mask if you are coughing or sneezing.
Masks are effective when used in combination with frequent hand cleaning.
Do not touch the mask while wearing it. Clean hands if you touch the mask.
Learn how to properly put on, remove and dispose of masks. Clean hands after disposing of the mask.
Do not reuse single-use masks.
Regularly washing bare hands is more effective against catching COVID-19 than wearing rubber gloves.
The COVID-19 virus can still be picked up on rubber gloves and transmitted by touching your face.