Video of Philadelphia Eagles Fans Flipping Car Viewed Over 250k Times
Videos of Philadelphia Eagles fans flipping over a car ahead of the Super Bowl battle with the Kansas City Chiefs have gone viral.
The clips, recorded in Philadelphia, show a street full of fans wearing Philadelphia Eagles jerseys and colors as a smaller group begins to flip a silver car.
The crowd's chants grow louder as the group lifts the car from the side until it is turned over completely. Many people can be seen recording the incident on their phones.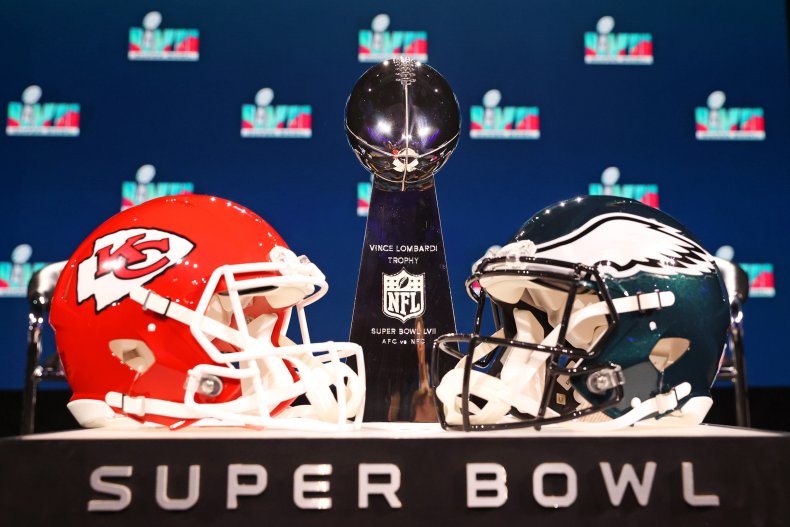 Once the car is flipped some individuals are seen getting on top to pose, much to the delight of the crowd. Other videos from the scene appear to show the car is empty when it is flipped over.
The clip has so far been viewed more than 300,000 times since being posted by the RAWSALERTS Twitter page.
Another video from the same scene has also gone viral on social media. This clip that was shared by NFL writer Dov Kleiman and has been viewed more than 2 million times.
He captioned the footage: "Eagles fans are already going crazy in Philly, flipping cars. We're 30-minutes away from kickoff."
Philadelphia Eagles fans would soon be disappointed hours later after a close 35-38 loss to the Kansas City Chiefs.
Chiefs quarterback Patrick Mahomes defied injury to win his second title in a Super Bowl which has been regarded as one of the greatest in years.
Going into halftime, the Chiefs were behind by 10 with Mahomes limping into the locker room with an ankle injury he picked up earlier in the playoffs.
Going into the third and fourth quarters, Mahomes was able to lead his team on four consecutive scoring drives, stunning Eagles fans.
The fourth quarter proved particularly dramatic with the Chiefs edging out further, making the score 35-27 only for the Eagles to claw their way back with a touchdown and a two-point conversion.
There were also late-game frustrations to wrap up the game as the refs made a controversial holding call against the Eagles that allowed the Chiefs to close out the game.
On third and 8, with less than 2 minutes left and the score tied, Chiefs' Mahomes appeared to overthrow his receiver but refs threw a flag and called holding on Eagles DB James Bradberry.
This resulted in a first down for the Chiefs which allowed them to run down the clock before kicking the final field goal in the final seconds of the game.