Philadelphia Newspaper Rips Doug Mastriano as 'Election-Denying' Threat
A major newspaper's editorial warned Pennsylvania residents about the implications of voting for "election-denying conspiracy theorists" like Republican gubernatorial candidate Doug Mastriano.
In an editorial published Wednesday, The Philadelphia Inquirer said that electing Mastriano—who the paper said made repeated efforts to alter and suppress the results of the 2020 presidential election in favor of Donald Trump—"amounts to a 10-alarm fire for anyone who believes in a functioning democracy."
"Pennsylvania does not need election-denying conspiracy theorists deciding the outcome of elections with the stroke of a pen," wrote the paper's editorial board.
Mastriano had called for "a full and independent audit of the presidential vote count in Pennsylvania" as state senator less than two weeks after the 2020 election, adding that the election should not be finalized without a final report from the bipartisan Senate State Government Committee that oversees statewide elections and electoral reform.
"The general assembly must perform its own election audit to restore confidence that every eligible vote is counted," Mastriano said at the time, mentioning that "voter confidence is at an all-time low."
Two days after the results were certified on November 23, 2020, Mastriano reportedly organized a committee hearing at the Wyndham Gettysburg hotel that included former Trump attorneys Rudy Giuliani and Jenna Ellis.
As Giuliani blamed the media and "Big Tech," Mastriano said "the republic is at stake" and that he organized the event due to "many allegations of voting law violations across the state."
Trump himself called into that hearing, saying the election was "rigged" and that his campaign "won Pennsylvania by a lot." President Joe Biden won the state by 80,555 votes.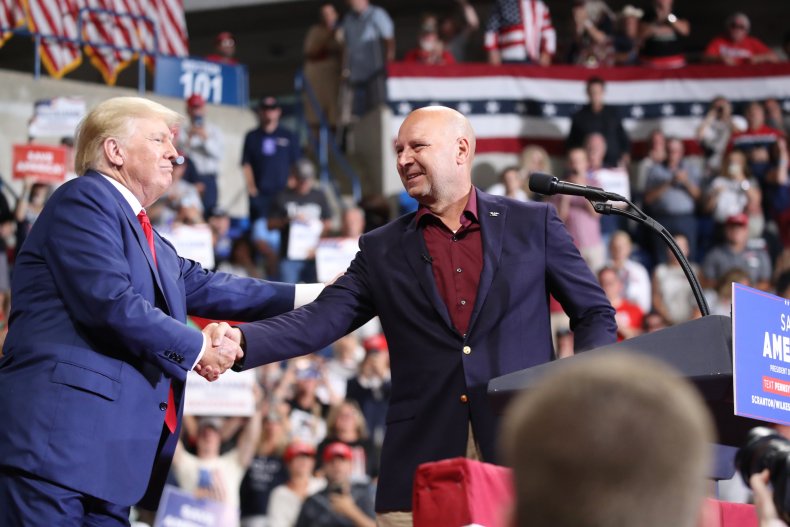 On November 27, 2020, Mastriano appeared on Steve Bannon's War Room podcast and said: "We're going to take our power back; we're going to seat the electors."
The senator later introduced a resolution that gave the Pennsylvania General Assembly authority to direct the secretary of the Commonwealth to withdraw the certification of Biden's victory and appoint new electors.
Mastriano was described as Trump's "point person" in Pennsylvania, according to emails obtained by The New York Times.
Mastriano continued his efforts even after Biden's victory was certified, the Inquirer reported, including attempting to influence Department of Justice investigations of the election and Republican-led audits in states like Arizona. His campaign reportedly spent thousands of dollars on charter buses for Trump's 'Save America' rally in Washington, D.C., prior to the Capitol riot on January 6, 2021.
"If elected governor, Mastriano boasted about how he plans to interfere with election outcomes if he doesn't get the results he wants," the Inquirer editorial stated.
In July of this year, the Inquirer reported that Mastriano deleted 14 videos from his Facebook account that indulged in conspiracy theories and comments made about other right-wing lawmakers.
One month later, Mastriano's attorney, Timothy C. Parlatore, said his client would happily answer questions posed by the January 6 House select committee but with preconditions.
Polls released earlier this month showed Mastriano trailing by three percentage points to Democrat Josh Shapiro, who currently serves as the state's attorney general.
Newsweek reached out to Mastriano and Shapiro for comment.