Philippines President Duterte Says He Was Once Gay 'But I Cured Myself'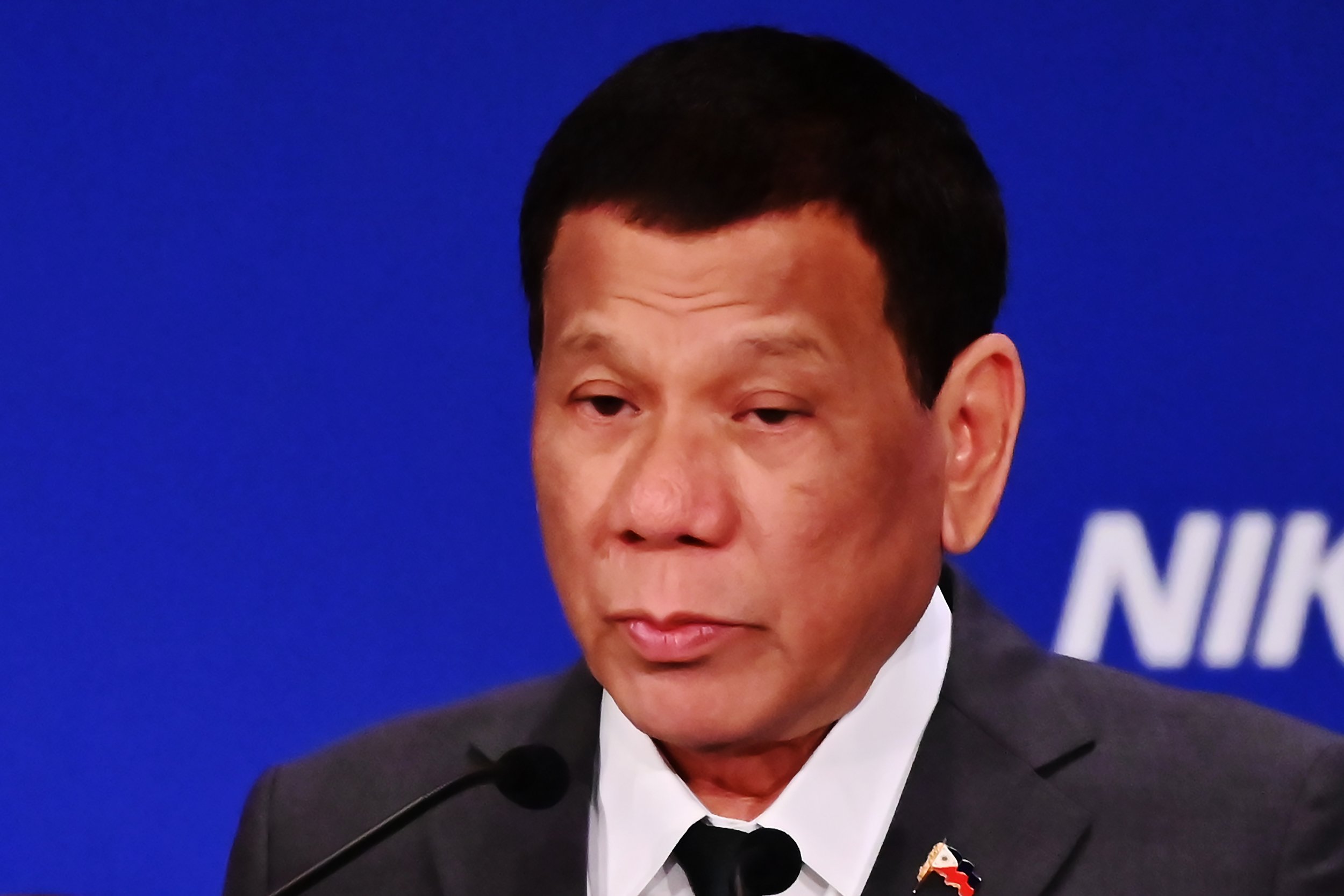 Philippines President Rodrigo Duterte has claimed he was once gay but "cured" himself of homosexuality in controversial remarks made during a trip to Japan.
According to Rappler, a Filipino news publication, Duterte mocked his political opponent Senator Antonio Trillanes IV by saying his movements show he is homosexual. Duterte also reportedly "confessed" that he was gay before he met his ex-wife Elizabeth Zimmerman.
"Good thing Trillanes and I are similar. But I cured myself," Duterte said during a speech on Thursday, Rappler reported. "When I began a relationship with Zimmerman, I said, this is it. I became a man again."
He subsequently added: "Duterte is gay. So I am gay, I don't care if I'm gay or not."
Duterte, whose ruling PDP-Laban party made large gains in May's elections, has flip-flopped on LGBT rights. Prior to his election as president in 2016, Duterte pledged the introduce same-sex marriage to the Catholic country. But he later switched to favoring same-sex "unions" instead.
"Same-sex marriage is good. Everyone deserves to be happy," Duterte told his country's popular talk show Vice Ganda back in 2015.
But two years later, after his election, during a speech criticizing transgenderism in the U.S., Duterte said: "There is no gender because you can be a he or she...That's their culture. It does not apply to us," BBC News reported.
"We are Catholics and there is the Civil Code, which says that you can only marry a woman for me... a woman to marry a man. That's our law so why would you accept that gender?"
His latest comments about homosexuality follow remarks in January about gay Catholic bishops and child molestation. Duterte has clashed with the Catholic Church over its criticism of his brutal war on drugs.
"Only I can say it, bishops are sons of bitches, damn you. It's true, most of them are gay," Duterte said at a ceremony for the groundbreaking of a new high school in January. "They should come out in the open, cancel the celibacy and allow them to have boyfriends."
Duterte has overseen and encouraged thousands of extrajudicial killings by police and armed militias in his bloody war on drugs. His deliberately incendiary rhetoric is inciting further violence on the streets of the Philippines, which he hopes will purge them of the illicit drugs trade.
"I never said I do not believe in God. What I said is your God is stupid, mine has a lot of common sense. That's what I told the bishops," Duterte said in January amid Catholic criticism of his drug war.
"I never said I was an atheist. Well, the presidency is a God-given gift. I am sure God would not have given me the position if I was bullshit...I couldn't have made it in life...without God. But these bishops of yours, kill them. They are useless fools. All they do is criticize."
Rachel Chhoa-Howard, a researcher for human rights organization Amnesty International, told Newsweek that Duterte's latest remarks about homosexuality "are just another attempt to disparage his strongest critics and distract from the concerns they have repeatedly raised about his government, including ongoing violations in the so-called 'war on drugs' and the deteriorating human rights situation in the country more generally."
She added: "Rather than resorting to derogatory statements, the president should own up to and end the crimes his government is responsible for once and for all."