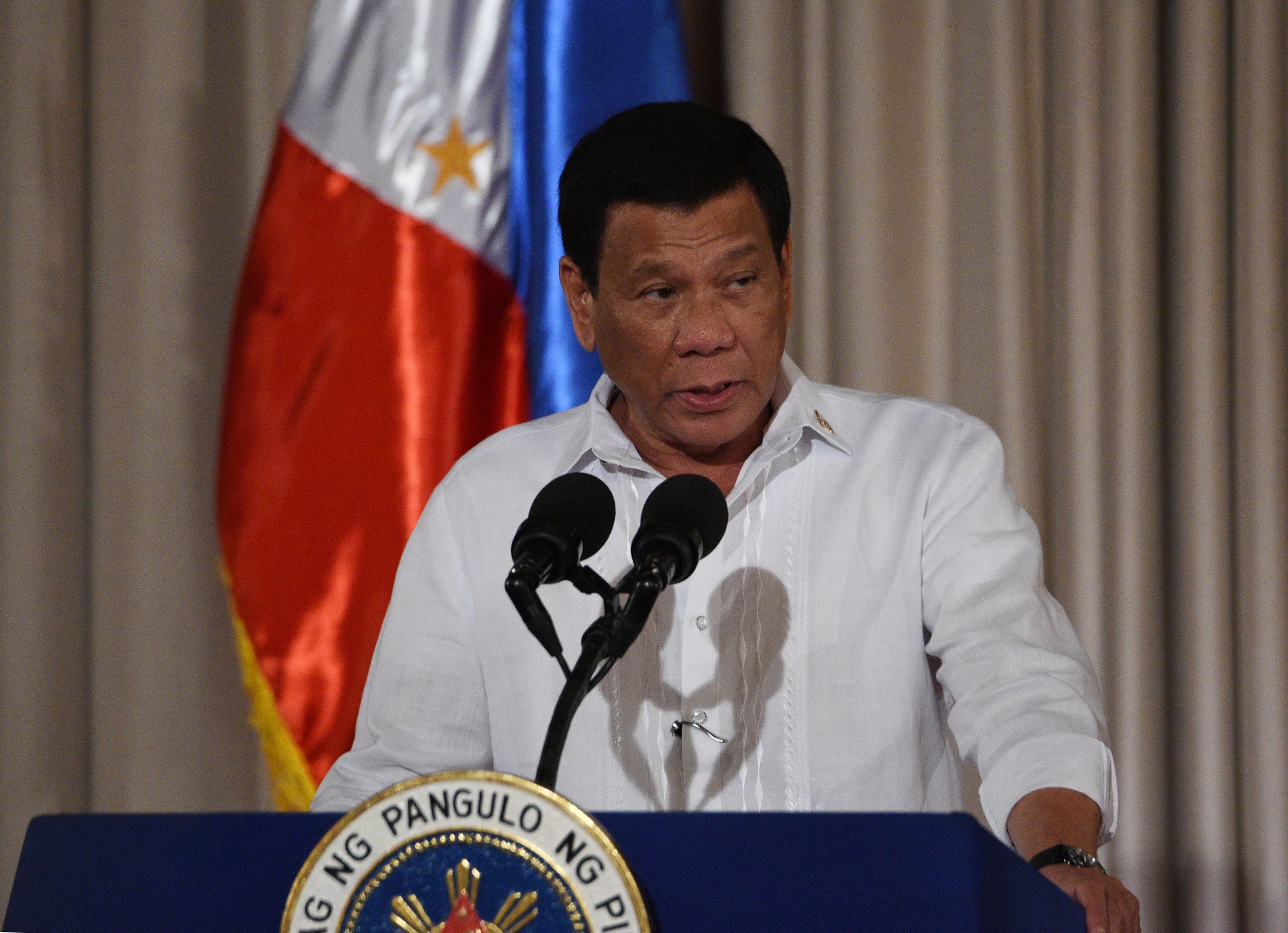 Philippine President Rodrigo Duterte has launched another verbal attack on the Catholic Church at a public event, calling out bishops in the audience and threatening to fight them.
Confrontational comments on various topics have become characteristic of the outspoken president, but few have required as much clarification as his feelings toward the Catholic Church—in a country that is predominantly Catholic. Speaking to a crowd of entrepreneurs and politicians at a business policy event in the city of Malacañang, Duterte reminded them about his views on religion and asked if any were clerics.
"Are there any bishops here?" Duterte said, according to the Philstar news site. "I want to kick your ass...and the priests."
"I'll tell you, the most hypocritical institution in the Philippines is the Catholic Church," he added, according to the Manila Bulletin. The president also shed some light on his negative experiences with the church at a young age, explaining that he was a victim of abuse at the hands of a priest.
"I was a former Roman Catholic Church attendant. We studied in Ateneo [a Catholic university], and we were molested, all of us," he said, without naming names. The president also took issue with the feasts of Catholic saints, telling the audience: "Yours is San Isidro. Your saint. And who is this shit? You know, they were nomadic tribes at that time. Nomadic. Who is this guy San Isidro that every town fiesta, we kill our cows, carabaos...just to spend because it is the fiesta of San Isidro?"
The president's faith has become a subject of discussion in the country, especially after he concluded earlier this summer that the God in the Bible is "stupid" and a "son of a bitch."
"Your God is not my God, because your God is stupid. Mine has a lot of common sense," Duterte said in June, without elaborating on his faith.
He has repeatedly joked that he should form his own denomination, Iglesia ni Rodrigo or Iglesia ni Duterte, claiming it would be very profitable.
Besides the church, Duterte's frequent targets and preferred talking points are corruption in the country and the illicit drug trade, both of which he has vowed to fight. He claimed earlier this month that he was considering quitting, four years before his term runs out.
"Guys, I want you to know that I am thinking of stepping down because I'm tired," he said at his presidential palace last week. "I am not angry [with] anybody. My chase against graft and corruption seems to be endless, and it has contaminated almost all government departments and offices."