Philippines Election Marked By Voting System Issues, Violent Attacks
The Philippines' presidential election was beset with technical issues and security concerns, from delays caused by vote-counting machine glitches to violent attacks at polling stations.
Millions of Filipinos headed to the polls on Monday to cast their votes for a successor to hardliner President Rodrigo Duterte, whose six-year term will conclude in June.
The candidate currently poised to win the presidency, according to polls, is Ferdinand "Bongbong" Marcos Jr, son of late dictator Ferdinand Marcos. His running mate Sara Duterte is the sitting president's daughter.
Marcos' primary rival, Leni Robredo, is a human rights lawyer who serves as the incumbent vice president of the Philippines.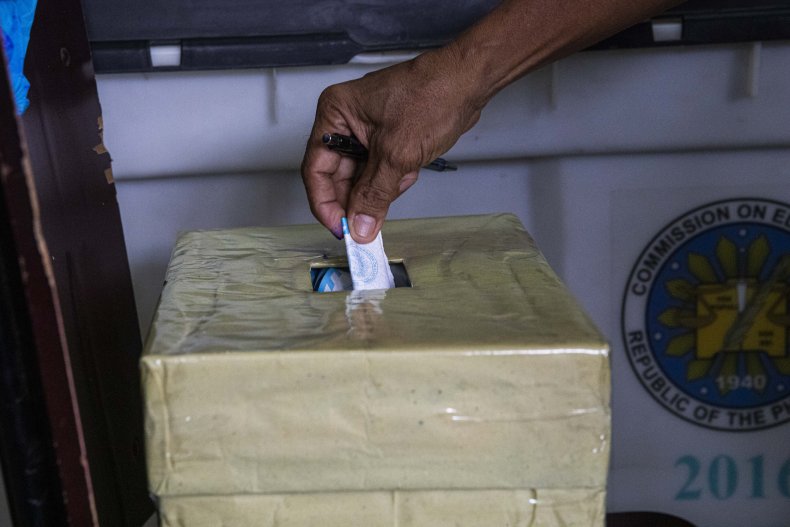 Despite a strong voter turnout, technical issues have caused problems at polling stations.
Malfunctioning machines caused voting precincts to open much later than 6 a.m., the scheduled time for voting to begin. These issues—compounded with delays caused by COVID health protocols—resulted in long waiting lines and overcrowding in key localities.
Rappler further reported that the Commission on Elections (Comelec) said at least 1,867 vote-counting machines exhibiting glitches had been fixed as of 10 a.m. on Monday, while 51 defective machines were replaced by 8 a.m.
Comelec said vote-counting machines found to be faulty on Monday morning make up 1.74 percent of the 107,345 machines used in this year's elections.
When faced with the technical malfunctions, voters were presented with the option of submitting their ballots anyway (albeit without a receipt), which will later be "batch-fed" by an electoral board before polls close. Otherwise, they needed to wait for the issues to be resolved.
Voters aired out their grievances on social media, with some saying they were advised to leave the polling stations and return later. In many viral tweets, Filipino Twitter users urged fellow voters not to leave their ballots with poll workers and ensure they are issued a receipt.
Despite the malfunctions and delays, according to radio station DZRH, Comelec said that at present, "nothing justifies" extending the voting period past 7 p.m.
Newsweek has contacted Comelec for comment.
Beyond technical problems, Rappler reported that police in the Cebu province recorded 11 cases of vote-buying on Sunday night and Monday morning. Authorities were monitoring one political party for vote-buying, but did not disclose which.
The election cycle also saw bouts of violence since Sunday.
Three security guards were killed on Monday morning when gunmen opened fire on a polling station in Buluan, a municipality on Mindanao island.
On Sunday, five grenades blew up outside a polling station in the Maguindanao province's Datu Unsay municipality, wounding nine people. A grenade that exploded minutes later in the nearby municipality of Shariff Aguak left no casualties.
Local media also reported a Tungasan Barangay city councilor was shot dead on Olango Island on Sunday. Police are not ruling out the killing as election-related violence.