Philippines: 'The Punisher' Rodrigo Duterte Wins Presidency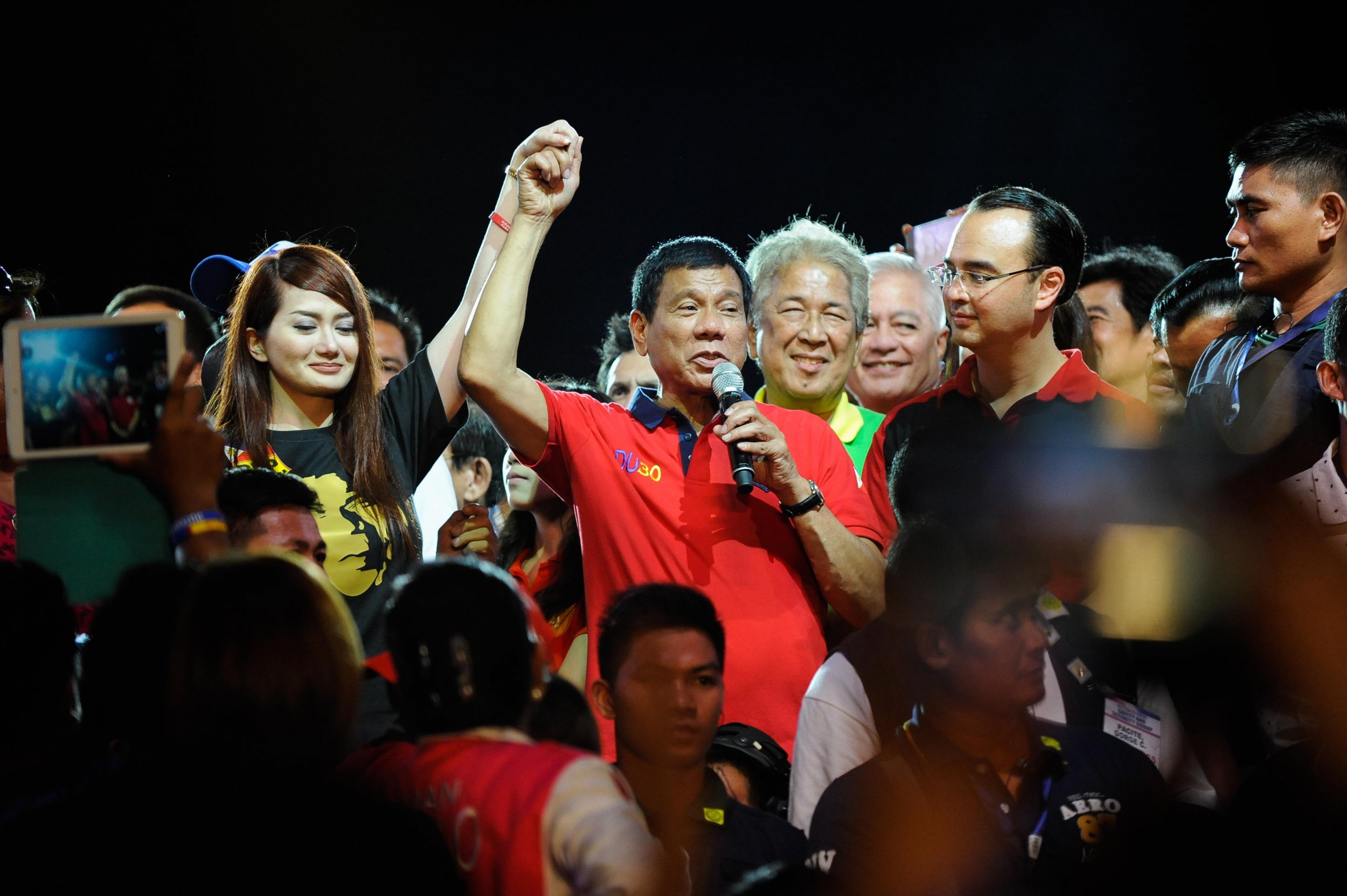 Rodrigo Duterte, a hardliner who has vowed to kill criminals and whose style has drawn comparisons with Donald Trump, has won presidential elections in the Philippines following the withdrawal of his opponents.
Duterte, 71, has taken about 39 percent of the polls with more than 90 percent of the votes counted, according to the Parish Pastoral Council for Responsible Voting poll monitor. Duterte was filmed crying at his parents' grave on Tuesday after the polls showed his strong lead.
Although the official result is yet to be declared, his main rival Mar Roxas, the country's interior minister, has withdrawn from the race, along with another opponent, Senator Grace Poe.
Currently the mayor of the southern town of Davao, Duterte has led a controversial campaign based on pledges to wipe out crime and deal out the harshest punishments to those responsible for it. In his final campaign rally in the capital Manila on Saturday, Duterte vowed to kill thousands of criminals. "I'll dump all of you into Manila Bay, and fatten all the fish there," said Duterte.
The president-elect's campaign is based on results in Davao, where crime has fallen dramatically under his leadership and has struck a chord with the Filipino population. Duterte has also drawn flak for his controversial comments, however—he issued an apology after "joking" about the 1989 rape of an Australian missionary in a prison riot in Davao, saying that she was so beautiful that "the mayor should have been first." Duterte was also branded as the Philippines' "death squad mayor" in July 2015 by Human Rights Watch for his alleged use of civilian militias to kill more than 1,000 suspected criminals during his term in Davao.
His uncompromising approach has earned him the nicknames "Duterte Harry" and "The Punisher," and his penchant for making shocking comments—such as referring to Pope Francis as a "son of a whore" after the pontiff's visit to the Philippines in January 2015 increased local traffic—have led to comparisons with Trump, who has made waves in the U.S. presidential race by proposing to build a wall with Mexico and ban Muslims from entering the U.S.
Duterte, however, has rejected such comparisons, saying that Trump is "a bigot and I am not." The Filipino president-elect has advocated for greater rights for Muslim rebels in the island of Mindanao, who are involved in a slow peace process with the government.