Philly Christopher Columbus Statue Stays, City's Decision To Remove It Illegal, Judge Rules
A judge ruled against the city of Philadelphia on Tuesday by ordering that a controversial statute of Christopher Columbus can be displayed publicly.
Common Pleas Court Judge Paula Patrick reversed a decision by the Board of License and Inspection Review that last September upheld a Philadelphia Historical Commission decision to remove the statue, according to The Philadelphia Inquirer.
In a seven-page ruling, Patrick said that the city's decision to remove the statue, which is currently located in Marconi Plaza but concealed within a box to prevent vandalism, had been taken without any "legal foundation."
"It is baffling to this court as to how the City of Philadelphia wants to remove the Statue without any legal basis," the judge reportedly wrote in her decision. "The city's entire argument and case is devoid of any legal foundation."
Last year, Philadelphia Mayor Jim Kenney argued that allowing the statue to remain on public view could be detrimental to public safety. Displaying the statue had become an especially contentious issue in the wake of mass protests sparked by the death of George Floyd, leading to politically-charged confrontations that saw those who wanted it removed locking horns with those insisting that it remain.
Patrick, who called herself "the Republican candidate liberal Democrats fear the most" during a failed campaign for a seat on the Pennsylvania Supreme Court earlier this year, ruled that there was not enough evidence to justify the public safety concerns. She called past confrontations over the statue "isolated." The city is considering appealing the ruling.
"While we are very disappointed with the ruling, we're reviewing it now and exploring all potential options—including a possible appeal," Kevin Lessard, Kenney's deputy communications director, said in a statement obtained by Newsweek. "The statue remains in Marconi Plaza and will continue to be secured in its existing box."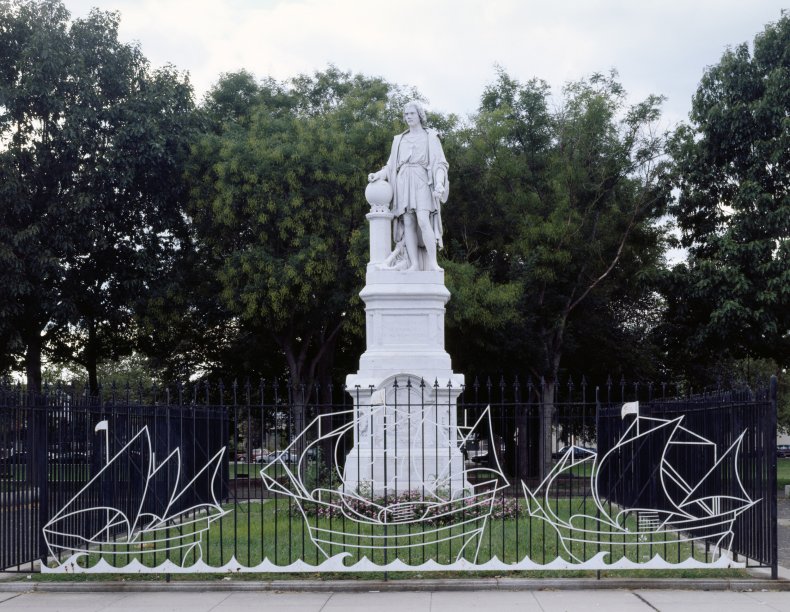 Statues of Columbus have been controversial in recent years over perceptions that the Italian explorer is a symbol and reminder of the oppression and genocide that indigenous populations of North America and the Caribbean faced following colonization by Europeans.
Others, often including Italian Americans, contend that monuments and tributes to Columbus represent a harmless celebration of Italian American heritage.
Dozens of Columbus statues across the U.S. were either ordered removed by local officials or seriously damaged or destroyed by protesters last year. The decision to allow the statue to stand in Philadelphia came as a result of a lawsuit from the group Friends of Marconi Plaza.
Friends of Marconi Plaza President Rich Cedrone told WPVI that the group "still don't believe [the statue] stands for anything against any other culture." George Bochetto, the attorney representing the group, told The Inquirer that he may ask Patrick to order that the box surrounding the statue be removed as early as Wednesday.