'Bad Vegan' Director Explains the Phone Call at End of Netflix Documentary
Bad Vegan: Fame. Fraud. Fugitives is the latest true-crime documentary to land on Netflix. The four-part series is told from the perspective of Sarma Melngailis, who served four months in prison on fraud charges in 2017. Her then-husband, Anthony Strangis spent one year in jail also on fraud charges.
For two years, Melngailis, the co-founder of Manhattan's hottest vegan restaurant Pure Food and Wine, transferred almost $2 million from her business accounts to her then-husband Anthony Strangis, who conned her into believing he needed the money for protection.
According to Melngailis, he also tricked her into undertaking "tests" which included sending thousands of dollars so they could be transported to a utopia, where her beloved dog Leon, would live forever.
The indictment accused Melngailis and Strangis of transferring more than $1.6 million from business accounts to Melngailis' personal bank account, spending $80,000 at specialty watch retailers, more than $70,000 at hotels in Europe and New York, and more than $10,000 on Uber car rides.
They were arrested in May 2016 in Sevierville, Tennessee after Strangis ordered a Domino's pizza in his own name. They had been on the run for 10 months by the time they were both arrested.
Melngailis and Strangis both took plea deals. She pleaded guilty in May 2017 to stealing more than $200,000 from an investor and scheming to defraud, as well as criminal tax fraud charges. Strangis pleaded guilty to four counts of grand larceny in the fourth degree.
At the end of Bad Vegan, a recorded phone call between Melngailis and Strangis plays out, where Strangis tells Melngailis he still loves her.
The phone call took place in 2019, 22 months after Melngailis was released from prison.
Audiences may have been surprised to hear Strangis and Melngailis had been in contact, considering everything Melngailis had been through.
In the call, Melngailis even refers to Strangis' use of "meat suit." During their marriage, Strangis had convinced Sarma he was "non-human" and was an otherworldly creature inhabiting a human body, known as the "meat suit."
He also used the "meat suit" as an excuse to explain his increasing weight.
Newsweek has the full transcript of the phone call below:
Strangis: Hello?
Melngailis: Hi, can you hear me?
Strangis: I can hear you, yeah. I was gonna... I almost texted you last week. You Know I miss you. I do miss you.
Melngailis: * Makes gagging sound *
Strangis: Really?
Melngailis: That's my response. You realize you do have to step out of the meat suit and appear on a unicorn.
Strangis: I know that, and it's already in the works in my mind. There will be something.
Melngailis: You're gonna shapeshift in front of me?
Strangis: I mean...[laughs]
Melngailis: [laughs] Come on, you know I'm serious!
Strangis: I know you are. Well, I can still make you laugh so that is good.
Melngailis: Yeah, no it's not good.
Strangis: Yes, it is. In a long period of time, I've been all over the world been in all different places, and met all sorts of people over a whole lot of years. I love you. You're the smartest person that I've ever met, okay? And you're the most beautiful thing.
Melngailis: It f****** p***** me off because you're right.
Strangis: It was really good hearing your voice. All right, Sarm. Good night.
Melngailis: Good night.
In conversation with Newsweek, Bad Vegan director Chris Smith and executive producer Ryann Fraser explained why they opted to include the phone call. They stated it portrayed Melngailis as "confident and strong" and was not intending to imply the pair were still in contact.
They said: "The inclusion of the last phone call isn't to imply that Sarma and Anthony were still close. The call is dated "22 Months After Prison"—and Anthony clearly says at the end of the call "it was nice to hear your voice"—which we feel shows that communication between them is not common.
"In this call, we found Sarma to be confident and strong—making fun of the tales Anthony had spun, telling him that he had to show up on a unicorn for there to be any reconciliation (meaning there is no reconciliation).
"Lastly, this call was one of the few pieces of audio we found of them communicating in a way that helped us understand their relationship in the first place."
However, on the day of Bad Vegan's release, Melngailis in a personal blog post, criticized the inclusion of the phone call, calling it "disturbingly misleading."
She wrote: "the ending of Bad Vegan is disturbingly misleading; I am not in touch with Anthony Strangis and I made those recordings at a much earlier time, deliberately, for a specific reason.
"There's a lot Bad Vegan gets right, but it's hard not to get stuck on the things that aren't right or leave an inaccurate impression. Later, I'd like to clear up more."
Bad Vegan: Fame. Fraud. Fugitives is streaming on Netflix now.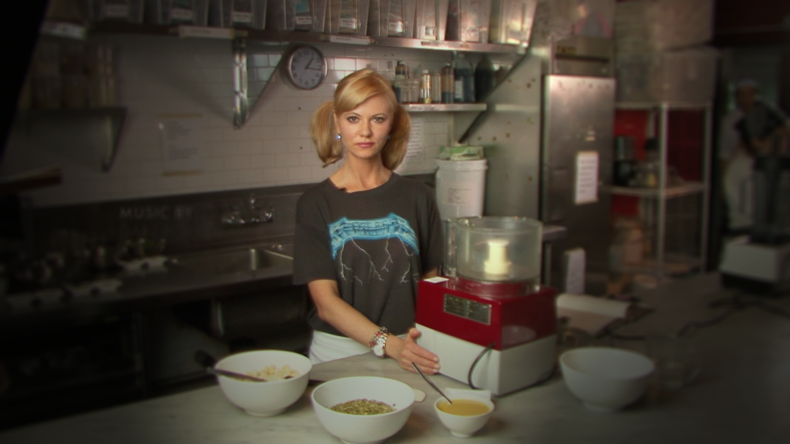 Update 23/03/22, 06:48 a.m. ET: This article was updated to remove the phrase 'exclusive statement' in the article.