It might be tough to remember at this point, but President Donald Trump and Hillary Clinton didn't always have a combative relationship. On Thursday, a photo pulled from the introduction of Trump's 1997 book The Art of the Comeback resurfaced on Reddit, and it features Trump paying a compliment to his 2016 election rival.
"Hillary Clinton, Donny Jr., Eric, and me," the caption reads. "The First Lady is a wonderful woman who has handled pressure incredibly well."
The image and accompanying caption serve as a reminder that, long before Trump and Clinton ran against each other in the 2016 presidential election, the former Apprentice host once had an amicable relationship with the Clintons.
In the wake of former President Bill Clinton's 1998 impeachment over the Monica Lewinsky scandal, Trump appeared sympathetic towards Clinton, and even defended him. Trump said that the then-president was a "victim," in a FOX News interview with Neil Cavuto in 1998. "He is really a victim himself," Trump said. "But he put himself in that position."
Despite the scandal, Trump praised Clinton as president. "I think he's terrific. I think the guy's terrific. I just hate the way he tried to get out of this mess," he remarked to Cavuto. "In terms of myself, I love him as a president because business has been great, the economy's been booming. We have to give him credit."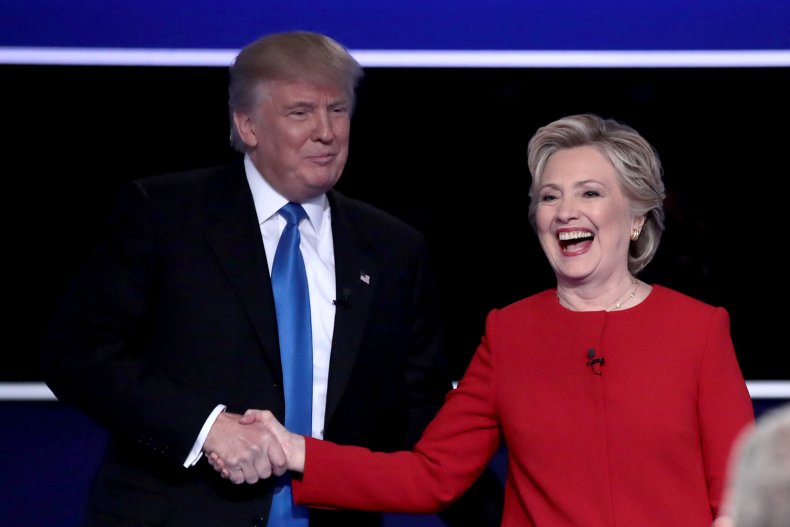 Years later, Trump made it a point to invite the Clintons to his 2005 wedding to his third and current wife, Melania, the Daily Beast reported, after donating to the Clinton Foundation. Trump also sung Hillary Clinton's praises during a 2008 NY1 interview.
"I think she's a wonderful woman. I think she's a little bit misunderstood. You know, Hillary is a very smart woman. A very tough woman. That's fine. She's also a very nice person. I know Hillary and I know her husband very well. They're fine people," Trump gushed at the time.
"I think she is a great wife to a president and I think Bill Clinton was a great president," he continued. "You know, you look at the country then, the economy was doing great."
More recently, Trump lauded Clinton's job as Secretary of State in 2012. He told Fox News's Greta Van Susteren that Clinton is a "terrific woman."
"I am biased because I have known her for years," he said. "I live in New York. She lives in New York. I really like her and her husband both a lot. I think she really works hard. And I think, again, she's given an agenda, it is not all of her, but I think she really works hard and I think she does a good job. I like her."
Clinton has not forgotten Trump's kind words. In July 2016, her presidential campaign team even created an ad featuring compliments that Trump had paid her over the years. "Donald Trump: occasionally right," the tagline read.
However, their relationship changed, to put it mildly, while both were campaigning for president. We'll just point to one example—when Trump infamously called Clinton a "nasty woman" during one of their presidential debates in October 2016.
And it's safe to say that since the 2016 election, their relationship hasn't improved. In an interview with Fox News's Maria Bartiromo on Thursday, Trump exclaimed, "Why isn't Hillary Clinton being indicted?!" The comment appeared to come out of nowhere, and even looked to catch Bartiromo off-guard.
Clinton responded on Twitter, writing, "There he goes, projecting again."