Photographer Charging High Prices for Plus-Sized Models Sparks Outrage
Sixtine Rouyre uses social media, where she reaches over half a million followers across platforms, to share her experience as a "plus-sized" model and discuss body issues and normalize different body types.
In a recent video posted to TikTok, Rouyre shared an email one of her agents received from the studio manager of a photographer regarding pricing.
The price for a "curve/plus-sized" model was $100 more than his pricing for "standard" models.
"This is just one more example of how awful the modeling industry is to literally anyone over a size zero," Rouyre said in the video viewed over 90,000 times. "Like, how does this make any f**king sense?"
Models' views on the term "plus-sized" have historically been mixed with some women like Tess Holliday and Crystal Renn expressing "gratitude" for the term whereas models like Ashley Graham and Paloma Elsesser see the term as a case of "othering," Vogue reported in 2020.
Megan Mesveskas, Rouyre's "mother agent" who posted the original video sharing the photographer's email said neither "curve" nor "plus-sized" have "much meaning."
"Every woman, regardless of her dress size, has curves. I'd love to see a human being without a curve," Mesveskas told Newsweek in an email. "'Plus-size' is meaningless too. Plus according to who or what? I think these are unfortunate categorizations that are made because the world still finds it shocking to see any woman above a size 2 modeling."
"So it's a way for the public to rationalize it 'oh, she's not a real model she's a Plus-size model'," Mesveskas continued. "We don't require brunette [models] to identify themselves as such. We don't ask [blue-eyed] models to sit alone in a category. So I'd love to know why should all women outside of 2 dress sizes be called 'plus' or 'curve'?"
In the original video posted by Mesveskas, she explained that as the head of a modeling agency part of her job is to source test photographers for her models.
Mesveskas explained that she reached out to William Lords, a New York-based photographer to ask about rates and availability.
She then shared a screenshot of the email she received back from Lords' studio manager sharing the photographer's rates.
"Standard: $950, Plus/Curve: $1050," the email read.
"I guess he just doesn't want to have to look at them through his camera," Mesveskas said in the video.
Mesveskas said that she modeled herself for eight years before starting her own agency, Model Nexus, which specializes in "the management of models with non-traditional measurements."
She said while she often sees brands that charge more for clothing made for "large-sized women," this was the first time she has seen the same for photographers.
"After speaking with many models, no one has even heard of a higher rate for models with a lot of acne or one who would need exponentially more photoshop retouching—so to see this applied arbitrarily against women who a photographer deems as non-standard sized is, really odd at best and discriminatory at worst," she said.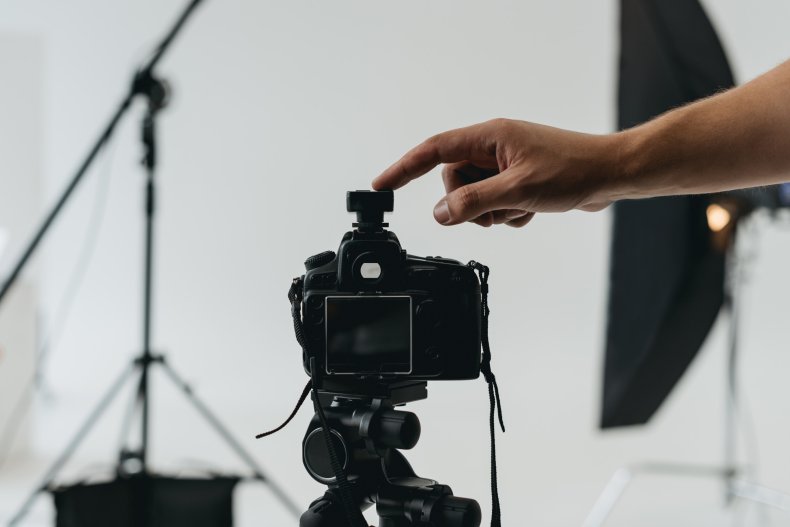 Many commenters shared in Mesveskas and Rouyre's shock over the photographer's pricing with many asking "why?"
"He isnt [sic] skilled in photographing plus size models so instead of saying that he's doing this," one commenter wrote under Rouyre's video.
"The fact that he said 'standard' is just so severe," wrote another.
Many noted that it appeared that Lords had his comments turned on through Instagram.
Lords told Newsweek that he believed the email, which was not written by him but rather by his studio manager, was taken out of context. He said the reason he charges $100 more for curve models is because of the time and cost involved in obtaining "creative and high end" clothing for the models that is on par with clothing offered to "straight-sized" models.
He said when curve models come into his studio they sit down and talk about what the model is hoping for in their shoot.
"Most of them say what they want, and you know what it is? The high-end stuff. They want the stuff that the straight-sized models have," he said.
He said he has a closet full of curve clothes costing around $1,000 per look that he has sought out and purchased on his own. He said he does so that curve models get the clothes "they deserve."
He said, "$100 is absolutely nothing compared to what I do for these girls."
He said in the wake of the video's posting he has received calls from other mother agents who "feel sorry" for what has happened.
He told Newsweek that he has decided to adjust his pricing and make sessions the same price no matter the model's size, though said the quality of clothes will be different. He said now he will ask models to provide their own clothing.
"They are going to have to go out and use their own credit cards to get the best clothes and see how difficult that is," he said.
Rouyre told Newsweek in an email that she saw Instagram posts from another agent defending Lords and outlining the explanation of added cost for clothing. Rouyre called the reasoning "bulls**t," saying it's "just an excuse to cover up simple fatphobia."
"If you [don't] have clothes for a model, tell her to bring her own [no one knows what looks best on your own body type better than yourself] or hire a stylist. Easy as that. If my agent tried to defend someone like that, I'd fire them on the spot," she said. "They should be fighting FOR me and working to make the industry a better place for everyone, not defending some gross egotistical photographer who thinks he's good enough to pull some shit like this."
Rouyre's video even caught the attention of well-known Canadian model Coco Rocha who said she felt like the "industry is slipping backward."
"Over the last 6 months I've seen more & more signs that what little ground was gained is being lost," Rocha commented below Rouyre's video.
Rouyre ended the video with this message for Lords: "Your fatphobia is showing, it's f**king disgusting and you should be ashamed of yourself."