Piers Morgan Lashes Out at Prince Harry and Meghan During Queen's Funeral
Piers Morgan on Monday criticized Prince Harry and Meghan Markle while reporting live for Fox News from Queen Elizabeth II's funeral procession.
"The last two years of the queen's life were constantly having to deal with these two going public," Morgan said of the Duke and Duchess of Sussex.
In 2020, Harry and Meghan announced they were stepping down as working members of the Royal Family. The couple sat for an interview with Oprah Winfrey the following year, and they made claims of racism in Buckingham Palace during the talk. The Winfrey interview resulted in much public discussion, including Morgan disputing the veracity of some of Meghan's statements.
During a segment of Fox News' funeral coverage, Morgan spoke with Sharon Osbourne, who appeared remotely. The two discussed Meghan's allegations about racism.
"Of course, they're not a racist family, and I think that Meghan Markle, by saying that, endorsed by Harry, managed to smear the entire royal family," Morgan said. "I find it quite hard to forgive that, given she did that right after Prince Philip was taken into hospital knowing that none of them were able to respond because they don't respond to this kind of thing."
Osbourne added, "She should've just had peace—peace just to be with her family. It just is heartbreaking."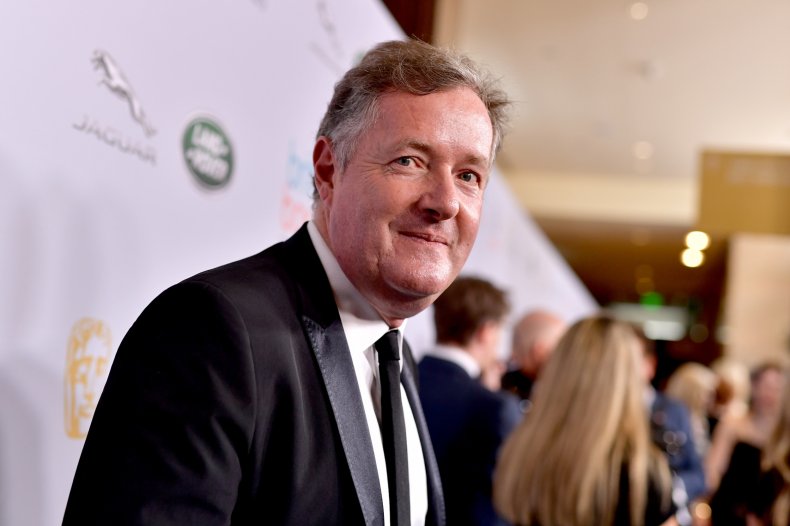 Morgan insinuated that Harry and Meghan had made Queen Elizabeth II's life difficult during her final years by "attacking the Royal Family and the monarchy, which of course is an institution which she headed and which affords them the ability to make all this money."
Morgan's ire was directed mostly at Meghan. He said that "when I see her at all these events this week, I think a lot of British people find it very hard to stomach because they think, 'Well, you made the queen's life so difficult the last two years of her life.'"
Osbourne speculated that Harry isn't happy due to his estrangement from his family.
"I get very sad, and part of this, my sadness, is looking at Harry looking so sad and really being where he belongs with the rest of the royal family. He's sort of made himself the black sheep," she said. "For me, it's heartbreaking because he belongs beside his brother, and the country adored him. And they did Meghan, too."
Osbourne also said she felt the couple were more interested in fame than committing to their royal duties.
"I just don't know how you give up your country for celebrity. He said he wanted an ordinary life, but he's become a celebrity, and, you know, mixes with all the big celebrities, and it's just such a different life," the television personality—and wife of metal star Ozzy Osbourne—said. "I don't really understand it. Everything they do is talk about the royal family."
Morgan brought up Harry's mother, the late Princess Diana, during the talk.
"I don't think his mother would've wanted him to do this," Morgan said. "His mother never attacked the monarchy. She never did. She had issues with certain parts of her life, but she never attacked the institution."
Newsweek reached out to Buckingham Palace, Morgan and Osbourne for comment.