Piers Morgan's Comments on Oprah Winfrey Get Mixed Response
Piers Morgan is being praised as well as attacked for criticizing Oprah Winfrey over her comments about Prince Harry and Meghan Markle.
Winfrey spoke to Extra recently about the death of Queen Elizabeth II while attending the Toronto International Film Festival. She said she hoped the sad occasion could be "an opportunity for peacemaking" for the Royal Family, which resulted in criticism from people who said Winfrey helped amplify the familial tensions.
Morgan was among those who said Winfrey was at least partly responsible for Harry and Meghan drifting away from the royals.
"Great to see Oprah Winfrey call for a healing of massive rifts in the Royal Family..that she enabled," Morgan tweeted on Tuesday.
The controversial British host was referring to the 2021 interview Winfrey conducted with Harry and Meghan. The interview came a year after the couple announced their decision to step down as working members of the Royal Family, and they made claims of racism in Buckingham Palace during the talk. The Winfrey interview resulted in much public discussion, including Morgan disputing the veracity of some of Meghan's statements.
Some Twitter users said Morgan is lashing out now out of professional jealousy.
"He was expecting access in the form of interviews but Oprah beat him to the punch and Meghan doesn't return Piers calls," read one tweet.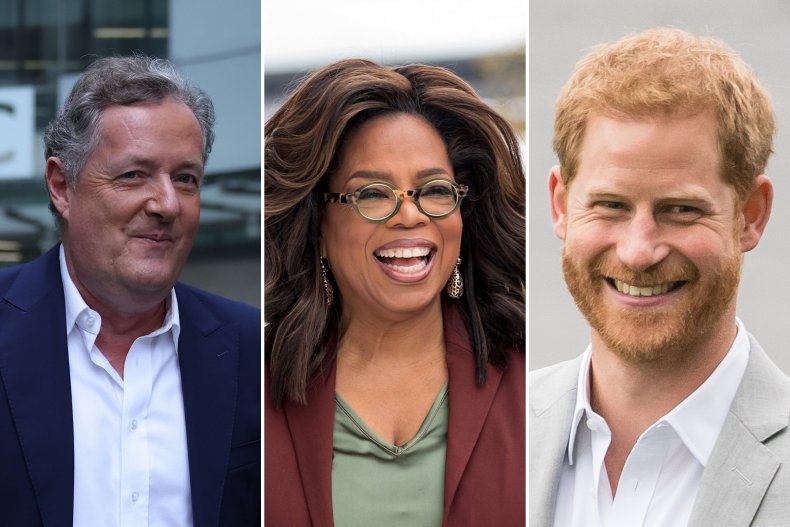 "Oprah Winfrey did not 'enable'; she did her job, a great interviewer. Harry and Megan's phenomenon was not the best for outsiders; equally, the monarchy didn't try its best for the public too. Piers Morgan isn't doing us good favour by trying to score political points either," another person wrote.
"Oh come on, it's never a journalists fault for getting the story, it's the people who made the statements we should judge," read another response to Morgan.
Morgan did have social media users who agreed with his take, though.
"It doesn't matter what people think about Piers Morgan. Love him or loathe him he usually gets it right in what he says," wrote a person on Morgan's side.
"I loved Oprah until that interview it was divisive and at best sloppy journalism I've never been so angry at someone I adored, the interview has set relationships with our country and USA back years and has undone all that the Queen has stood for its vile and unforgivable..." another Twitter user added.
Some people indicated that they felt Morgan missed the meaning behind the message Winfrey made to Extra.
"So Piers, what is your point now? Oprah is calling for peace in the family and you want the division to continue. I'm sick and tired of this ugly old fat white man," said one.
Newsweek reached out to Winfrey and Morgan for comment.