Piers Morgan, Cleared of Wrongdoing, Takes Aim at Meghan Markle's Mental Health Again
Piers Morgan has lashed out at Meghan Markle once again, as he continued to challenge claims that her mental health suffered amid a storm of negative press.
In her bombshell interview with Oprah Winfrey, which hit screens in March, the Duchess of Sussex said that she had suicidal feelings before leaving the U.K. to return to her native California with her husband, Prince Harry.
And Morgan, who on Wednesday was cleared of breaching U.K. broadcasting rules by calling her a liar over her mental health claims, has taken aim at Meghan and Harry again, as he slammed them for having "continually trashed" Queen Elizabeth II's family as the monarch dealt with the April death of her husband, Prince Philip.
On Thursday, Morgan took to Twitter, sharing a snapshot of Elizabeth at Philip's funeral, where she sat alone due to COVID-19 restrictions at the time.
He wrote: "Amid all the debate about Meghan Markle's mental health, has anyone given a thought for what the Queen's had to endure this year as the Sussexes have continually trashed her family & the Monarchy while she lost and mourned her beloved husband of 73 years? Just disgraceful."
Back in March, the controversial media personality was the focus of more than 50,000 complaints to U.K. broadcast regulator Ofcom after saying on Good Morning Britain of her interview with Winfrey: "I wouldn't believe her if she read me a weather report."
He subsequently quit his role on the show as he faced pressure to apologize from GMB broadcaster ITV, who had received a complaint from the Duchess of Sussex.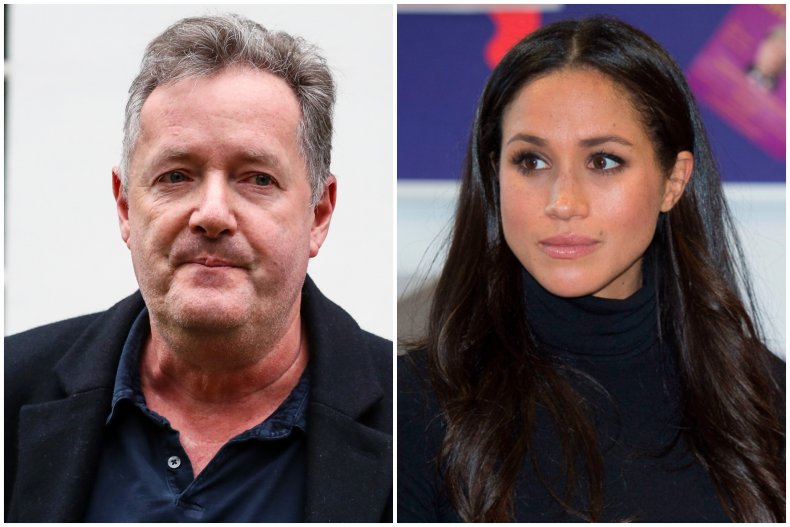 However, Ofcom announced this week that Good Morning Britain did not breach broadcasting standards as Morgan was challenged by other guests and presenters on the show, giving balance to his stance.
Reacting to the ruling, Morgan wrote in his column for the Daily Mail: "I was reliably informed recently that Meghan Markle wrote directly to my ITV boss Dame Carolyn McCall the night before I was forced out, demanding my head on a plate.
"Apparently, she stressed that she was writing to Dame Carolyn personally because they were both women and mothers—a nauseating playing of the gender and maternity card if ever there was one.
"What has the world come to when a whiny fork-tongued actress can dictate who presents a morning television news programme?
"So yes, I'm obviously delighted that Ofcom has supported my right to disbelieve the Sussexes' lurid claims against the Royal Family, many of which have failed to stand up to even a scintilla of basic scrutiny of the kind that a woefully enabling Oprah should have conducted.
"This is a resounding victory for free speech and a resounding defeat for Princess Pinocchios."
Morgan, an outspoken critic of the Duke and Duchess of Sussex, added: "Make no mistake, this is a watershed moment in the battle for free speech.
"If Ofcom had found against me, that would have signalled the end of every UK TV journalist's right to express any honestly held opinion on air lest it upset the likes of Meghan Markle."