What Is 'Pikmin Bloom'? How to Download the Niantic Mobile Game
Pikmin Bloom is a new Augmented Reality (AR) game from Niantic, the team responsible for the global sensation that is Pokémon Go.
The San Francisco-based developers specialize in these AR titles, having also produced Catan: World Explorers, Ingress and Harry Potter: Wizards Unite. Each of these smartphone apps had a similar premise, with you traversing everyday environments (your movements being tracked via satellite) and then interacting with virtual elements that were overlaid on top of the real world, as seen through your mobile device.
For example, in Pokémon Go you could walk through a nearby park to catch wild Rattatas, Pidgeys and Slowpokes. Meanwhile, the Harry Potter version enabled you to wander the neighborhood while battling fantastic beasts and raiding dark wizard fortresses.
With Pikmin Bloom, Niantic is not straying too far outside of its comfort zone. The app sticks to the established formula in a lot of ways, only this time it is themed after Nintendo's green-fingered strategy game.
What Is 'Pikmin Bloom'?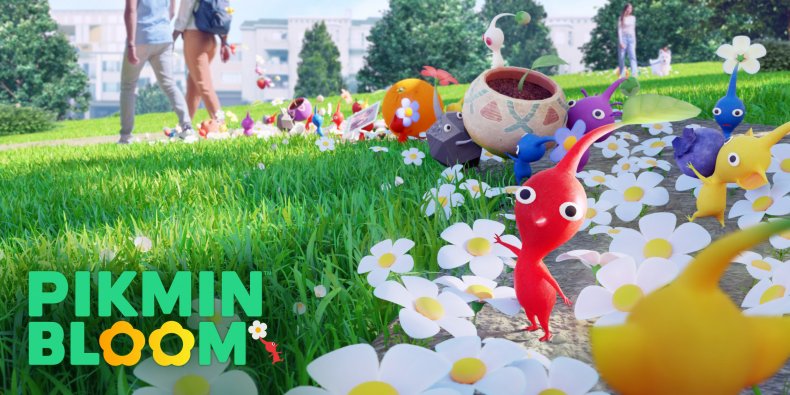 For those who are not familiar with the Pikmin licence, it is a property that has been around since 2001, having first debuted on the Nintendo GameCube before migrating to other platforms like the Wii, the Nintendo 3DS and the Switch handheld.
While each installment in the franchise is a little different, the basic gist always remains the same. Essentially, you are charged with leading a herd of sentient plant-like creatures (the titular Pikmin) and using their different abilities to solve environmental puzzles.
Pikmin Bloom takes the core appeal of the series—that being the act of recruiting adorable seedlings and then raising them into flowers—but strips away the puzzle and action elements.
Speaking of which, unlike other AR apps (like The Witcher: Monster Slayer for example) there are no quests here and you cannot get involved in fights. Instead, you simply need to build up a squad of Pikmin and then take them for a walk around the local area. As you go, your virtual companions will trigger flowers to bloom in your wake, enabling you to nurture an AR garden for other players to see and potentially even contribute to.
In that sense, Pikmin Bloom is less like a traditional video game and more like an exercise or wellbeing app. Speaking about this ambition, John Hanke, founder and CEO of Niantic, said: "We want to empower people to go outside, explore their neighborhoods and have fun at the same time [...] We know it's not always easy to get up off the couch [and] we think Pikmin are the perfect creatures to help."
Pikmin Bloom has been designed to seamlessly integrate with your daily walk and will even do things like keep track of the number of steps you have taken each day. Alongside postcards, photos and a record of the routes that you have taken, this information will be stored in a "lifelog," which you can then share with your friends.
Shigeru Miyamoto (the creator of Super Mario, The Legend of Zelda and Starfox, as well as the original Pikmin) said of this: "My hope is that everyone will be able to create lasting memories together with Pikmin!"
'Pikmin Bloom' Release Date and How to Download
On October 27, Pikmin Bloom was soft-launched in Australia and Singapore. It will be rolling out to the rest of the world shortly.
Although there has been no confirmed release date for the U.S., Niantic's official blog post says that it will be "over the coming days," so you will hopefully not have to wait too long. Pokémon Go also had a staggered launch, but most territories ended up getting it after a week or so.
In terms of how you will be able to download Pikmin Bloom once it is out in the U.S., the game will be available on both the App Store and Google Play. You can follow the official @PikminBloom Twitter account for timely updates on this.