Pink Floyd Video With New Song Supporting Ukraine Viewed Over 450K Times
The video for "Hey Hey Rise Up," Pink Floyd's new song supporting Ukraine, has been viewed more than 450,000 times on YouTube.
The song, which was released Friday, features vocals from Andriy Khlyvnyuk, who is from the Ukrainian band Boombox. Proceeds of the song will go to supporting the Ukrainian Humanitarian Relief, the band announced on Twitter. It's the latest example of high-profile celebrities working to support Ukraine amid the Russian invasion.
By afternoon on Saturday—less than two days after the song was released—the video amassed 458,759 views on YouTube. The song has been streamed thousands of times on Spotify and has reached number one on iTunes in 29 countries.
"We, like so many, have been feeling the fury and the frustration of this vile act of an independent, peaceful democratic country being invaded and having its people murdered by one of the world's major powers," the band wrote on Twitter.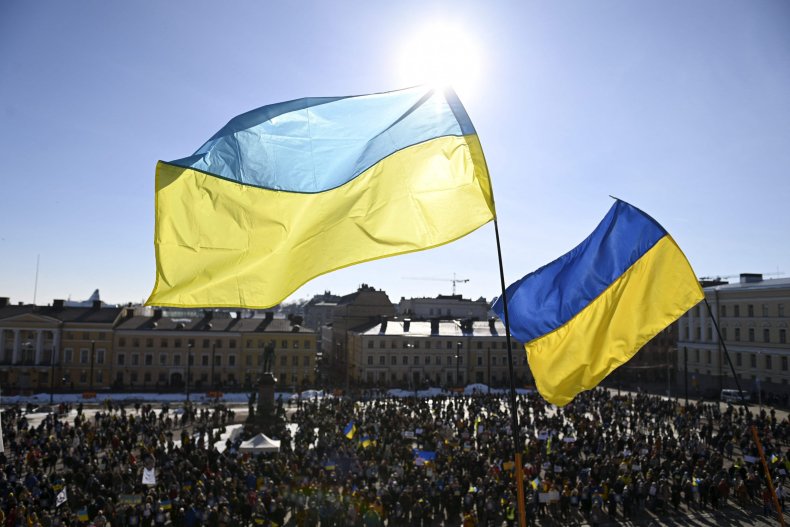 In the song, the band sings a Ukrainian protest tune written during World War I.
"Oh, in the meadow a red viburnum has bent down low / For some reason, our glorious Ukraine is in sorrow / And we'll take that red viburnum and we will raise it up," the band sings.
In the video's comment section, nearly 2,000 listeners shared their praise for the song, which is Pink Floyd's first single since 2014, when the band released a song recorded in the 1990s. This was the first song the band has recorded since 1994.
"Absolutely breathtaking! I'm proud of Pink Floyd's attitude! Very beautiful, I cried with emotion. I am sharing the link on my social networks. Stop the war and long live Ukraine!" read the top comment, posted by musician James Marçal.
Another listener Paulo Santos wrote: "Pink Floyd, the best band ever, here with a fantastic and emotional vocalization. All the respect to the brave Ukrainians. Love from Portugal and United Kingdom."
"We all want peace in Ukraine, not war, the war is over. Congratulations on the song and beautiful message of peace, Masters David Gilmour, Nick Mason and Guy Pratt," wrote YouTube user Felipe Gilmour.
Following the invasion, Khlyvnyuk cut his tour in the United States short to return to Ukraine and join a territorial defense unit—as thousands of Ukrainian men returned from abroad to fight in the war—according to the video.
Many celebrities have made efforts to support Ukraine, donating millions of dollars to pro-Ukraine causes. Actor Benedict Cumberbatch said he would even open his home to Ukrainian refugees.
Newsweek reached out to the management for David Gilmour, the band's guitarist, for comment.